Written By John Storkamp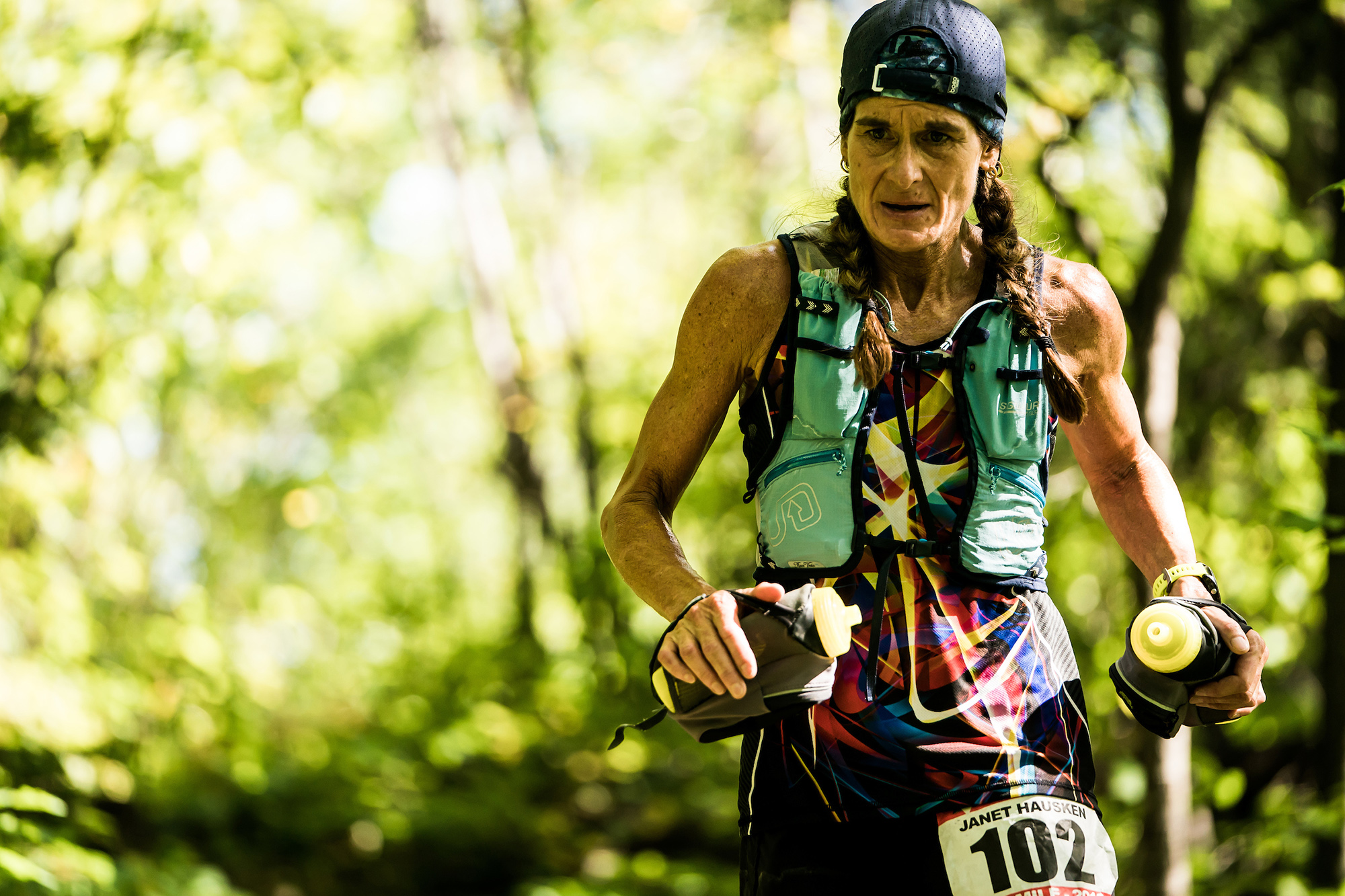 2018 Superior 100 Mile Grand Masters Champion Janet Hausken

About the Superior Trail Race:
The Superior 100 Mile Trail Race was founded in 1991 and is one of ten original 100 mile trail races in the United States – Western States ('74), Old Dominion ('79), Wasatch ('80), Leadville ('83), Angeles Crest ('86), Vermont ('89), Mohican ('90), Arkansas Traveller ('91) and Superior ('91) – currently there are about 160 one hundred mile races held each year in the US alone. The Superior Fall Trail Race event weekend is always held the weekend after Labor Day with the event routinely hosting runners from all over the nation and the world. This year 36 states and 5 countries were represented, while over 325 volunteers came together on race weekend to make it all possible. Due to high demand and a limited field, race entry is held via lottery early in the year. The race is held on the Superior Hiking Trail also known as the SHT. The SHT is a world class 310+ mile long distance single-track hiking trail in Northeastern Minnesota that follows the ridgeline overlooking Lake Superior for most of its length. Lake Superior is the largest freshwater lake in the world, its power and magnitude undeniable. The Superior Hiking Trail is funded and supported by over 5000 individual members and countless volunteers along with corporate donors / sponsors and through various grants. The Superior Trail Race is proud to make a large annual donation to the trail association and works diligently to drive membership and volunteerism throughout the year. The trail itself travels through forests of birch, aspen, pine, fir, and cedar. Runners enjoy views of boreal forests, the Sawtooth Mountains, babbling brooks, rushing waterfalls, and abundant wildlife. The lowest point on the trail is 602 feet above sea level and the highest point is 1,829 feet above sea level. Race weekend is comprised of three point-to-point races all ending in Lutsen, MN including the following race distances; 100 (103.3) miles with 42,000FT of elevation change starting at Gooseberry Falls State Park on Friday, 50 (52.1) miles with 25,000FT of elevation change starting near the town of Finland on Saturday and the traditional marathon distance race of 26.2 miles with 11,000FT of elevation change starting near the town of Schroder on Saturday. All three races boast nearly 100% single-track courses, a sawtooth profile of relentless ups and downs (usually sans switchbacks) resulting in those huge elevation gain and loss stats, along with technical trails littered with roots and rocks. These factors all contribute to each race standing on its own as some of the toughest races of their respective distances in the entire country.
+
Superior 100 Mile:
Superior 100 – Registered 274, Starters 239 (87%), DNS 35 (13%), Finishers 168 (70%), DNF 71 (30%)
What is unique about Superior?  Well, too many things to bullet point, but one thing that Superior allows its runners, volunteers, crews, pacers and spectators to do is to plug directly into the history of Minnesota Trail and Ultrarunning.  With Superior being the 10th oldest 100 mile trail race in the country it also allows us to plug directly into the history of ultrarunning in the United States as a whole.  Consider this, at Thursdays 100 mile pre-race meeting nearly all of the races founders and previous race directors were in attendance along with a healthy number of runners and volunteers that were with the race when it was founded 28 years ago.  This year we were honored to induct former race directors Darlene and Brian Poeppel into the Superior Trail Race Hall of Fame.  Deep roots and a consistently cultivated culture are what make Superior rock solid – if you have never been, you can simply feel something different, if you are a regular then you know you are home.
Ultra or not, Minnesota'ians like to talk about the weather, a lot, and when it is as good as we were going to get – it quickly became the early headline and according to more than one of the OG's (originals, who have been around the race for a long time), this was some of the hands down best weather and trail conditions the race had ever seen – this would allow for the CR's and PB's to come, and come they did.
100 Mile Race Winners Both Re-Setting The Previous Course Records, Mallory Richard and Neal Collick – Photo Credit Kevin Langton
While the men's race had the big names, the contenders, the returning champion and some real depth – the Women's race was just as, if not more compelling from the outset as we were thrilled to host a.) a prolific trail and ultrarunner with a staggering number of wins b.) a three time Superior 100 winner and the Superior 100 course record holder circa 2016 and c.) the previous years / 2017 race winner.  Ashley Nordell of Sisters, OR UltraSignup page is among other things, a list of 60 to 70 first place finishes at races big and small, long and short, throughout the country.  Ashely confidently took the early lead through the first checkpoint at Split Rock I thought to myself, "I would hate to be chasing Ashely" – but then minutes later came the aforementioned three-time champion and Superior 100 course record holder Mallory Richard of Winnipeg, Manitoba Canada, and I thought, "holy crap, I would hate being chased by Mallory!"  This is all to say that we have not even mentioned last year's winner Gretchen Metsa of Buhl, MN along with a plethora of other talented women, several of whom we knew would not only race well amongst themselves, but would certainly be contending for overall high finishing places with the men.  With a true talent for pacing the Superior 100 Mile course, Mallory ran patiently and by Crosby (mile 62.9) finally came even with with Nordell, but by Cramer (mile 77.9) took the lead to never relinquish it again.  Ashely would lose time to Mallory, but hold on just fine for second, impressively (and living up to her pre-race billing) would still finish about five minutes under Mallory's 2016 course record – finishing in 23:46:43.  All of that said, Ashley would still find herself a staggering 1 hour and 10 minutes behind Mallory who simply obliterated her previous CR by over 1 hour and 15 minutes with a finishing time of 22:36:39. Rounding out the top three was Kelly Teeselink of Iowa City, IA in a time 26:31:03 – Kelly no stranger to the Superior races having won the Superior 50 in 2017.  Of note, Mallory, Nordell and Teeselink were in 25th, 20th, and 46th position overall respectively through the first checkpoint but found their way to 5th, 9th and 19th overall at the finish – this personifying skilled and patient racing at the highest level.  The first masters runner was Tammy Davis of Duluth, MN – placing right behind her was the Grand Masters Champion Janet Hausken of Stillwater, MN.
On the men's side, the memory of missing his buddy and coach, Jake Hegge's 2015 course record by a minute and a half in 2017 still fresh on his mind, Neal Collick took the lead early again this year and never looked back.  Neal is from Negaunee Michigan and his home allows him access to miles of trail similar to the SHT and he obviously trains on it and runs it well.  Neal kept mostly even with his own times from 2017 through County Road 6, sometimes a few minutes up and sometimes a few minutes down, but upon picking up his pacer Michael Borst (a standout runner 12 years his junior ) those following along via the runner tracking would witness a dramatic surge that saw him gain 19 minutes on course record pace splits in as many miles enroute to Crosby-Manitou – the question was, did his young and fresh pacer push him too hard too early or was this the cushion he needed so when he lost time on the last couple of sections he would still be in with a chance for to set a new record.  In storybook fashion, the lead held and then grew as Neal, after so narrowly missing the CR in 2017 ended up winning in 18:56:02 – besting the previous course record time by a whopping 35 minutes.  Placing second was this years 10th place Hardrock 100 finisher and previous Bear 100 multi-time champ Mic Jurynec of Salt Lake City, UT in 21:37:26, he was followed by Jake Milligan of Belgrade, MT who finished in 21:48:46.  The first Master's finisher (age 45) was who else but now seven time finisher and past champion, Adam Schwartz-Lowe of Duluth, MN – this was Adam's first time out of the top four at this race, placing 6th overall – he was as elated as ever at the finish.  Doug Kleemeier at the age of 52 took the Grand Masters Title.
In the numbers (star-patch collectors) game, Stuart Johnson of Shawnee, KS went on to capture his 21st Superior 100 finish, Susan Donnelly of Oak Ridge, TN her 18th, Chris Hanson of Nisswa, MN his 13th and Richard Plezia of Morton Grove, IL his 10th – there are now a total of seven individuals who have 10 or more Superior 100 mile finishes since the races inception in 1991 – Richard being the most recent and Susan being the only woman and all of whom are still racing with us besides Eugene Curnow who was the first to ever achieve 10 finishes but is no longer with us.
Shelly Groenke 60 years young of Mankato MN became the oldest woman to ever finish the Superior 100, also finishing this year was Irina Boggie-Miloserdova of Two Harbors, MN at the age of 59 making her the 2nd oldest all time female finisher of the Superior 100.
All 5 of the UMTR Gnarly Bandit series runners made it through the Superior 100 after already having completed the Zumbro 100, Kettle 100, Black Hills 100 this year.  The last race on their schedule comes in October where they will have to complete the Wild Duluth 100K in order to claim the Gnarly Bandit title.  They finished Superior as follows; Brian Corgard 26:37:32, Matt McCarty 26:37:32, Nate Ziemski 27:52:52, Even Semrud 28:45:34 and Erik Raivo 36:51:26.  It is rumored that Corgard and McCarty may have purposely added some distance at Finland having taken the time to run the bases on the baseball diamond adjacent the aid station.
Given all of the incredible performances on the day, one of the major stories for me and for those that know him was our friend, longtime friend of the race, oft volunteer, fellow race director and runner Greg "Legend of the Sport" Allen's Superior 100 Mile finish.  Having done battle with the course and the cutoffs for years and racking up seven DNF's at the Superior 100 leading into this years race, Greg, through persistence and perseverance finally made the finish (with 12 minutes to spare) and received his buckle, medal, sweatshirt, patch and star along with a special handmade award just for the occasion.  As Churchill said  "success is moving from failure to failure without loss of enthusiasm". In years past, Greg would end each year with the resolve to return to Superior and try again, and so he did.  This is a lesson for all of us that we can apply not only to our running but also to life itself… never, ever, ever, ever give up.  When I first gave Greg the nickname "Legend of the Sport" many years ago he laughed and would blush and shake his head every time I would introduce him this way, I hate to say it, but I called it, I was right… this is legendary stuff.  Congratulations Greg, you are an inspiration to us all.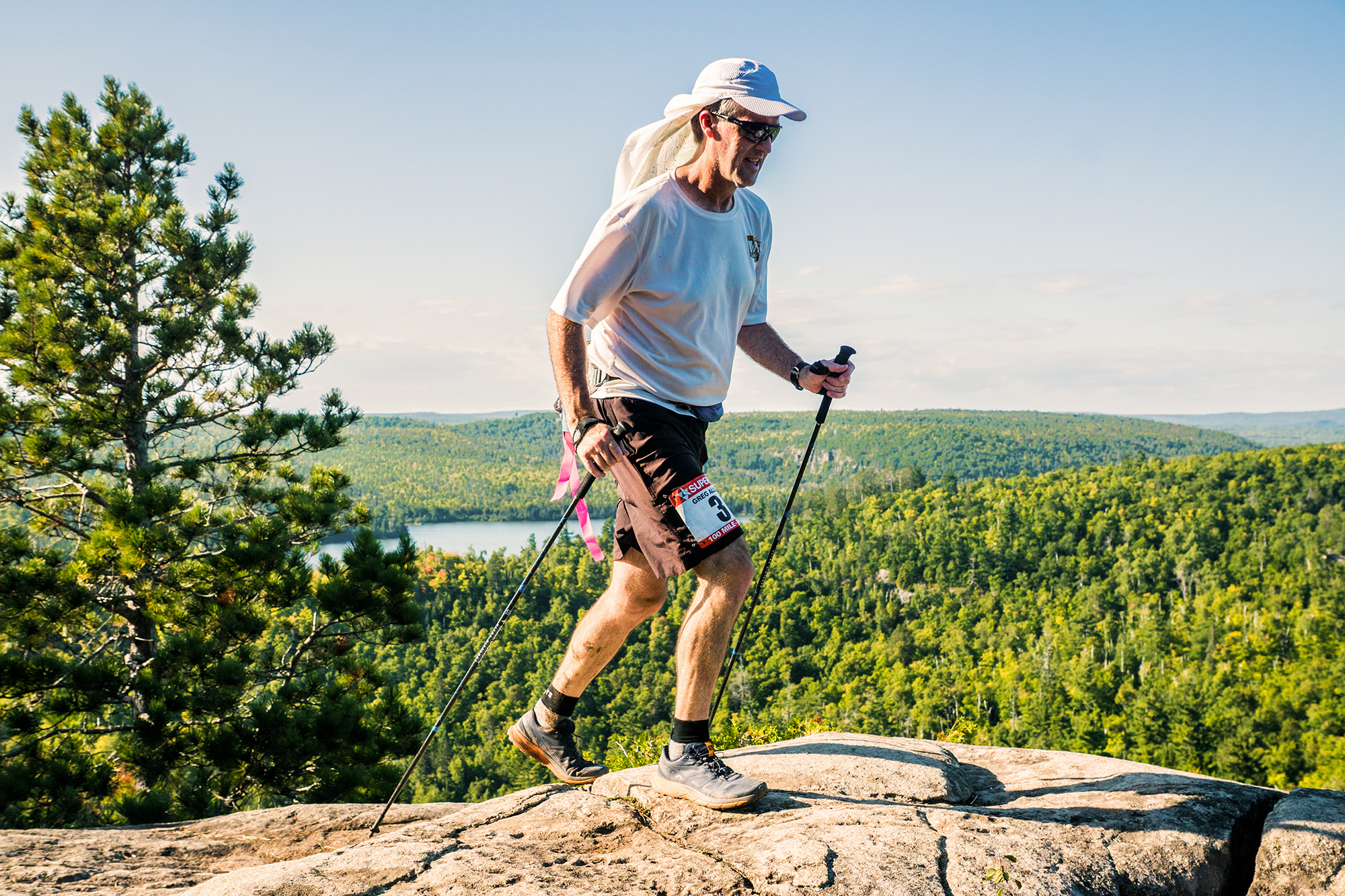 Greg Allen on Mt Trudee – Photo Credit Cole Peyton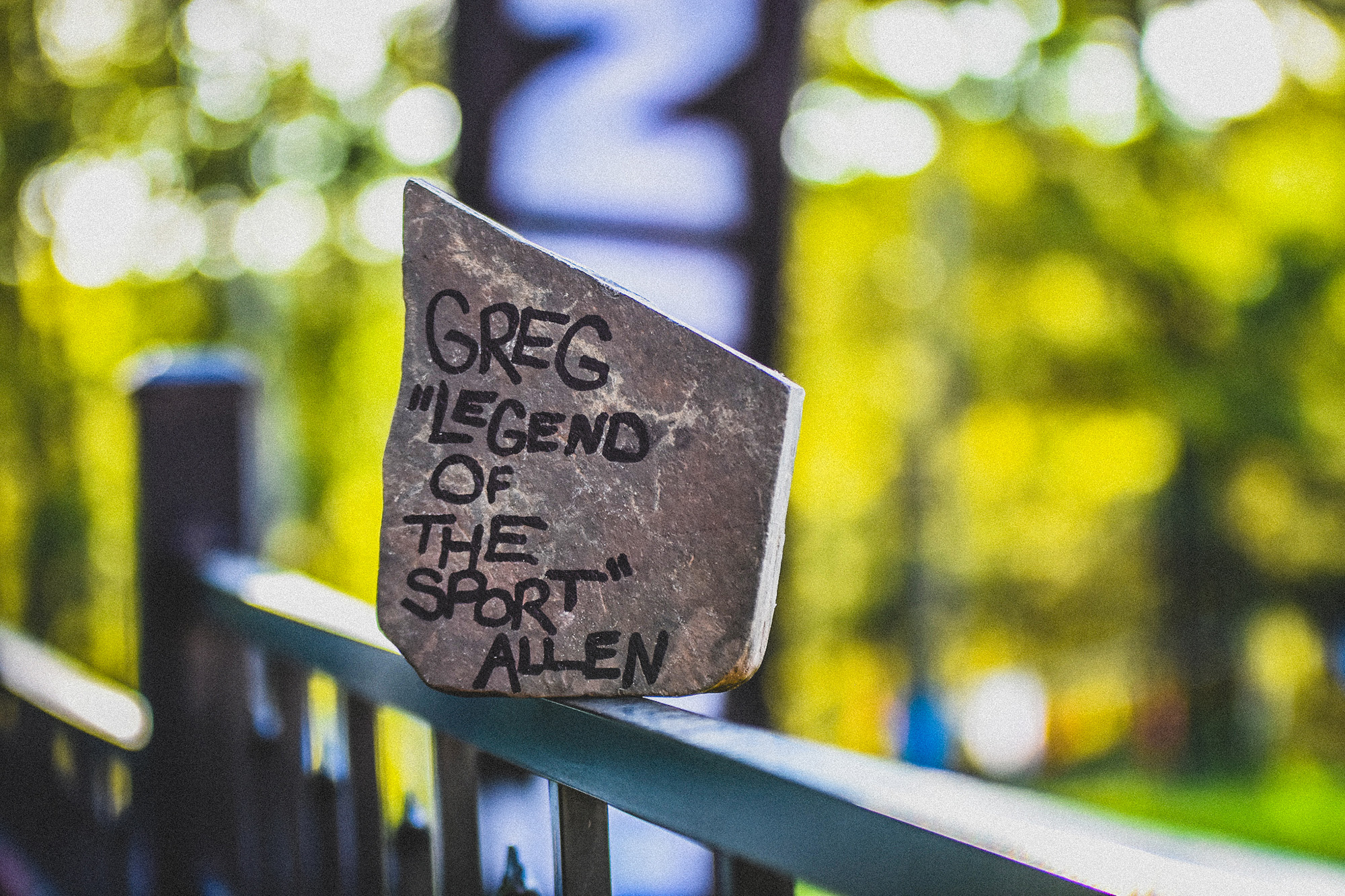 A Special Award for Greg "Legend of the Sport" Allen – Photo Credit David Markman
+

Superior 50 Mile:
Superior 50 – Registered 178, Starters 131 (73%), DNS 47 (27%), Finishers 117 (89%), DNF 14 (11%)
While the Superior 100 remains one of the harder 100 mile trail races in the country, the 50 is one of the hardest.  All of the stats, metrics and performances support this assertion and we welcome anyone that wants to attempt to debunk it.  When, as the race director I say this with conviction at our Friday night 50 Mile and Marathon pre-race meeting I see jaws clench and some uneasy shifting in chairs.  While our runners may have read or heard this before it takes on new meaning in the moment and starts to set in – tomorrow is going to be an epic day.
We started again this year with the same revamped start from 2017, starting the field on some minimum maintenance gravel roads and double-wide snowmachine trails before filtering runners onto the SHT.  This again went a long way in making for a relaxed 50 mile start while spreading the field out nicely to avoid early conga-lines and bottle-necks.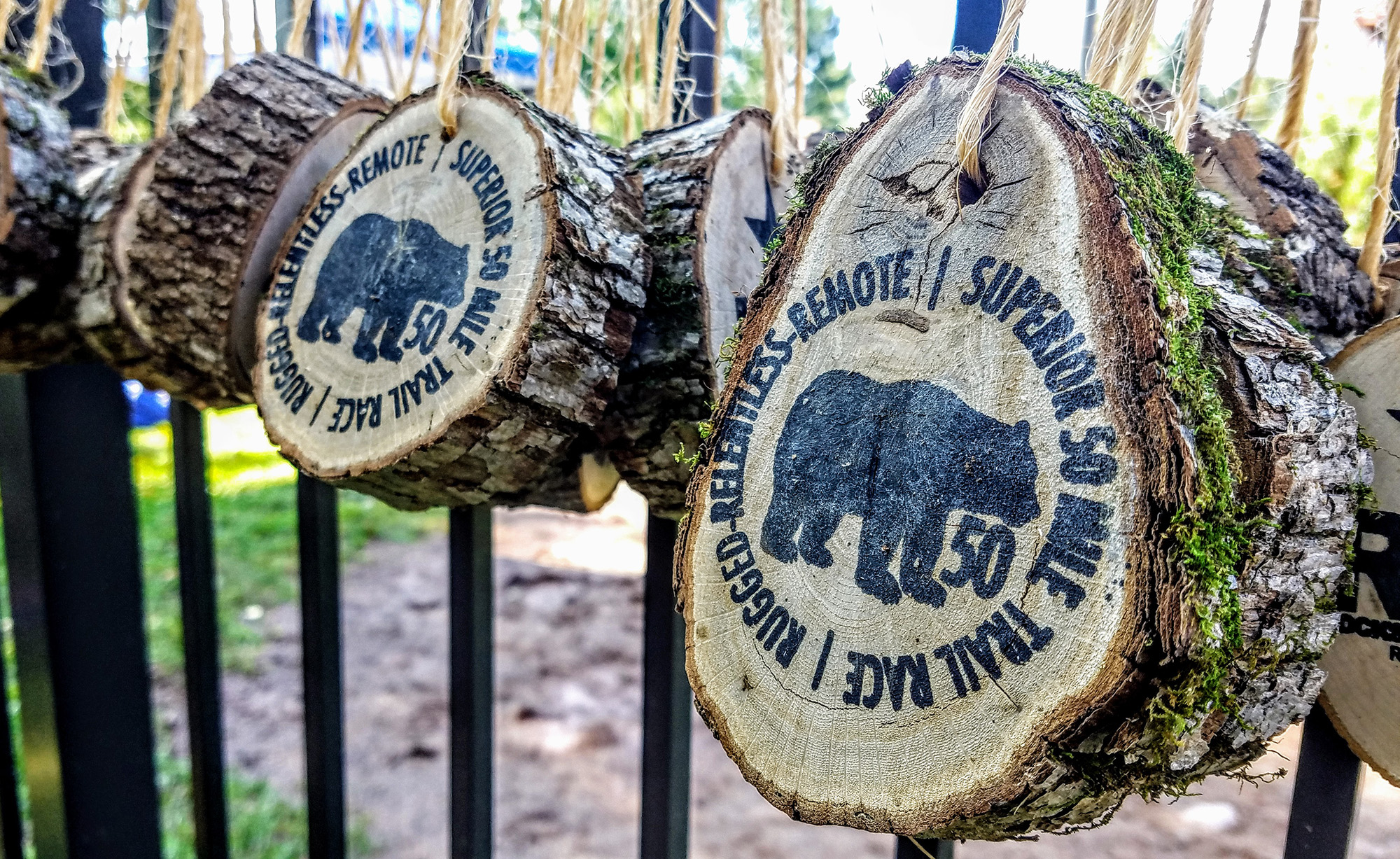 50 Mile Finisher's Medal – Photo Credit John Storkamp
Proven once again, you can try to predict the storyline in advance, but races are not run on paper they are run over roots and rocks on the SHT and resultingly, anything can and will happen.  Wynn Davis of Stillwater, MN, in his quest to be the only person to win all three distances at both the Superior Fall and Spring Races was unable to seal the deal for the only trophy he has not yet landed and pulled out of the race with complications by mile 30, citing not being fully recovered from his win earlier this year at the Black Hills 50 mile.  Jake Hegge of La Crosse, WI, who has battled Wynn before was battling cramps and a sour stomach, opting for a nap at Carlton Peak before continuing to limp it in for a distant third place – it goes without saying that rather than coming from his own racing the highlight of Jake's weekend came from of seeing all of the athletes that he coaches do so well at the various Superior distances including the capturing of his CR at the 100 by his athlete Neal Collick.  This left two runners from outside of the North to battle it out for first.  In the end Colin Hagan from San Antonio Texas who normally does the lion-share of his racing at sub-ultra trail distances brought his speed to the SHT and took the win in an impressive 8:43:36 and the third fastest time ever on the modern-day course.  Finishing second in his 50 mile debut was Ben Drexler from Minneapolis, MN with a time of 8:51:27 – making him the proud owner of the 4th fastest time ever on the modern day 50 mile course – not bad for your 50 mile debut.  Scott Coles of Washburn WI was the first masters runner to finish – Scott won the 2018 Zumbro 100 mile race earlier in the year.  Kevin Socia of Kingsford MI was the first Grand Masters finisher.  On the women's side, pre-race contender Emily Wanless of Sioux Falls, SD lived up to the mention in the race preview and took first by a fairly wide margin finishing in 10:37:57 good for the 2nd fastest ever women's time on the modern-day course.  With some great training and great coaching Rose Ryan of Minneapolis, MN bested her previous Superior 50 mile time from 2016 by over four hours to place second in a time of 11:02:58.  Rounding out the top three was Margaret Macdonald of Minneapolis, MN in 11:06:00.  The Masters champion was Tania Riske of Eau Claire, WI and the Grand Masters champion was Fiona McKenna of Kaministiquia, Onatrio Canada.
Emily Hegrenes of Grand Rapids, MN became the youngest ever finisher of the Superior 50 mile.  Emily was introduced to the race by her father Craig who finished the 100 in 2015 and 2016 – she paced him about 40 miles in 2016 so running the 50 herself was the next logical step.
+
Moose Mountain Marathon:
Moose Mountain Marathon – Registered 410, Starters 322 (79%), DNS 88 (21%), Finishers 306 (95%), DNF 16 (5%)
Of the nearly one thousand marathons in the country, the Moose Mountain Marathon while one of the most challenging, is often times not billed that way in consideration of the fact that it also happens to be one of the most scenic.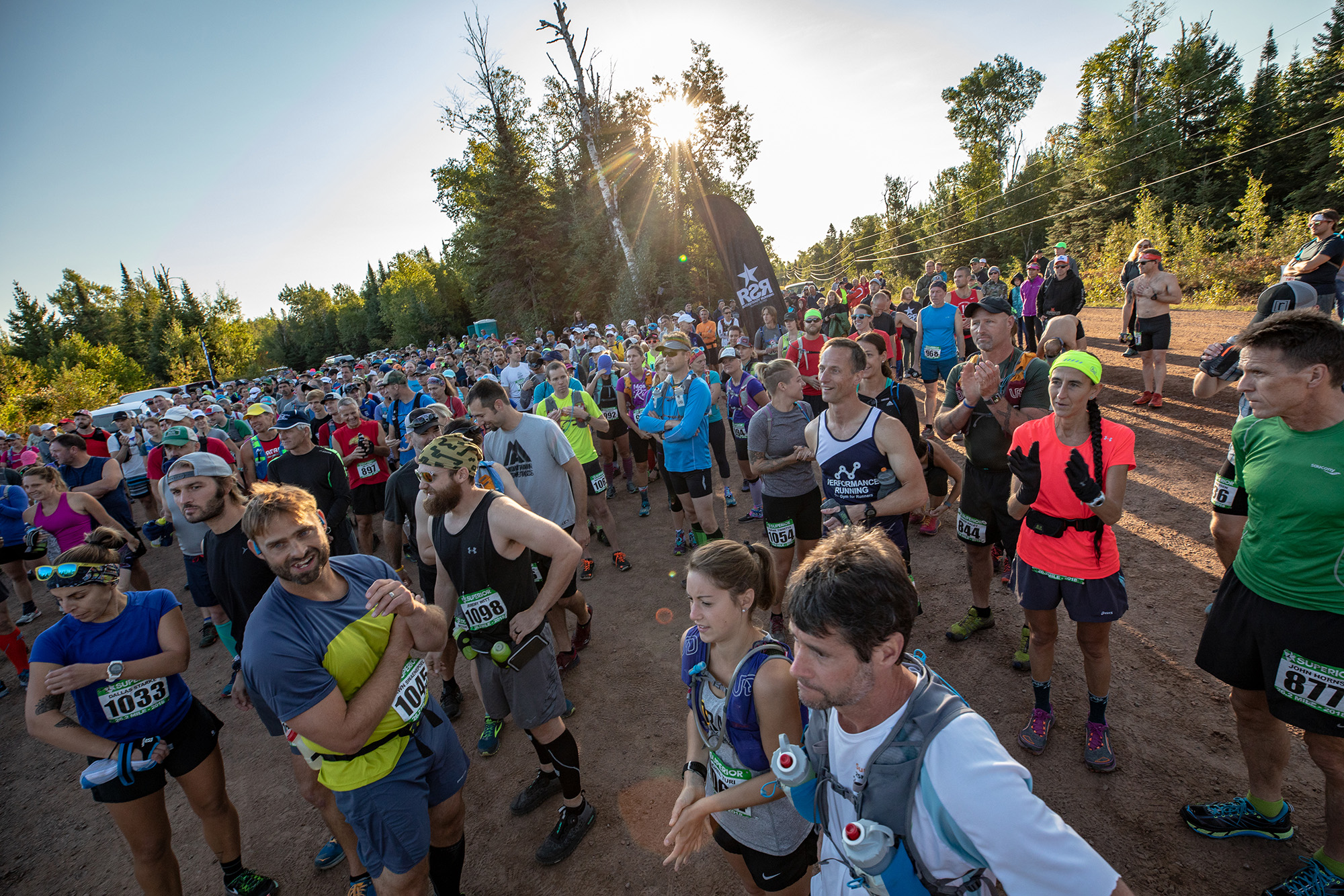 2018 Moose Mountain Marathon Start – Photo Credit Tone Coughlin
As a couple, Emma Spoon and Shane Steele of Grand Marais, MN did what they have done at many races in the past – they both took the win.  With two firsts, a second and a third, along with setting the course record in 2017 at the Superior Spring 25K and winning and setting the course record at the Moose Mountain Marathon in 2017, Spoon was clearly the early favorite but questions swirled as to whether or not Grand Masters competitor and prolific / legendary Minnesota trail and ultra-winner Even Rukavina-Rembleski of Watertown, MN could give her a run for her money – on a less technical course probably, but on Emma's home turf, unlikely, and so it was that Emma went on for the win and a slight shaving of her CR from just 365 days prior (was 4:08:30) with a time of 4:07:40.  Eve, technical trail or not however would place second in 4:23:39 while Rachel Turi, the nutritionist with Trail Transformation of Woodbury, MN would run a solid 4:35:03.  The Masters title went to Marianne Stewart of Kakabeka Falls, Onatrio Canada.
On the men's side, Shane stood out in the pre-race analysis given his past performances at Superior and his ability to train on the trail every day should he choose to do so – this was not to imply there were slouches in the men's field – a quick scan of the names would reveal competitors that have taken the W at many a trail race.  But in the end Shane's experience training, racing and winning on these trails allowed him the win, but unlike Emma, no CR as that is still held by Wynn Davis mentioned previously. Rob Henderson of Minneapolis, MN had a stellar albeit unsurprising breakout race given the work he has been putting in, going on to finish second in 3:42:45 only a single minute behind Steele – we don't have splits from the marathon but the good money would be on Henerdson running Oberg to Lutsen faster than just about any other competitor on the day – perhaps good Karma volunteering to help brew coffee for the 100 milers the day prior helped.  After a breakout season filled with good clean living, W's and PB's, Dan LaPlante of Minneapolis, MN finished up the MMM in 3rd place in 3:55:51 – Dan spent the day prior as a volunteer photographer capturing the 100 milers on the course.  At the age of 56, John Horns of Minneapolis, MN is a former winner of not only the Moose Mountain Marathon but also the Superior 100 and took the title of the first Grand Masters athlete to cross the line in 4:04:05 and good for fifth place overall – fun fact, John took this same title at this years Hardrock 100.  John picked up his award early on Saturday and got with his pals (from the 3M Dream Team) for a second trip on the day from Oberg to the finish, but this time volunteering as a course sweeper.  The Masters title went to Matthew Trok of Maple Grove, MN.
Wally Goettl of Stillwater, MN at the age of 72 was the oldest finisher of the any of the distances this year with his 7th Moose Mountain Marathon finish. The two youngest finishers in this years race also came out of MMM – both Henry Holcomb of Minneapolis, MN and Matthew Wagner of Fort Mill, SC are 17 years old.  Both Matthews dad John and his uncle Scott are former Superior 100 mile finishers and his uncle Scott is the former Race Director of the Afton Trail Run and is a key volunteer at the Superior Trail Races to this day – Matthew, John and Scott all spent time volunteering on race weekend. Bruce Anderson claimed his 11th MMM finish, while Steve Hagedorn and Jim Keyes claimed their 10th – a few other runners increased from 7 to 8 and 8 to 9 and next year we expect a new class of Marathoners in with their 10th.
+
In Closing:
From the weather, to the quality of the field this year and the quality of the humans that turn up year in and year out for the Superior races, there was no way that 2018 was going to disappoint.  In the end, despite perfect weather and trails, DNF rates were about the same as usual, once again proving that the Rugged, Relentless and Remote nature of the Superior races are a worthy challenge for anyone under any conditions.  Superior also proved once again that more important than running and results are relationships – the #1 overheard word and overriding theme at this year's race, hands-down, had to be "family".  The Superior Family is strong, present and persistent and all are welcome; runners, volunteers, crews and pacers alike – it really makes little difference what category you fall in on a given year, for just being there and plugging into the history of the event feels right and each year that we do as much, we make ourselves a part of that collective history and a part of the Superior Family.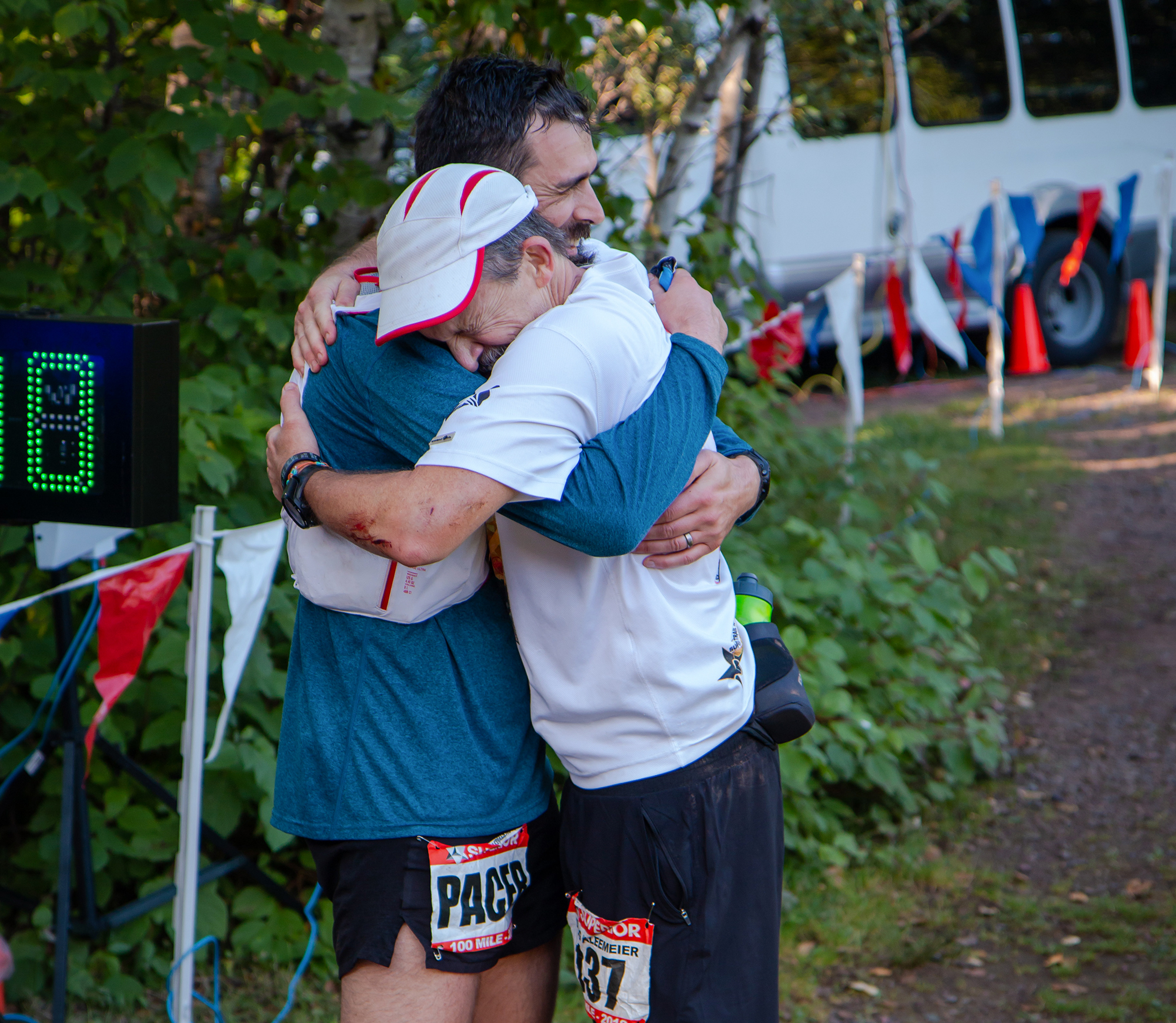 100 Mile Runner Doug Kleemeier with Pacer Edward Sandor – Photo Credit Mike Wheeler
+