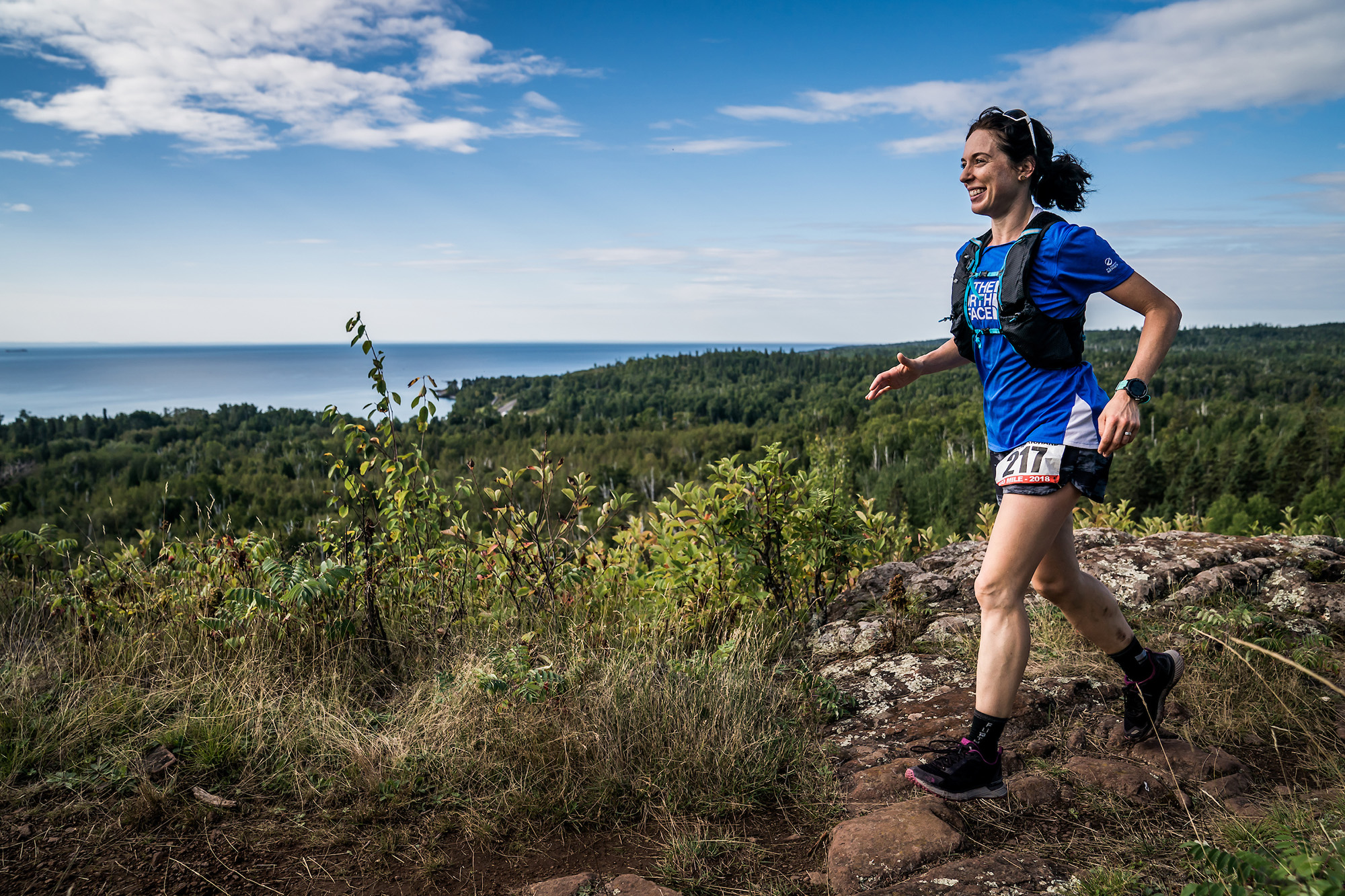 Race Description:
The Superior Fall Trail Races 100MI, 50MI & 26.2MI are run point-to-point on rugged, rooty, rocky, 95% single-track trail with near constant climbs and descents.  The race is held on the Superior Hiking Trail in the Sawtooth Mountains paralleling Lake Superior in Northern Minnesota / not far from the Canadian border.  The race located approximately 4 hours North of Minneapolis, Minnesota.   The Superior Fall Trail Races are very difficult / challenging races and are probably not a good choice for your first trail or ultra race (see Registration Info for qualifying requirements and lottery registration procedures). Due to their popularity, registration for the races are held via a lottery registration process.
History:
The Superior 100 Mile Trail Race was founded in 1991 and is one of ten original 100 mile trail races in the United States – Western States ('74), Old Dominion ('79), Wasatch ('80), Leadville ('83), Angeles Crest ('86), Vermont ('89), Mohican ('90), Arkansas Traveller ('91) and Superior ('91) – currently there are about 200 one hundred mile races held each year in the US alone.  Superior quickly earned it's reputation of its namesake today – Rugged, Relentless and Remote and is known as one of the tougher 100 mile trail races in the country.  Superior lives on now as one of the "legacy 100 milers" and is considered by many to be one of the most challenging, prestigious and beautiful 100 mile trail races in the country. Shortly after the inception of the 100, the Superior 50 was started and in the early 2000's the Moose Mountain Marathon was added. None of the history or tradition of this race has been lost and is a great event for those looking for a world-class event with a low-key, old-school 100 miler feel.  The Superior Trail Race is put on by ultrarunners for ultrarunners.
About the Area:
The North Shore of Lake Superior runs from Duluth, Minnesota at the Southwestern end of the lake, to Thunder Bay and Nipigon, Ontario, Canada, in the North to Sault Ste. Marie, Ontario, in the east. The shore is characterized by alternating rocky cliffs and cobblestone beaches, with rolling hills and ridges covered in boreal forest inland from the lake, through which scenic rivers and waterfalls descend as they flow to Lake Superior. The shoreline between the city of Duluth to the international border at Grand Portage as the North Shore.  Lake Superior is considered the largest freshwater lake in the world by surface area. It is the world's third-largest freshwater lake by volume and the largest by volume in North America.  The Superior Hiking Trail, also known as the SHT, is a 310-mile long distance hiking single-track hiking trail in Northeastern Minnesota that follows the ridgeline overlooking Lake Superior for most of its length. The trail travels through forests of birch, aspen, pine, fir, and cedar. Hikers and runners enjoy views of boreal forests, the Sawtooth Mountains, babbling brooks, rushing waterfalls, and abundant wildlife. The lowest point on the trail is 602 feet above sea level and the highest point is 1,829 feet above sea level.
The Superior Fall Trail Race is organized by Rocksteady Running and directed by John Storkamp.  The Superior Fall Trail Race would not be possible without its dedicated army of year-to-year volunteers.

—
Detailed History / Timeline
*A detailed history / timeline of the Superior 100 Mile Trail Race compiled by Kevin Langton
1925
State Route 1 was built along the North Shore, opening a new era of tourism.
1983
Harry Sloan completed his first Western States Endurance Run. He eventually finished 12 times. Western States became his model for Superior 100, and Superior would include a finish on a high school track, a water crossing in a boat, and other Western States inspirations.
1986
Superior Hiking Trail Association was incorporated and made the first request for state funding for trail construction. Tom Peterson, an agent with the Minnesota Department of Natural Resources, began the process of routing the trail that would later be built by laid off workers from the closed Silver Bay taconite plant and the Minnesota Conservation Corps.
1990
First meeting of Superior Trail 100 Inc. Board of Directors. Before the initial race, the board for this nonprofit organization solidified as Jim Stocco (Chair), Harry Sloan (Race Director), Tami Tanski, David Black, Tim Brown, Rudi Hargesheimer, Tom Stephenson, and Doug Thomas.
1991
The first running of the Superior 100 was September 14, 5 am start. It was one of ten 100-mile races in the United States.
Harry Sloan was race director. Tami Tanski-Sherman was coordinator of aid stations and volunteers. Tami later became a co-director. To entice people to volunteer, they decided the volunteers were just as or more important than the runners. This philosophy continues today.
Runners had to have a qualifying run of 50 miles or longer.
The race started at Mary MacDonald Elementary School in Silver Bay, and quickly joined the Superior Hiking Trail. The hiking trail wasn't fully completed, so runners followed paved roads at miles 21-28 (County Road 6 and Highway 61 to Caribou Wayside, skipping the current trail portions from Section 13 through Crosby Manitou State Park) and they followed gravel road at miles 90-95 (Bally Creek Road to Section 18). The race finished at Cook County High School in Grand Marais. The course featured a canoe water crossing over a beaver pond was at mile 73. After this initial run, David Lygre wrote in Ultrarunning magazine: "Don't let the fast times fool you. This is a tough course. It is about equivalent to (though very different from) Angeles Crest. Harry Sloan said that next year the course will be changed so that an easy seven-mile road section is replaced with trail…I hope they don't make the course much harder, though. There are already enough courses, such as Wasatch, Hardrock, and Barkley, that threaten to turn middle-of-the-pack ultrarunners into zombies." The course changes referenced in the quote would take a decade to fulfill.
Minnesotan Bob Stavig finished first in 23:08:57 (He earned a silver buckle for the sub-24 hour run. Runners who finished above 24 hours were given a brass buckle. The buckle was the shape of a wolf's face, with a runner's profile between the wolf's eyes). Susan Gimbel of California finished as first female, 8th overall, in 26:49. All three female finishers (Nancy March and Suzi Thibeault) were from California.
48 runners started and 27 finished. Cutoff time was 30 hours.
There were 18 aid stations. Two had mandatory weigh-ins.
Night trail was marked with glow sticks. Red sticks marked dangerous spots.
1992
The cut-off time was extended to 34 hours.
Eric Clifton led from beginning to end and set a longstanding course record of 17:21:42, the fastest time run on the old course. Susan Gimbel was again first female.
1993
This was the first running of the Superior Trail 50 Mile Run. Shirl Leslie was director of this race. The race was started because Harry Sloan's wife, Debi, wanted to run the trail, but not 100 miles of it. In the early years, the races weren't the combined events they are today. Although they were held on the same weekends, the 50-mile and marathon finished in different towns and had different directors from the 100 mile run.
1998
Darlene Poepple replaced Harry Sloan and Tami Tanski as race director of the Superior 100. When Harry announced that he was stepping down as director, a small group of people had enough passion for the race that they wanted to see it continue, and Darlene stepped in as director. Darlene's husband, Brian, was a runner and had multiple finishes. Each year under their directorship, he took a week of vacation time to mark the course. Over the years, financing the race was a growing difficulty.
Cathy Drexler stepped in as a private contributor and Montrail became a sponsor, but the financial strains of the race were hard on Brian and Darlene Poepple. Another difficulty she faced was permits and permissions from the many groups involved with the race (Superior Hiking Trail Association, Minnesota State Parks, Superior National Forest, Cook County, and Lake County). In comparison, Harry Sloan had been on the SHTA Board of Directors and was a Saint Louis County Sheriff's Deputy, so he came to the race with many established relationships.
1999
Sue Johnston of Vermont set a new women's record of 23:52:40, the fastest time run on the old course.
2001
Course change to Superior 100: Since the race's inception, before the first running, plans for that first road section being replaced with trail were hoped and planned for. According to the first race booklet: "There is a gap near Crosby Manitou State Park. This gap is scheduled to be cleared during the 1991 construction season." But the issue was one of private land ownership and it would be another ten years before it was settled by building trail around the private land. So when the trail was connected, the race director, Darlene Poepple, switched the road section for trail and moved the start to a gravel pit on Highway 6.
2003
Rick Lindquist replaced Darlene Poepple as race director of the Superior 100. Rick had already finished the race three times and he had created the Superior Spring races. He claims that directing the 100 one year aged him ten years. "Rick and Linda [Rick's wife] had to grow new arms and legs," Don Clark says.
Superior 100 was changed to an out and back course to take advantage of a limited amount of volunteers.
2004
Darlene Poepple again directed the Superior 100 for one year.
2005
There was no running of the Superior 100.
Larry Pederson became director of the Superior Trail 50 and Marathon.
2006
Larry Pederson directed all three races, with courses in their current form. It was the first time all races finished together. "I had taken over the 50 mile and Marathon in 2005 from Rick Lindquist and that had gone exceedingly well for the first year, so I thought that adding the 100 mile couldn't be that much harder. I was wrong." A big mission of Harry's for this race was healing relationships. He resuscitated the race and gave it new life at a time when no one else wanted it. Larry had finished the race multiple times.
Superior 100 course took its current form, starting at Gooseberry State Park and ending at Caribou Highlands at Lutsen Mountain, with the course almost completely being run on single-track trail.
The name of the 100-mile run was changed to Superior Sawtooth 100.
The start of the 100 was changed from Saturday to Friday.
Sean Andrish set the men's record (new course) of 21:42:11. He had undergone brain surgery two weeks before the race, and his father removed the staples from his head in their hotel room the night before the race.
2011
John Storkamp replaced Larry Pederson as race director. With a nod to the race's history, he changed the name back to the original Superior Endurance Run.
2012
Stephen Moore of Austin, Texas set a new 100-mile record of 21:02:41.
Kristina Flocik of Goffstown, New Hampshire set a new 100-mile record of 24:49:06.
2015
The race began a lottery entrance system.
Jake Hegge set a new men's course record of 19:30:37.
Harry Sloan, race founder, ran and finished the race in his first attempt.