Written By John Storkamp – Race Director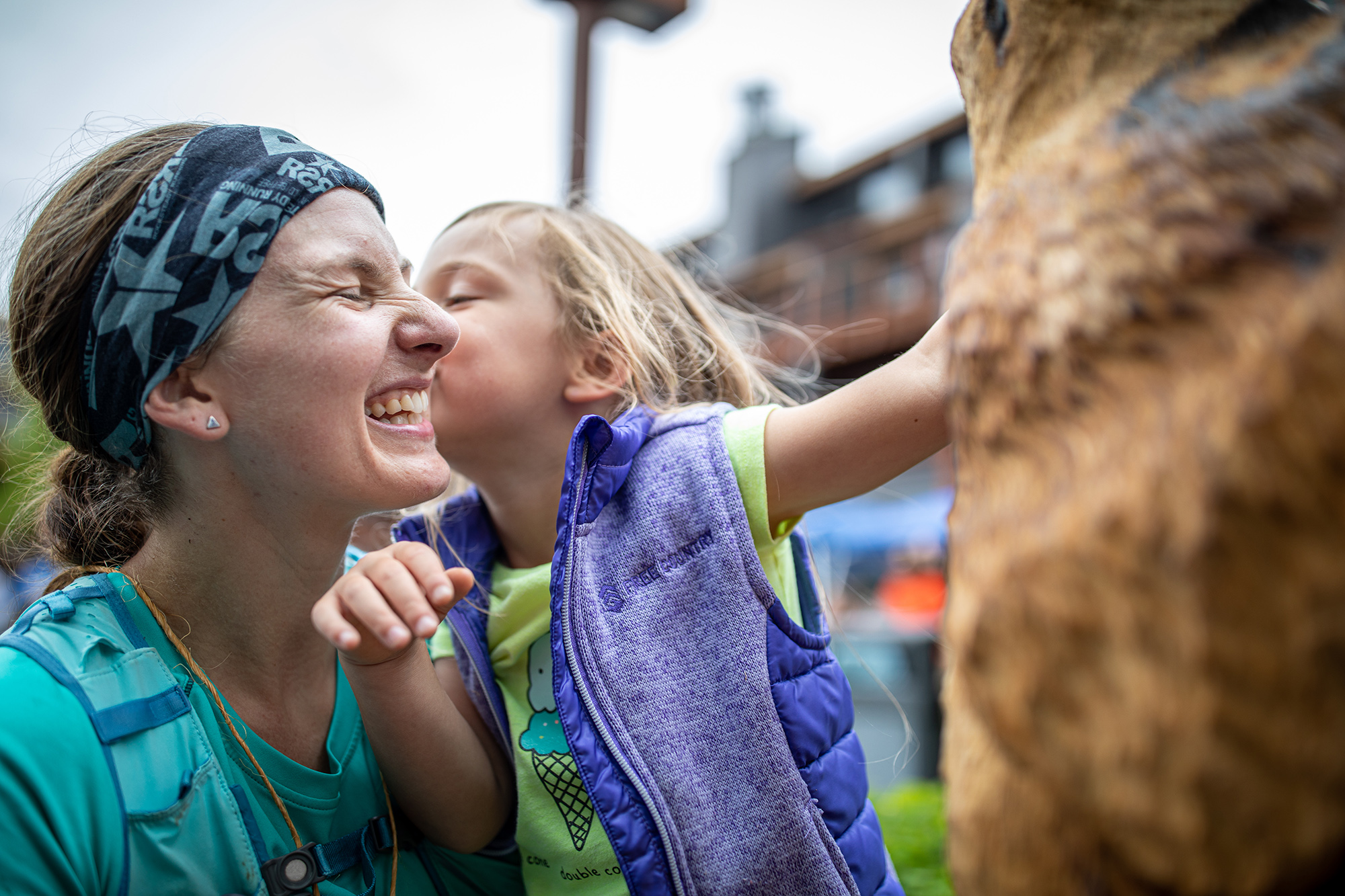 Kisses All Around At the Wolf – Photo Credit Tone Coughlin
I have always gone back and forth – sometimes calling Superior a race, and sometimes an event. Rather than either of these, what I think I have meant all along is that Superior is an EXPERIENCE.
As defined by Merriam-Webster…
RACE: A competition between runners, horses, vehicles, boats, etc., to see which is the fastest in covering a set course.
Yes, for sure, I say go, runners run and we record finish times at the end and everyone is ranked by place, but we all know there is WAY more to it than this.
EVENT: A thing that happens, especially one of importance.
Getting closer for sure. Superior certainly happens, it is important to us, it is important to you. For many of us it frames a season or a year, for some a running career, for many of us it can become an important measure of the passage of time.
EXPERIENCE: The fact or state of having been affected by or gained knowledge through direct observation or participation.
Aha, I think that this is it. Affected by, gained knowledge (or strength, or clarity) through being part of this thing that we call SUPERIOR. And note, this does not (and is not) exclusive to runners… volunteers, crews, pacers, spectators and family members are affected through their observation and participation as well. Many of us come out the other side – changed for the good. Our good friend Robyn Reed has been known to say, "Volunteer at Superior, it will change your life" – insert run, crew, pace as needed and you got it.
When I started directing trail races, I had been marathoning for many years and I was somewhat competitive at local trail and ultra-races – yet from day one I had a sense that this was the least important and least interesting thing about what I was experiencing on the trails, at the races and within the community. From day one of my directorship, with a background in project management, I brought a sharp pencil to make sure that all the t's were crossed, and I's were dotted so our races went flawlessly. Having come out of skateboarding in the late 80's and early 90's, which was then a very marginalized sport, I always loved how it accepted all-comers – I have tried to bring that same sensibility to our events. So in addition to that sharp pencil, I brought an eraser and used it and still am trying to use it. I have tried to blur and erase the lines between fast and slow, finisher and DNF, runners and volunteers, crews, spectators and families. This is not to diminish the competitive aspect of running and racing since this aspect certainly is important, we would not all sign up to "race" otherwise. The goal has been to elevate everything else and put the focus on the overall experience, for everyone. There is far too much mundane, far too much normal, far too much separation and division in our world today – Superior and Rocksteady Running try to be places of reprieve where those divisions are less prevalent and aspirationally, non-existent – for a day, a weekend or as far as you want to take it. When you randomly come across a person on the street with an RSR shirt it's a starting point for conversation and connection.
This year was the 29th annual race, the 100-miler founded in 1991 as one of the original ten 100 milers in the country. We still run into folks from time to time that say "never heard of it" and that is OK, we are tucked away up here in the North, the Boreal, on the shore of a lake with one-tenth of the earth's fresh surface water… we don't mind keeping to ourselves a little bit but are more than happy to share it with those that seek it out and want to be a part of the experience. The lottery for all three distances were bursting at the seams again this year. We don't publish the numbers, we don't wear it as a badge of honor and do not need validation in this way "see, look how awesome our race is, everyone wants to do it". It crushes us to turn runners away. But, as a result of the lottery the positive thing that we do see is runners making an early commitment to Superior, because it is THE place they want to be come Fall – they consciously make it a priority in their lives and we get a wonderful group because of it. And what about those that don't make the lottery, so many of them gladly volunteer.
"This was my first time EVER volunteering at and witnessing what this race is about. I can honestly say it has been my honor (my friend's and mine) to be inspired by runners, crews and fellow volunteers! What an incredible community! You have something special going, I can think of one name or two or three, not even runners but a truly special family we got to meet and serve with, Dale and his wife Micki along with their son Steffan at the Sawbill aid station. I could not believe 23 years and going strong for non-runners to serve the way they do with incredible dedication and joy for all of those athletes. I was so moved by it all. I never thought I would say this, but I am bit glad that my friend Kathy and I did not make it in the lottery, because we truly got to be a part of something truly awesome from the "other side". My teen and hubby will be helping next year and if I don't get to run, I will be there with them. Thank you for all you do, it was truly special for us to be there. ~ Paula"
This year's races had runners registered from 36 states, 6 countries and 188 Minnesota cities and was supported by more than 365 volunteers, from Minnesota yes, but from well beyond… California, Washington State, Niagara Falls… individuals flying in, just to serve. Whoa.
We had a beautiful August on the North Shore and the trails were about as dry as they get – a week of on and off showers leading up and a little bit of rain during the races created just enough superficial mud so runners would be challenged in that way as well. "As well" because as we all know the roots, the rocks and the 100's of short steep climbs usually steal the show. While the climbs may be short and steep they do add up… 21,000 FT of elevation gain for the 100 mile, 12,500 in the 50 mile and 5,500 in the Marathon. So, what about those races and racing within the Superior experience… Let me tell you.
+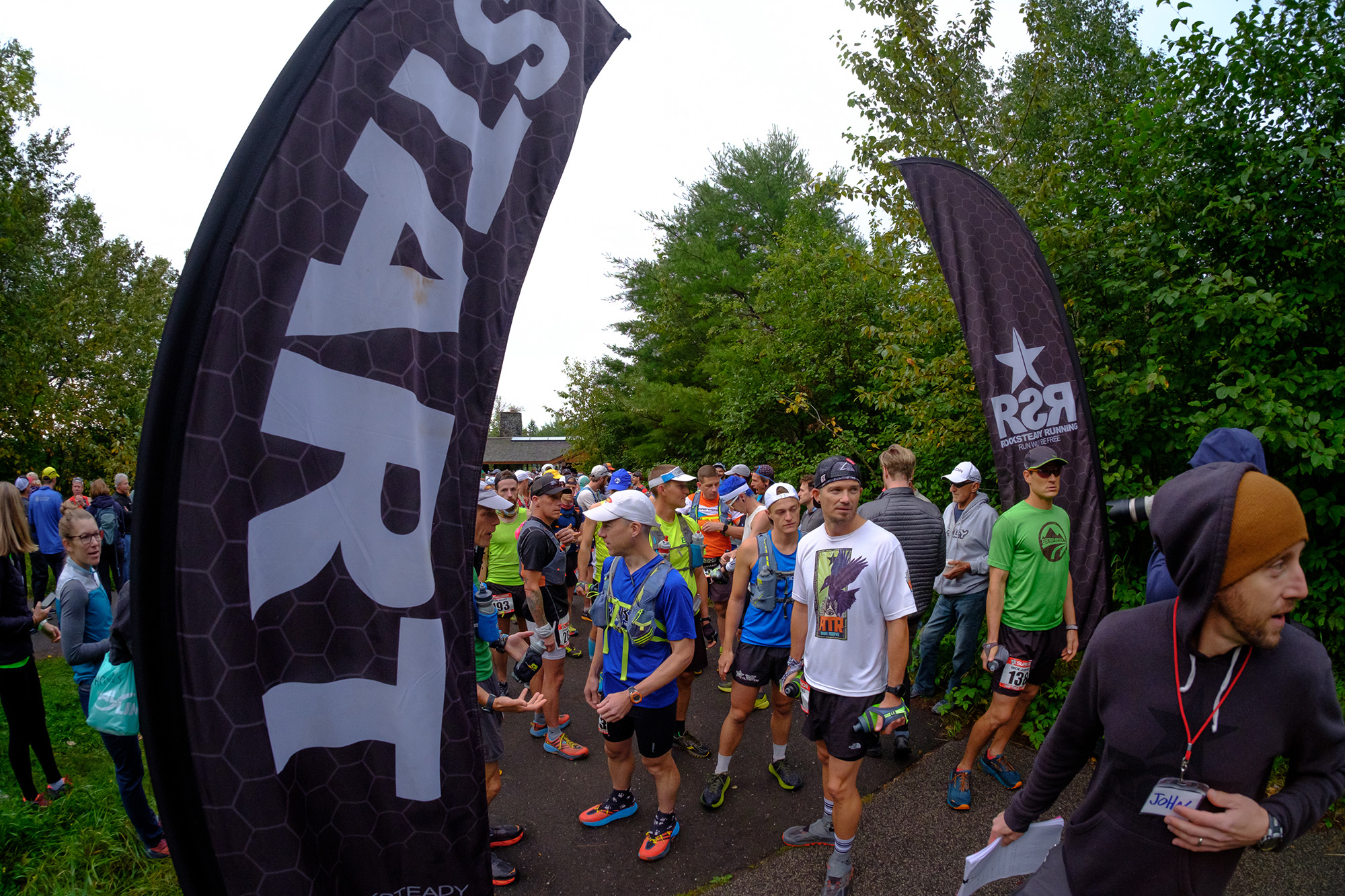 2019 Superior 100 Mile Race Start – Photo Credit Kent Keeler
100 Mile:
Registered 293, Starters 251 (86%) DNS 42 (14%) Finishers 180 (72%) DNF 71 (28%)
Thursdays pre-race gathering was off the charts again. What was being charted? Energy, smiles, nervousness, anticipation, reunions and connection. Everyone was there (or they were supposed to be anyways – its mandatory) previous finishers resplendent in their 100-mile finisher sweatshirts, stars indicating the number of times they have lived this experience – along with those wishing to earn theirs. Lake County 4H hosted us in the Lake County Fairgrounds 4H barn per usual and put together a fantastic dinner for those that wished to partake. We are so grateful for their involvement. The Superior Trail Race is so proud to be Lake County 4H's largest fundraiser and donor of their year, year in and year out. I went to their end of year banquet a couple of years ago, saw the kids get their awards from all of their projects and competitions throughout the year and they sent with me, a sincere 'thanks' to everyone who participates in our race and in turn supports their program.
The 4H Pledge seems fitting… "I pledge my head to clearer thinking, my heart to greater loyalty, my hands to larger service, and my health to better living, for my club, my community, my country and my world."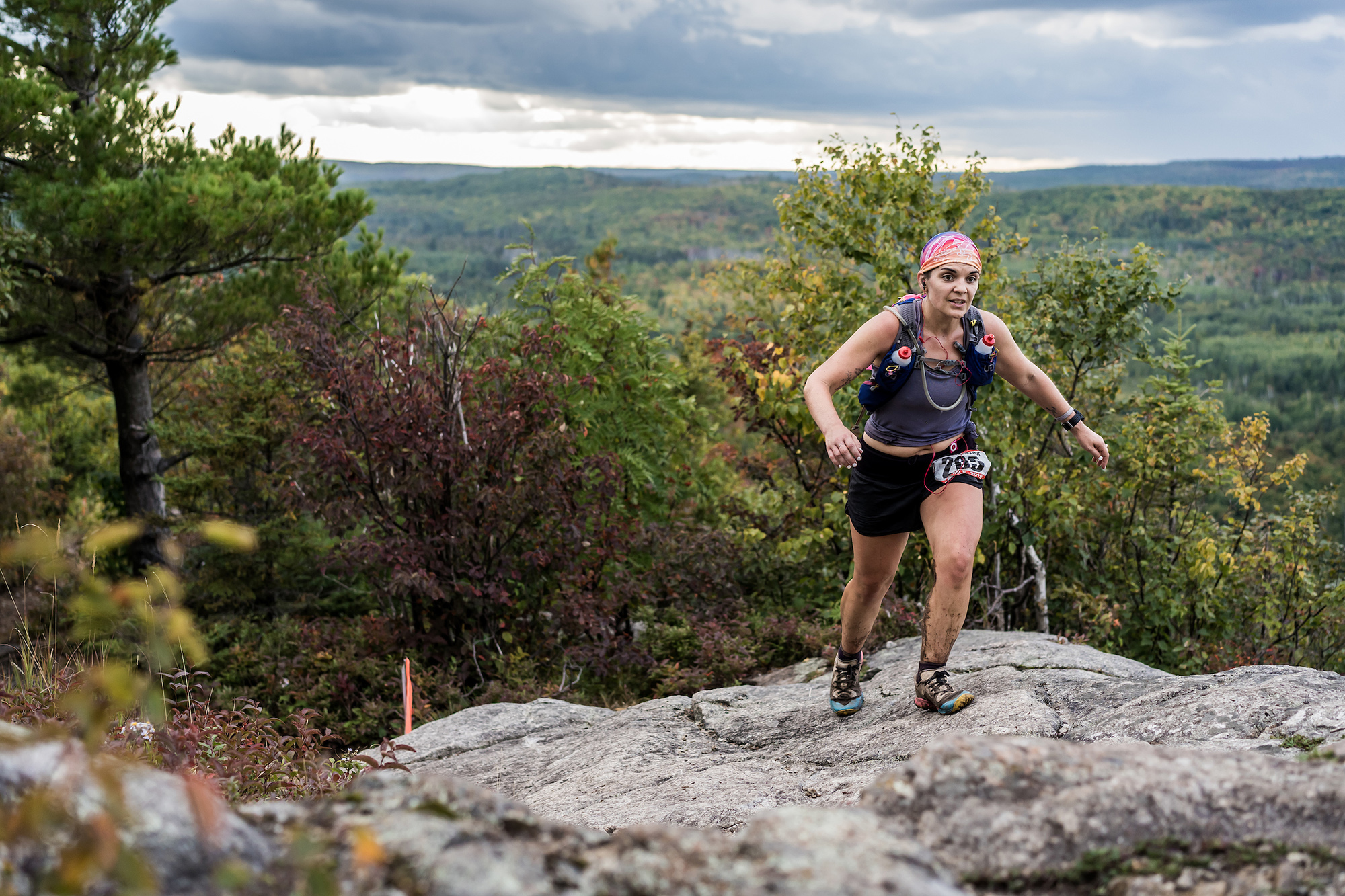 2019 Superior 100 Mile Trail Race Winner Kelly Teeselink – Photo Credit Ian Corless
Friday morning came with Goldilocks and the three little bears like weather, not too cold, not too hot but just right (with a little bit of humidity I was later told – runners always have to find something wrong with the weather don't they). These mostly unimpeding temps making some of those day-one sections which can often times feel stifling, a little more bearable. The few mile stretch of pavement early lets the contenders fly and fly they did… it did not take long and the race was off in earnest. Michael Borst (who had been the 50-mile course record holder until it was broken this year) was off to the early lead and first to the single-track, but the gap never opened convincingly as the chase pack held him close, eventually overtaking him, Borst later going on to record a DNF. The King and Queen of Superior (she has been so dominant that we often times give her both titles), Mallory Richard was in the mix with the boys early as expected, appearing to have no equals among the women's field – this having been the case in several year's past. But after running strong and opening the convincing gap that Borst was unable to do in the men's race, Mallory met the same fate as Mike recording a DNF at Cramer Road. So, the cavalry on both the men's and women's side would emerge and take the day. 2018 men's silver medalist Mick Jurynec would be the first to cross the line in 20:15:55 with the fourth fastest time ever on the course. No stranger to racing well on the SHT (50 mile win in 2017 and 100 mile third place in 2018), Kelly Teeselink would go on to take the women's title in 25:23:19 running the sixth fastest time on the modern-day course. About an hour behind Kelly was past Superior 100 champ (circa 2012) April Anselmo taking second. Third overall and first Master's runner was Tina Koplinski, while the Grand Masters title went to Susan Donnelly. Second in the men's race to Jurynec, Ben Drexler in his 100 mile debut would come up aces, running the eight fastest time ever and becoming the fastest all time Minnesota runner on the course – that is just nuts. Jurynec taking the overall is also in the Masters division, bus since we don't double-dip the award went to Adam Schwartz-Lowe. Jeff Miller took the Grand Masters title, running the third fastest ever Grand Masters time. While it is part of the Grand Masters division, Matt Long was the fastest of the over 60 crowd, at the age of 63 running 30:21:09. Irina Boggie-Miloserdova was the only women's finisher 60 or older.
A keen eye had been fixed on our 70 year old contingent starting well before the races this year – 67 the oldest age of any Superior 100 mile finishers to date. All being past finishers of the race, they were all toeing the line again as older versions of themselves yet not in the least diminished in spirit. So how did they fare? Glen Hill went 52 miles, the toll of the trail winning out. Bob Stavig, the first ever overall winner of the Superior 100 in that inaugural 1991 race would run strong but eventually take a pretty good fall and call it a day. Unsurprisingly to anyone that knows her, Kathy Weix held on the longest making it to mile 85 before timing out, blisters slowing her. All three were already talking about making their return at 71.
John Taylor finished his 10th Superior 100 making him only one of eight individuals with 10 or more finishes. Richard Plezia completed his 11th, Daryl Saari finished his 12, Chris Hanson his 14th, Susan Donnelly her 19th enroute to winning the Grand Masters division and Stuart Johnson got his 22nd.
Bee stings (and yes, as we always warn you, profusely), there were a lot of them this year and they took out a few runners (everyone ultimately and thankfully safe and sound) and as always, the trail just won out in a lot of cases, runners tapping out on their own accord or missing a cutoff along the way. DNF means did not finish, but it also means did nothing fatal and did not fail. Everyone danced at the dance this year, some just did not make it to the last song – that is just another part of the experience.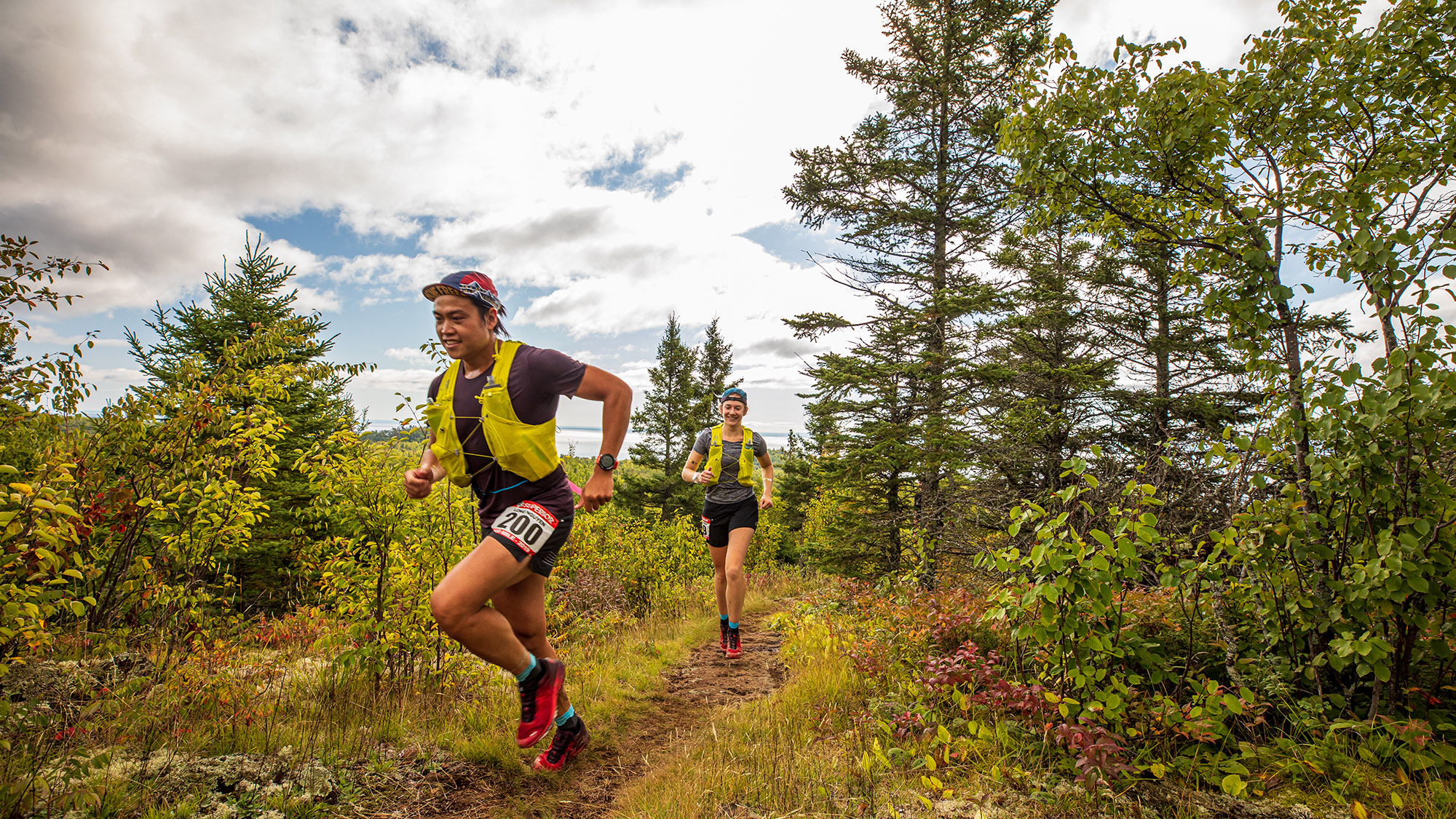 Long and Michelle Before They Got Married – Photo Credit Tone Coughlin
Finally, If you have just gotten to know the Superior Trail Race over the last few years, it very well may have been through Michelle Stolz and Long Nguyen's photography via Fresh Tracks Media. While I feel like I can hardly remember a time before them, there actually was. Michelle and Long met for the very first time, really not all that long ago, during the 2015 Superior Fall Trail Race at the Cramer Road aid station. Michelle was there volunteering at the aid station overnight and Long was volunteering as, what else, a photographer – their friend Kari made the introduction. Michelle went on to pace Kari after her aid station shift. Long taking photos at the finish. They connected there again and arranged to meet after the race. From that point on it has been countless adventures and races… they welcomed their dog Bean into their family, and they have continued to work tirelessly – skillfully capturing races, the sport of trail running and the natural world through their stunning photos and videos. On race weekend neither Michelle or Long were behind the camera as they were both running the 100 mile race together, and when they arrived at the Cramer Road Aid Station took a short break to exchange vows, in front of a small group of family and friends, the aid station volunteers, and whatever runners happened to be there at the time. Michelle and Long, congratulations… and please come back next year and share your one-year anniversary with us.
+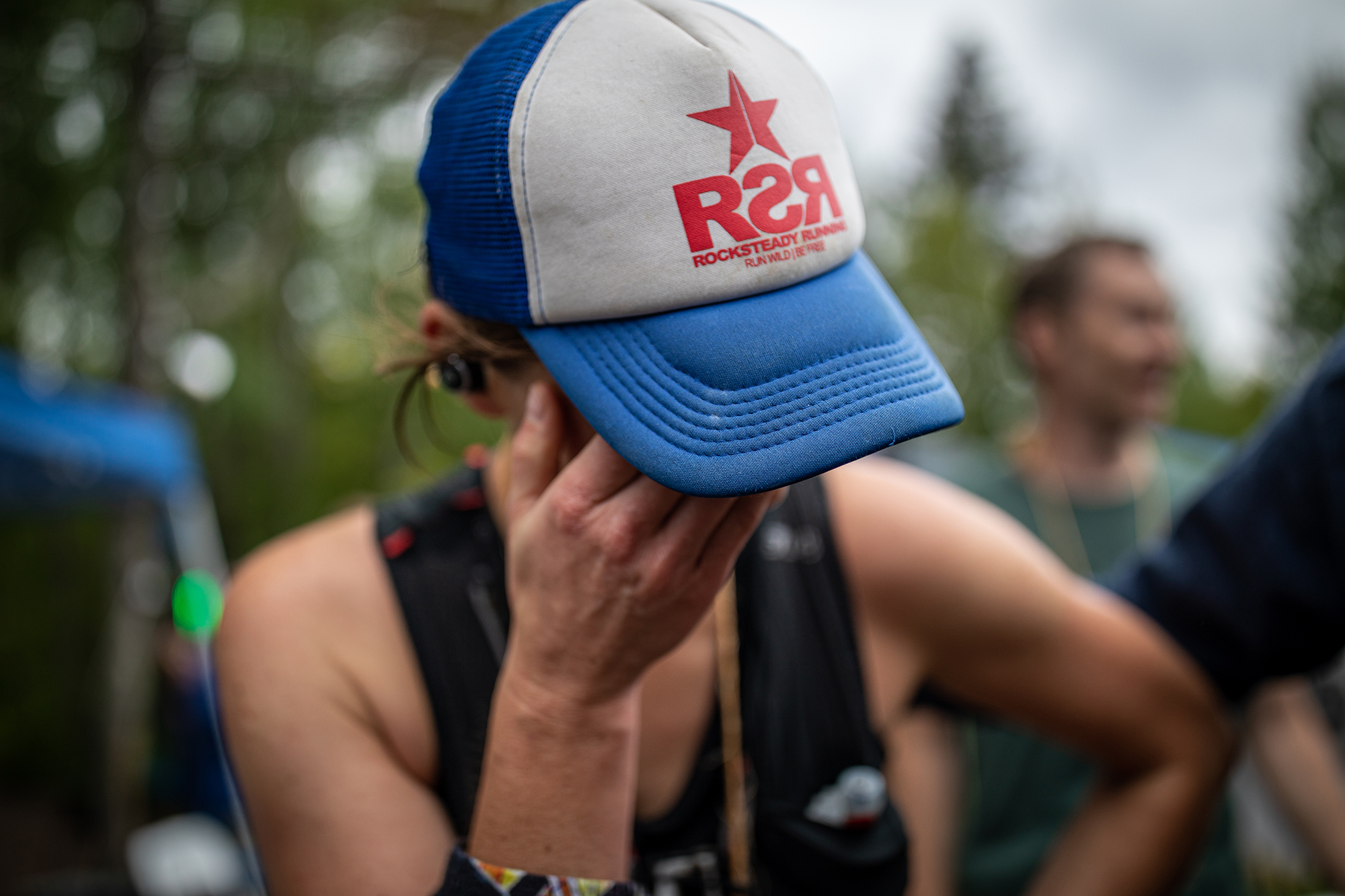 50 Mile Winner Colleen Macdonald Overcome By Emotion – Photo Credit Tone Coughlin
50 Mile
Registered 201, Starters 164 (82%) DNS 37 (18%) Finishers 129 (79%) DNF 35 (21%)
The start of the 50 is something awesome. In the pre-dawn hours runners calmly set out on an ideal series of logging roads and snowmobile trails that lead to the complicated eventuality of the rooty and rocky Finland to Sonju section of the SHT where the races then start in earnest. Jake Hegge, while having the chops to back it up most of the time, has been known to sometimes start at a seemingly illogical pace – he did last year and ultimately paid the price. Maybe fatherhood (as in very recently becoming a Dad) has mellowed him out a bit. This is not to say that he did not start out fast this year in those couple of miles of initial gradual uphill, but he did approach it a little more sensibly. Upon finishing this year with a stellar new course record of 8:18:38, we heard him say something about "old man strength" but at the age of 28 has not quite earned the right to play that card yet, but he for sure has some special kind of strength. Jake can now lay claim to being the only person to win all three Superior Fall Trail Race distances. It was awesome to see Superior 100-mile course record holder Neal Collick on Jakes crew throughout the day – they moved with great efficiency through each aid station enroute to that record. A few other runners had something special on the day as well; storied Minnesota runner and snowshoe racer Greg Hexum ran the fourth fastest time ever on the modern-day course for second place (and first Masters runner, he's 48) while Joshua Miller would place third with the sixth fastest time ever. The Grand Masters title went to Joseph Jameson, Joseph has the first, third, fourth and fifth fastest Grand Master times on the course.
On the women's side, rarely does a two women race come across as exciting as the race between Colleen MacDonald and Emily Carlson. Both hyper talented, super tough, open and wonderful humans, and both laser-focused when they compete. Colleen and Emily were still together at Sugarloaf and both looked like they were at the office – totally comfortable in what they were doing and looking to achieve. In the end MacDonald was 10 minutes faster running 10:52:15 which is the fourth fastest time ever – overcome by emotion "it has been so long since I have won". Everyone works hard to participate in these races no doubt, but these front-runners put a little different pressure on themselves, push until it hurts and then push way harder yet again, sometimes it makes them and sometimes it breaks them and in the end, the emotion can be a mix of elation and relief. Our Masters champ was Sarah Krueger and our Grand Master champ was Shelly Groenke.
Al Holtz timed the 50 to perfection, staying ahead of the cutoffs all day and becoming the oldest ever finisher of the 50 mile at the age of 69.
The 50 is really damn hard. The 100 is hard for all of the same reasons and obviously because of its length but the 50 packs a punch like few other 50-mile races in the country do – it's a grinder. Congratulations to all who reached up to finish this one or tried to set a time, those that did not make it this time, we will be here for you in the years to come – it is one heck of a challenge.
+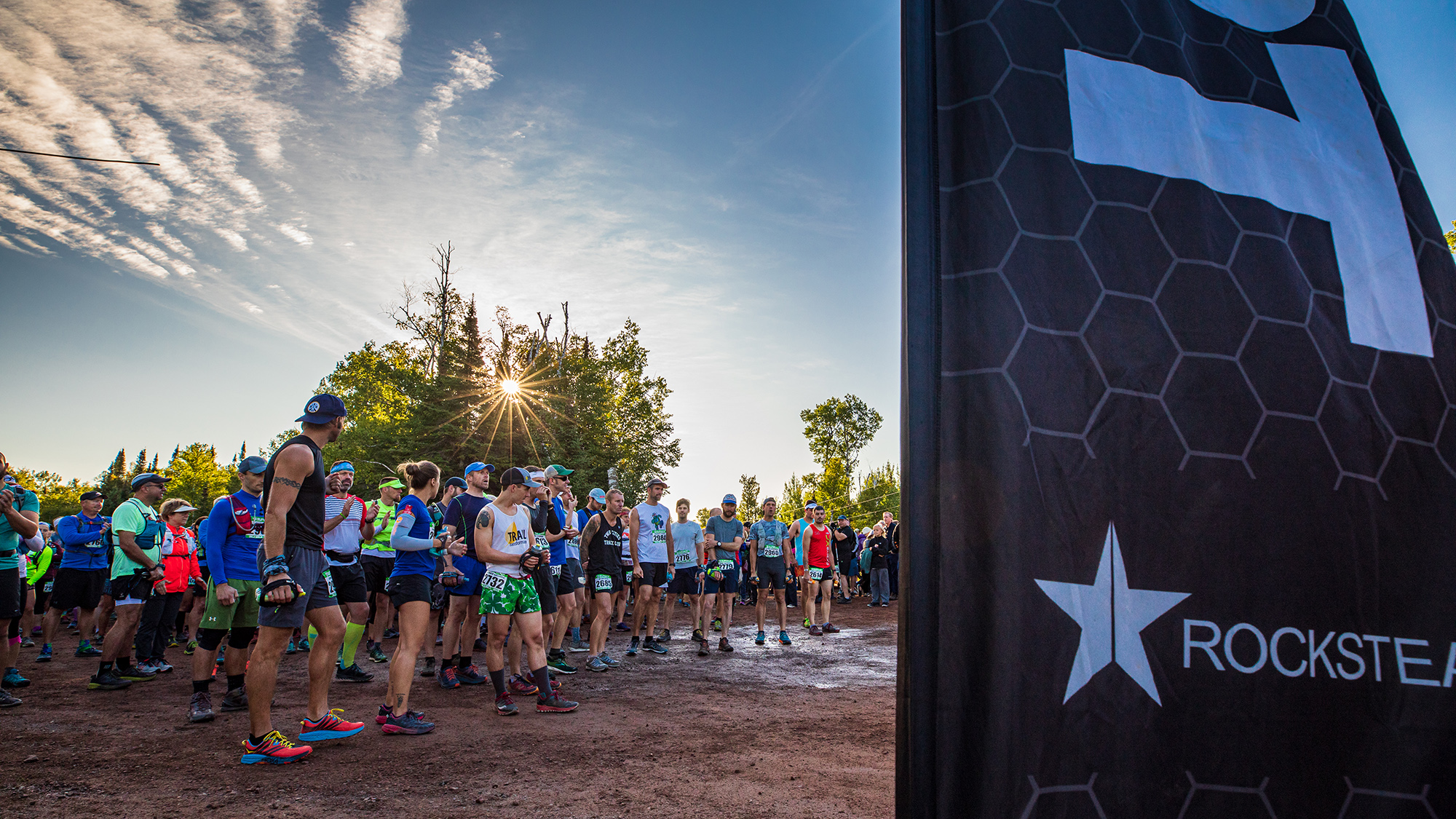 2019 Moose Mountain Marathon Race Start – Photo Credit Tone Coughlin
Moose Mountain Marathon
Registered 433, Starters 332 (77%) DNS 101 (23%) Finishers 312 (94%) DNF 20 (6%)
By the point in the event weekend that the marathon starts, 100 milers and volunteers have been going for 24 hours straight… our marathoners give us much needed new energy and life. And while the marathon is the shortest race distance of the weekend, it is no gimmie… it is one of the most rugged marathons in the country and convers some of the most beautiful terrain of any marathon anywhere.
If Mallory Richard has solidified herself as one of the all-time most dominant figures in the 100 mile race, Emma Spoon has just as well achieved equal status in the marathon. This year marked Emma's third win in 4:20:27, and while this year's performance did not better her course record from 2018, she does now own the 1st, 2nd and 4th fastest times ever run on the course. Second place was over 30 minutes back, and second through seventh were all within 10 minutes of each other, wow, what a group of athletes – if only we had live Tour De France style coverage of this battle. 22 years Spoon's senior, Joanne Sackett was second overall and took the Grand Masters title. Jody Zeleznikar took the Masters and fourth overall.
At the finish I saw my long-time friend and peer Wynn Davis, he had a big welt on his head, he went down pretty hard, knocked his melon, got passed by a couple of guys and took third. Wynn has won every Superior race distance (Spring and Fall) besides the 50 miler – for all intensive purposes he is THE journeyman of Superior racing – he was competitive in the mid-2000's and is still competitive today. After the race he texted me this very brief account of the race… "It was a dog… wolf.. fight out there". Wynn took third, James Sorenson second and Lane Johnson a very gratifying first in 3:45:08 with his last win at the MMM coming back in 2012. Lane and Wynn have now each won the marathon multiple times and James the 50. Tim Andrews earned the Masters title and Kent Ogston took the Grand Masters.
Race founder Harry Sloan (71) ran and finished the marathon – it is always an absolute honor to have him with us. Resetting her own record as the oldest woman to finish the Moose Mountain Marathon, Kay Stinson did it again, this time at the age of 72. Our good friend Wally Goettl was the oldest finisher on race weekend between all distances at the age of 73.
And… that was just the leaders, the division winners, our grand master's competitors and those that have racked up a lot of finishes. There are too many stories for me to recap here, so I encourage you to send in your race reports and we will post them on our website, because your story is worth sharing too and is helpful for those who aspire to running one of the races.
+
Ultimately, it would be easy enough, probably much easier to just call Superior a race. Do the lottery, run the race, publish the results and leave it at that. But I guess Superior wears its heart on its sleeve and the former is not really our style. So in that context, we challenge everyone involved to find the experience in it, to think, act and love more and differently for a few days and hopefully, when we return to reality we carry a piece of this into our day to day experience. And if that day to day experience includes running into someone with an RSR t-shirt, you will both for sure have a lot to talk about. A starting point. A connection. An experience in common.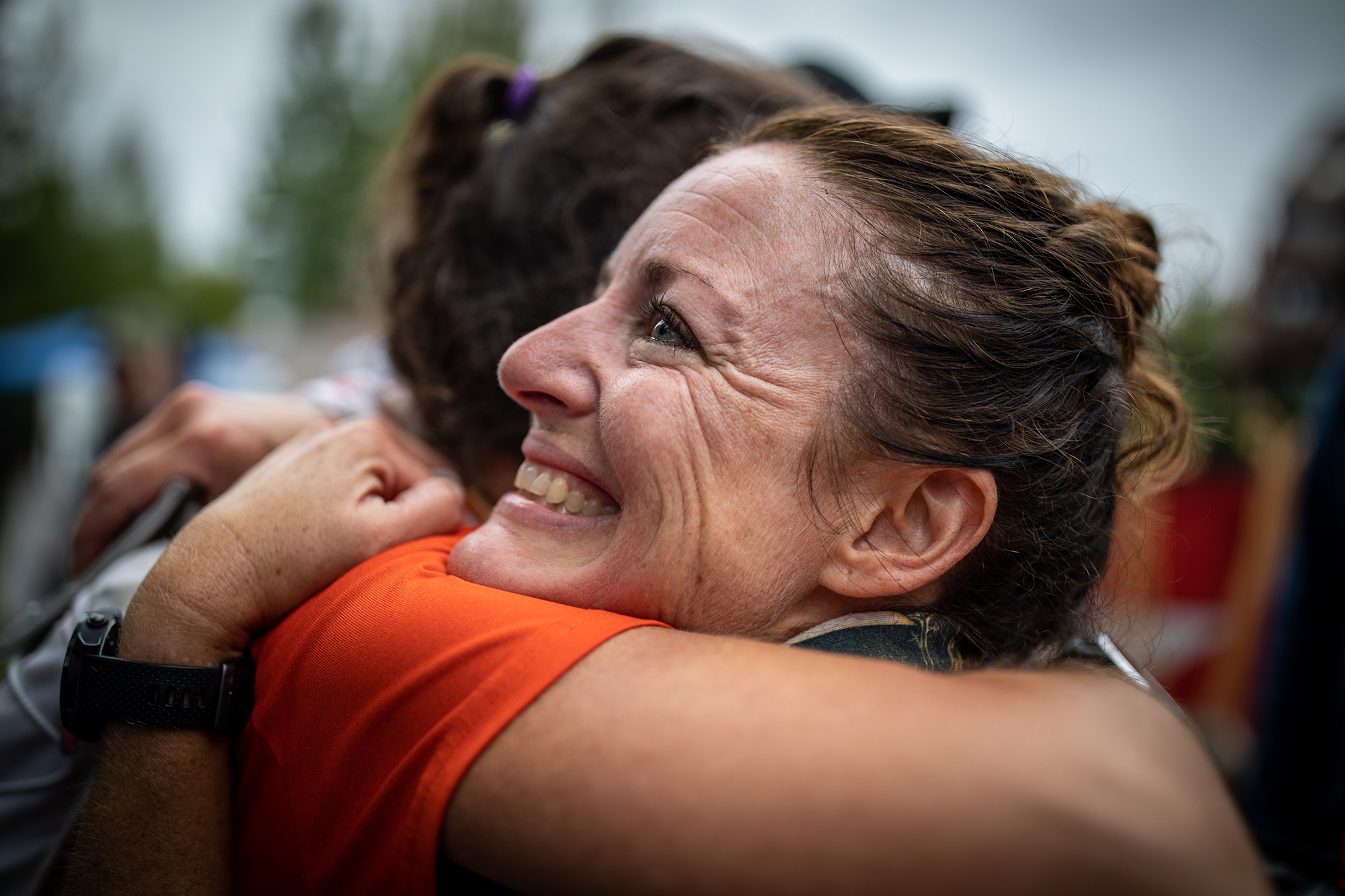 Laurel Sipe After Finishing the 100 – Photo Credit Tone Coughlin
+
Postscript
The Superior Fall Trail Race 100M, 50M and 26.2M is held on the Superior Hiking Trail aka, the SHT. As always we encourage runners, pacers, crews, spectators and volunteers – anyone that was inspired by race weekend to join the Superior Hiking Trail Association in order to support the trail that makes this all possible.  If you are inspired to do as much you can use one of the following links to become a member or make an additional donation now! Memberships – https://superiorhiking.org/joinsuperior/ | Donations – https://superiorhiking.org/donatesuperior/ – if you are on Facebook, HERE is a post with more info and a place where you can drop a line to show your support.  As always, the race will make a significant financial contribution to the association after the race and contributes 100's upon 100's of volunteer hours per year.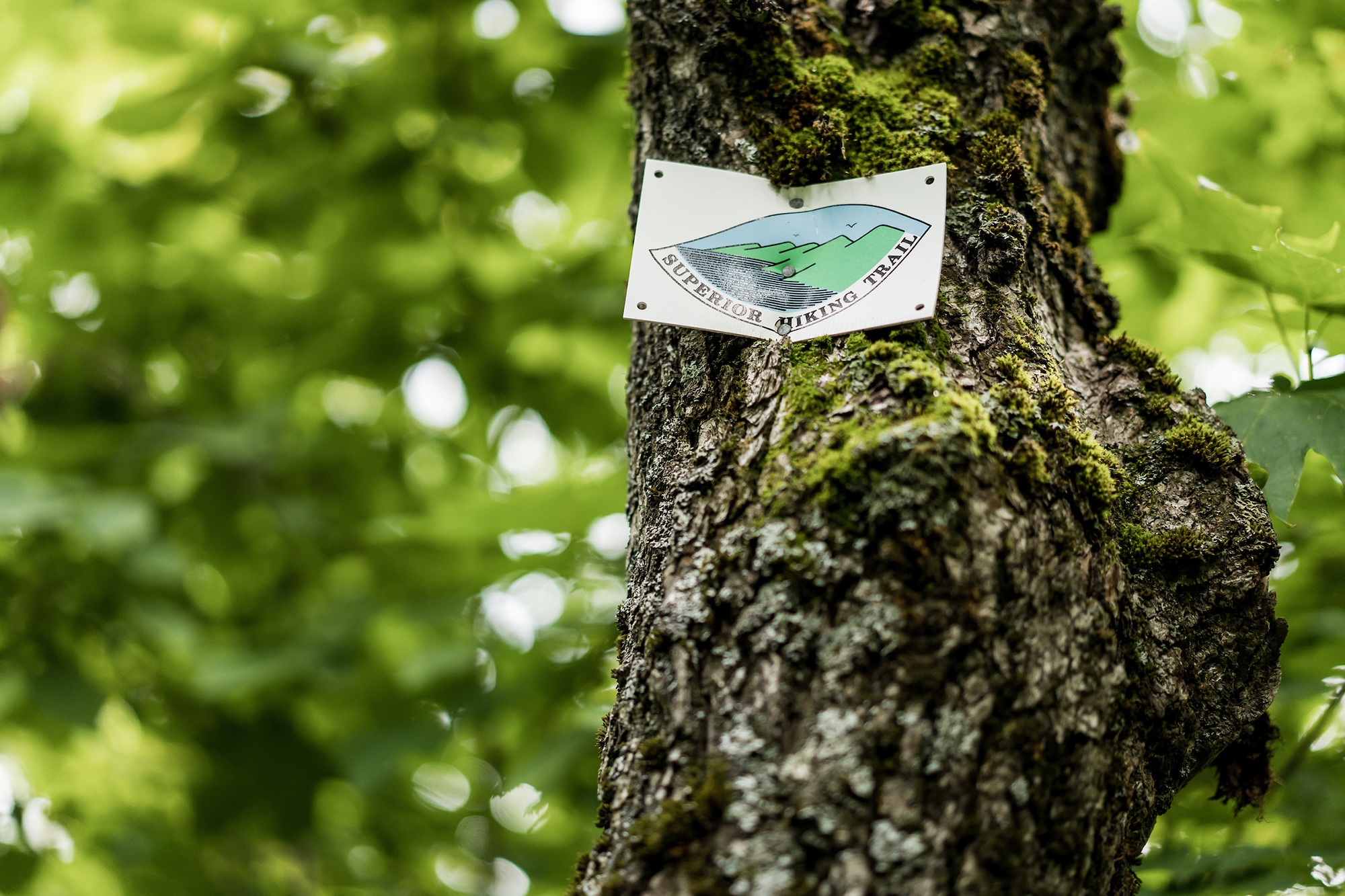 Photo Credit – Ian Corless