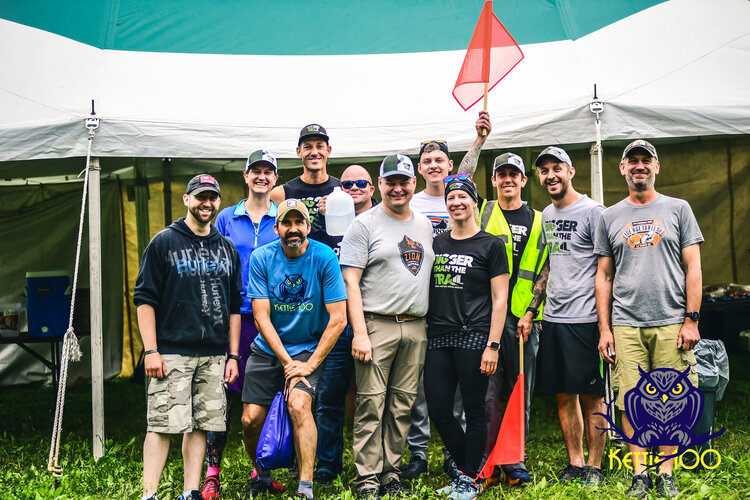 Photo from the Bigger Than The Trail aid station at Kettle 100
We are excited to announce that Bigger Than the Trail will be heading up the Sugarloaf Aid Station at the Superior Fall Trail Race for the 2023 race and beyond.
Bigger Than The Trail is a 501(c)(3) tax-exempt organization that is using trail running as a platform to advocate for mental health.
We come alongside individuals, providing educational support and treatment options. Please don't think our mission is limited to just people who run. This is much bigger than that. Running is not the focus, but rather the people we can impact. Our focus is to bring light to the real struggles and challenges associated with mental health.
The Sugarloaf Aid Station is at mile 71.5 of the 100 mile race and 21.5 of the 50 mile race. Bigger Than the Trail founder Tommy Byrne will be the aid station captain. Tommy has been part of the Superior family for a number of years, primarily joining us in order to support Bigger Than the Trail athletes as a crew member and pacer. Bigger Than the Trail has also been heading up the Bluff Road Aid Station at Kettle Moraine 100 for several years – the aid station is a welcome oasis at that race. From Tommy… "Bigger Than the Trail is honored to be part of the race and excited to create an amazing aid station to help get Superior runners to the finish!" If you are already a Bigger Than the Trail ambassador or would like to volunteer with their crew, please reach out to Tommy [email protected] and/or the Superior Trail Race [email protected]
A heartfelt thank you to outgoing Sugarloaf Aid Station captains Jan and Joe O'Brien…
Jan and Joe O'Brien captained the Sugarloaf Aid Station for many many years, initially with their good friends, and friends of the race, Pam and Loren Albin. They took what was a modest little outpost on the side of Sugarloaf Road and turned it into a wonderful aid station. Under their care and direction the Sugarloaf Aid Station was always well organized and runners were well cared for. They always had an outstanding crew by their side, great food and brought the good vibes! 2022 was Jan and Joe's last year heading up Sugarloaf, but certainly not the end of their relationship with Superior. Thank you Jan and Joe, we are grateful for your many years of service! Some of the dedicated Sugarloaf volunteers of year's past plan to stick with the Sugarloaf Aid Station, some may disburse and try out another one, and some will take a year or two to run themselves.