The Superior 100 Mile Trail Race / Superior Trail Race "Hall of Fame" was established to recognize those founders, race directors, volunteers and runners who have made significant contributions to the Superior Trail Races over the years.  Starting in 2011 we will be inducting a new person, group or organization into the Hall of Fame annually at the 100 mile pre-race meeting.  We believe in always remembering and honoring those that have come before us – their tireless  work  created the foundation upon which we still hold one of the oldest / most historic 100 mile races in the country.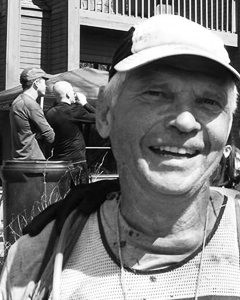 2015: Harry Sloan

Harry Sloan had the imagination and experience to envision the Superior 100. Harry was raised on Minnesota's North Shore. He's completed nearly 200 ultras, including 13 Western States, 20 Voyageurs, and 10 Edmund Fitzgeralds. He had a vision of creating a Midwestern Western States on the Superior Hiking Trail, but he soon steered the race to take a life and character all its own. After creating the race and directing it from 1991 to 1997, Harry finally ran it himself in 2015. We are all indebted to Harry for creating the Superior 100.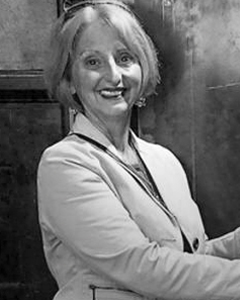 2015: Tami Tanski-Sherman
Tami Tanski-Sherman had the logistics and experience to make Harry Sloan's vision of the Superior 100 a reality. Tami was especially integral as the race's first coordinator of aid stations and volunteers, and she soon became the race's co-director. Tami Tanski-Sherman had put events together in Duluth, and she knew what needed to be done to make things happen. "She was the female version of Gene Curnow," Harry says. "She put on tons of races and knew aid stations. She had a whole bunch of people to work aid stations. She did a remarkable job. She deserves as much credit as I do."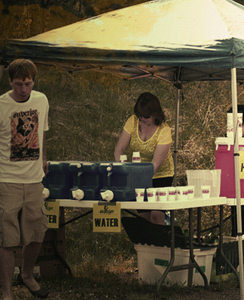 2014: The Immerfall Family
The Immerfalls have been volunteering at the Superior Fall Trail Races since the early 90's and at the Spring Trail Races since their inception in the early 2000's – they run the Sawbill Aid Station in both the Spring and the Fall.  While the Immerfalls are active outdoors people they are not ultra or trail runners per se' they just love being a part of our event and love helping people – they are a great example for us all and a reminder to give back, always.
A note from Dale  "Initially I (Dale) became involved in the race because my sister and her husband volunteered to do the HAM Radio position at Cascade.  I wasn't officially a volunteer at that point, but went to see what it was all about and got involved in helping the runners at the Aid Station, which was in a nice cozy picnic shelter with a fire and electricity.  I estimate this to be either fall of 1993 or 1994.  The next year, the whole family came and again unofficially observed and helped.  The kids would take their glow sticks and lead the runners back to the trail as it was a bit confusing and going the wrong way was easy to do.  After 2000, my sister and her husband stopped volunteering, but our family continued.  Over time, the trail has changed and we moved to the Sawbill Aid Station.  Several years, Dale and the kids volunteered at the station while Micki had a schedule conflict.  When the Spring races were added, we added those to our schedules too.  Over the years, continual improvements have been made to what is offered at the Aid Stations and more volunteers have been added.  We too have learned how to better aid runners.  We continue to be amazed at the stamina and determination of the runners and of their politeness and thankfulness expressed while they are working to meet their goals.  We are also so proud of our kids for their love of volunteering at this event every year.  This is truly a family tradition."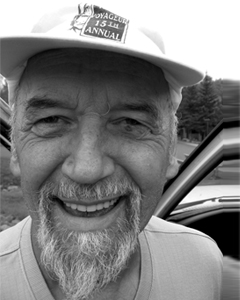 2013: Eugene Curnow
Eugene Curnow was a fixture in the Northern Minnesota / Duluth Minnesota running scene for decades. Eugene found running later in life, embraced it and not only became an accomplished runner, but a leader and an ambassador for the sport. Eugene was the first person to achieve five Superior 100 Mile finishes and the first to hit 10 Superior 100 mile finishes (still only one of three individuals who has run 10 or more).  Along with his own personal achievements as a runner, Eugene was always there to give back to the sport that he loved.  Along with his wife Barb, for over two decades they tirelessly worked together to put on the Minnesota Voyageur Trail Ultra (one of the oldest running 50 mile races in the country) and founded the Half Voyageur Trail Marathon (renamed the Eugene Curnow Trail Marathon in 2013 in Gene's honor). Gene (and Barb's) contributions to the sport are clearly visible today in our local running community and his spirit will surely be kept alive by the multitude of Eugene's "trail disciples" involved in Minnesota Trail and Ultrarunning. A few runners are chasing 10 Superior 100 Mile finishes but Gene will forever be the first to achieve this impressive milestone while always making time for others in our local running community.  Eugene Curnow passed away in 2013 after a brave struggle with cancer.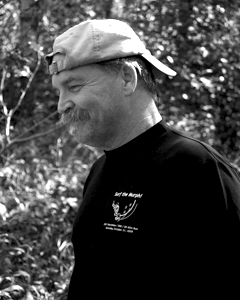 2012: Donald Clark

When Larry Pederson set out to revive the Superior 100 Mile Endurance Run / Superior Trail Races – he knew he could not do it alone and enlisted the best help available.  When it comes to the trail, the route, course marking and course sweeping there was only one person he wanted heading up his team, Donald "Moxie Dog" Clark. Conceptualizing a new course together, Larry turned the trail over to Don and with help from Bonnie Riley and others, he went to work.  Don and Bonnie not only measured the entire 103+ mile course with a measuring / surveyors wheel – they did it twice to make sure they got it right.  From there Don spearheaded a group of volunteers each year Larry directed the race, to see to it that Superior was one of the best marked trails in the country (a legacy that lives on today). Once the runners started the race on Friday, Don and his small army took to sweeping the course, helping and pushing runners to achieve their goals or talking them through a difficult decision to drop or having to do the tough work of pulling runners who missed the cutoffs and counseling them through those dark moments.  Don himself is an accomplished ultrarunner finishing ultramarathons all over the world including the Superior 100 Mile Endurance Run three times (1997, 1999 and 2000) before he took up the post as one of the most important players in Superior Trail Race history.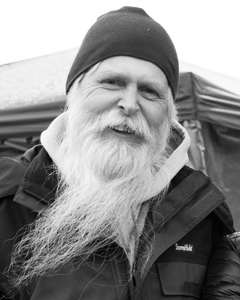 2011: Larry Pederson

Larry did not create the Superior Trail Race but came along at a critical point in the races evolution.  After finishing the race in 1999 and 2000 and seeing the race struggle during a few subsequent years, Larry was struck with the urge to take up the reins and breathe some new life into the event.  In 2005 Larry took over the race and decided it would be a rebuilding year, the 50 mile and Marathon were held but not 100 mile race (the only time it had not been since 1991).  Larry wanted a year to plan, rebuild and re-launch the 100 in a big way.  Working overtime throughout the following next year, Larry met with key volunteers to conceptualize the new 100 mile course, race logistics and set out to make it happen – Donald Clark and Bonnie Riley on the race course / marking and sweeping, Maria Barton organizing volunteers and John Storkamp, Scott Wagner and Joe Lovett on doing the heavy lifting / aid station equipment and supplies.  In 2006 the 100 mile was reborn and went off without a hitch and the Superior 100 Mile Endurance Run was reborn.  A labor of love, Larry and his wife Colleen along with his adult children and key volunteers worked tirelessly from 2005 to 2010 to rebuild the race and set it on a course for future success.  In 2010 after the race, mission accomplished, Larry stepped down as Race Director handing it off to one of his key volunteers during that period John Storkamp.