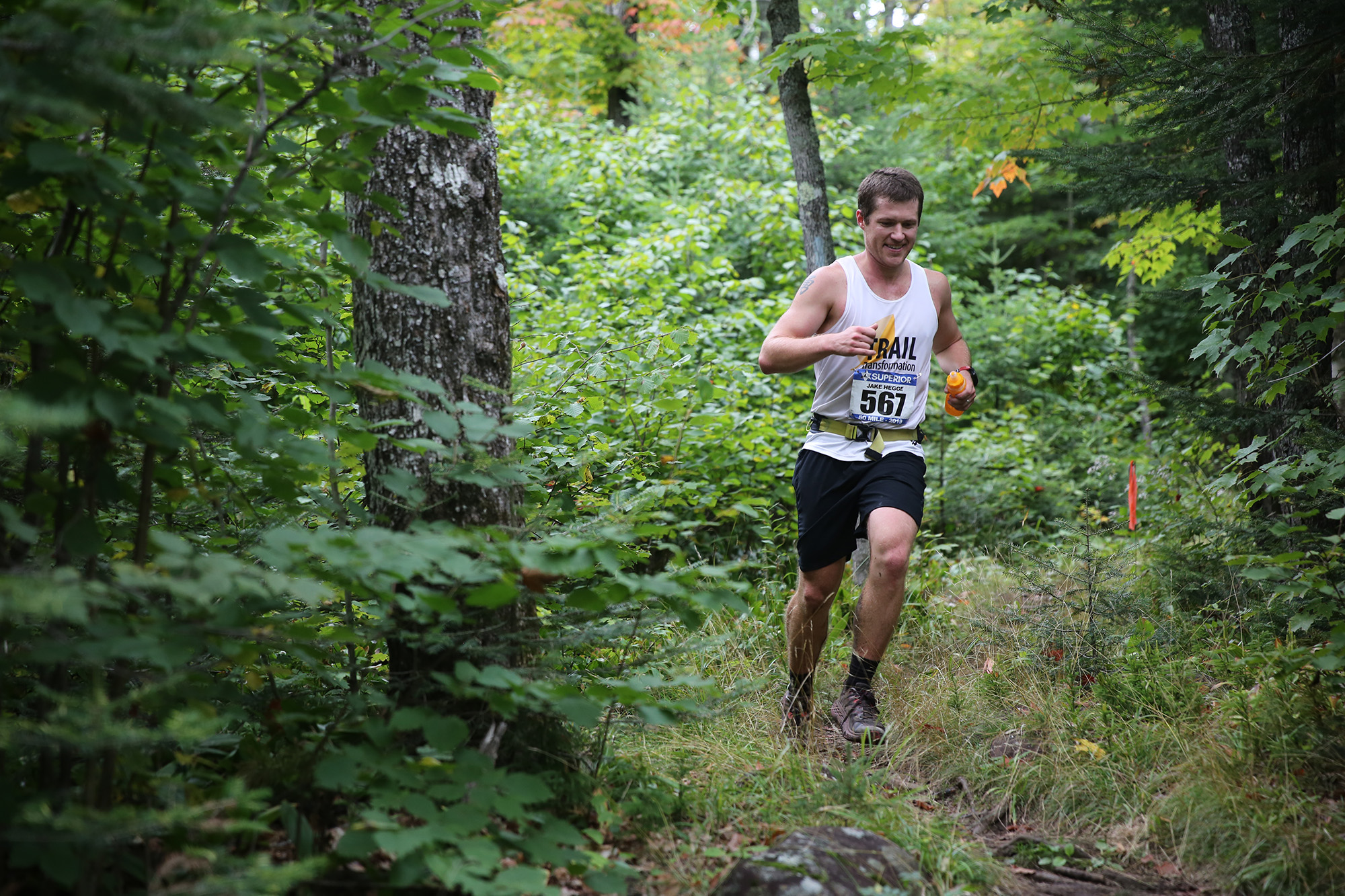 2019 Superior 50 Men's winner Jake Hegge – Photo Credit Cary Johnson
An interview with 2019 Superior 50 Mile winner Jake Hegge (JH).  Interview conducted by Kevin Langton (KL)
---
KL: Hi Jake. Congrats on your win and course record at Superior 50 (Jake beat the course record by nearly 20 minutes). I'm surprised I've never interviewed you because you've won every race distance for the Fall now. But first, you've spent as much time at that race helping other people. Your first experience on that trail was pacing Mike Borst in the 100. Also, you crewed Neil Collick to his 100 mile course record. I see you all over the course. So let's talk about the other side, the helping side of your Superior experiences.
JH: Whenever I'm on the SHT, it's a good time. I've spent more hours crewing, pacing, and doing trail work, than I have racing over the last 5 years. A few specific experiences that stick out are pacing Mike Borst for the second half of the 100 back in 2014, which was my first time ever on the SHT and crewing/pacing Joe Uhan (my Physical Therapy mentor) for a second place finish in 2016 right before I ran the marathon in 2016. Another great experience was helping Neil Collick win in 2017 and earn a course record in 2018. I get a lot of satisfaction from seeing others succeed and that's why I'm also a physical therapist.
KL: You've had some major life adjustments, a new baby in the spring being the main one (congrats!). You also struggled in some of the spring races—for example, I remember you yelling "dad legs" at the top of Mystery Mountain in the Spring Superior race, and you certainly weren't in the lead, which is where you usually are, especially early. And Bighorn 100 was tough for you too, with a 59th place finish. And then later in the season you show up at Fall Superior and knock 20 minutes off the course record. How did you adjust throughout the season?
JH: The dad bod was coming in strong. Training was pretty much non-existent. I actually signed up for Bighorn in the fall with good intentions. In the clinic we have a chalk board with goals written down and mine was to win the 100—but baby came along and life happened. In May, my wife came into the clinic and scratched out "win" and wrote "survive." I got it done…and got my Western States and Hardrock qualifier. I was in a better work/life/exercise routine going into Voyageur. It was a sixth place finish but it was an ugly one. I was a wreck, puking at thirty miles. It took me a lot longer to recover too. For Superior, I dialed in on nutrition, strength, and quality workouts. My wife is a saint—she respects the training side of things and knows that the running is a part of my career. I was able to take some time away from home for the Superior Retreat and I got some good training runs in Marquette.
KL: We've already mentioned that you got the course record for the 50 mile. How did the race play out?
JH: Honestly, this was the least prepared I've ever been for a race. Superior is such a fun weekend but it's a super crazy time of year. From the physical therapy perspective, we're always swamped. There are a lot of high school sport injuries, or people in the thick of their fall race training. On top of that my wife is a 5th grade teacher and she was just going back to school after being on maternity leave with the little guy. Along with these things, Superior is the goal race for so many of our clients so I was busy making sure that everyone was dialed in for the big day. My own race was not even a thought until that morning. I had one goal, bring home the damn bear. This was my third attempt at the 50. The first round I pulled out at 20 miles because I had massive blisters—I had just run the CCC in Europe the week before and my legs were toast. The second year, I competed in a crossfit competition the week before—I placed well but wrecked my body. I went out way too fast that year and self-imploded at Temperance. I never felt so dizzy and nauseous at a race, I couldn't get my heart rate to calm down, and I was crawling through Carlton Peak. I climbed to the overlook, and took a 1.5 hour snooze on a patch of moss. I woke up from the dead and felt brand new. I was able to haul ass the last 15 miles to finish 3rd overall. I'm not afraid to red line, go out hard and hold on. So after not reaching my goal during attempt one and two, I was ready for the third time to be the charm.
KL: Those naps can do amazing things. Back to this year's race.
JH: I was going to take it out easy, and I did go relatively conservative. I followed John Storkamp in his truck along the gravel road and looked back after a half mile and thought, oh shit, no one's there. I kept thinking take it easy, they'll catch up. It's probably a good thing I ran that section solo because I don't like to be held up on technical trails, which is why I always take it out hard at Voyageur. I did run into a tree on the Sonju section that banged up my right quad pretty good. I came into Crosby and started catching some of the 100 mile runners.
KL: I was one of those hundreds you caught. You came up one of the biggest climbs, maybe the biggest climb, the one out of the Manitou River valley, just a real steep beast, running and yelling the whole way. It was so fun to see you run that thing and your energy was contagious (readers: just to be clear, this freak ran up the Manitou climb).
JH: It gives me energy to give you guys a little motivation. I get so much enjoyment by helping other runners. I saw TJ and figured you were close by. I knew you could use a little lift. I never felt like I was really pushing it too hard. I was staying relaxed and taking the trail as it came. I listened to my body and took what the trail gave me and that allowed me to let it rip on the flats and downhills. Nothing too exciting happened through Sugarloaf and Cramer. I was able to see a couple coaching clients and chat with them as we ran. I saw Long and Michelle right before their wedding. I had some worries about the Temperance section—it's such a grind and I blew up there last year and in the 100 in 2015. I made a point to gather myself at the Temperance aid station, knowing it would be a slow steady grind to Carlton Peak. I had it in the back of my mind that Greg Hexum and Josh Miller would be right there to take over. Keep it steady and don't blow up. Once I got to the top of Carlton I knew I had it. I flew down the backside and felt amazing.
KL: It must have been nice having the 100 mile course record holder crewing you. Neil has great energy—he was bouncing all over the Crosby aid station helping people while he waited for you. What did having him do for you? Did you know you were that far ahead of the record?
JH: I originally wasn't planning on any help but ran into him at the finish at 3 a.m. as we were waiting for Mick. He was out there crewing/pacing Mike Borst in the 100, and didn't have anything going on the rest of the day. I asked if he wanted to crew for me and it was a done deal. He was able to grab everything as I came in so I didn't spend more than a minute at each aid station. We have been working together for years and the coaching/client relationship has really turned into a friendship. He's coming back to pace me for the 100 next year and I'll pace him at Leadville. One setback I encountered was when my watch had a glitch. It would not start during the race. The gun went off and I was trying to press the start button and there was nothing. I had no idea on splits. The only info I had was how far ahead I was of Josh and Greg. I had no idea I was close to record pace until Neil told me at Oberg. I just wanted the bear, and I didn't want to blow up. This was different, my race history is to go hard and hold on.
KL: Knowing that you didn't push hard early this time and you did so well, is that going to change your future races?
JH: The difference with this one was that I didn't have anyone with me. In a race like Voyageur I'm aware of the other people and I'll go hard from the gun and there will be some crash and burn, but I know I can handle the pain. I like to be the one in control and setting the pace. I've crashed and burned plenty.
KL: I'm hearing that as a "no." Let's talk about the coaching side of Superior—and after my last few DNF's there, it's worth mentioning that I'm your newest coaching client, a challenge in itself.
JH: It's our biggest event of the year. We had 40-50 runners doing some version of Fall Superior and we have a lot of runner success there too. That race is its own beast and it's why you wrote a damn book about it. It's been so rewarding to see so many people persevere on such a challenging course. It's such a huge accomplishment to even set foot on that trail with the rocks and roots and its unique hardships and trials. Most of the Trail Transformation crew was there, Mike Borst was running the 100, Pat Griffith was 6th in the marathon, Austin Nastrom was doing social media for John, Tyler Hienz was in the timing tent, and Rachel Turi was pacing her dad to his first 100. I have my work cut out for me with you. We are excited to have you on the team! Step 1: Do your stretches. Step 2: Cut back on the Pop-Tarts.
KL: Mmm…Pop-Tarts. Tell us about the retreat Trail Transformation does before the race.
JH: The retreat is a blast! We'll be opening the registration for that again soon. It was the brainchild of Austin who just completed the FKT (Fastest Known Time) on the Superior Hiking Trail. Our goal is to give people the experience of how to manage the SHT, all the rocks and roots, the constant ascents and descents. We dive into proper running form, how to run on technical trail, uphill running, downhill running, how to use poles, strengthening as well as mobility, and injury prevention. Rachel Turi, the TT dietitian, is there for nutrition education and prepping all the meals. For the running side of things, we hit the more scenic sections. We move people around with a couple busses so we can do point-to-point runs, then we travel to the lake and have lunch. We do a little swimming and have a bit of down time. We also have a fun event later with hill repeats and we run another section of the course in the afternoon, for those who want a second run. We give people really specific tips on how to properly trail run and best manage the SHT trail. We keep it to a small group of individuals and by the end we all feel like family.
Now I get to ask a question. What is your favorite book, Kevin?
KL: For fiction it's either Fishboy by Mark Richard. Or Fiskadoro by Denis Johnson. They're both so bizarre and so beautiful. For nonfiction it's Young Men and Fire by Norman Maclean—I could read that book every year. So this leads to my question, what's your favorite book?
JH: The Obstacle is the Way: The Timeless Art of Turning Trials into Triumph, by Ryan Holiday. Everything is a perception and we choose what to make of it whether it is an opportunity or barrier. Directed action step by step helps you get closer to the goal.  If you're willing to challenge yourself, work hard, and learn from your mistakes, good things will happen.
KL: It sounds very Buddhist. They say suffering is created by our attempts to avoid suffering. It's a big reason I do meditation, something that has been a big help to my running. It's about learning to be comfortable with discomfort.
JH: I live by that and it drives my wife crazy. When there's a lull, I'm asking what's the next adventure or challenge.
KL: Why did you get started coaching? I remember when you were just starting Trail Transformation and one thing you were excited about is helping people, and helping Midwest running as a whole.
JH: As a physical therapist, one of the biggest problems that we would see when treating runners, is the return to running. We would fix them up in the clinic through manual therapy, dry needling, exercises, and education on proper return to training, but in a couple months later might see them for a different issue. There needed to be some way to transition from the physical therapy rehab to performances. Our ultimate goal is to help all runners be healthy and perform well. We want them to train safely and not just get to the start line, but finish strong and happy. We took it a step further by focusing on injury prevention. Getting people on a good strength/mobility routine along with dietary changes, while still addressing the running. We've been able to expand to several coaches all with the same mission. We all have our specific niches: trails, ultras, road marathons, track and field events, obstacle course racing, cross country skiing, and triathlons.
The best part of it is the lifelong relationships we develop. The training plan is the smallest part of the equation. Shit happens and nothing ever goes to plan, but the fun part is figuring out how we adapt and move forward. It's super rewarding to join people on their running journey. For example, because we have already mentioned him, when I started working with Neil Collick, 4 years ago, he had some average marathon times and was super timid about the 50-mile distance. Now, he took my record in the 100 and running is an integral part of his life. Another example is Shelly Groenke, who is one of the hardest working individuals I know and ran the Superior 100 at the age of 60 last year and won the Grandmasters in the 50 this year—she's the oldest female finisher of the 100. One more example is Jessie Waks. She has been through a lot of setbacks over the last several years out of her control. She was pulled at Oberg this year in the 50 miler, but it is still a huge accomplishment that we are proud of. I could go on about every single coaching client and that is one of the best parts. There is so much more to than just racing. Embracing the community and meeting so many unique people along the way is my favorite part.
KL: Speaking of Shelly, she finished the 50 this year and took home hardware after getting a fracture in her foot from a fall around mile 5 or 6. You need to come to Mankato sometime. You have so many clients here. We've got some sweet trail to show you. Thanks so much for taking the time to do this.