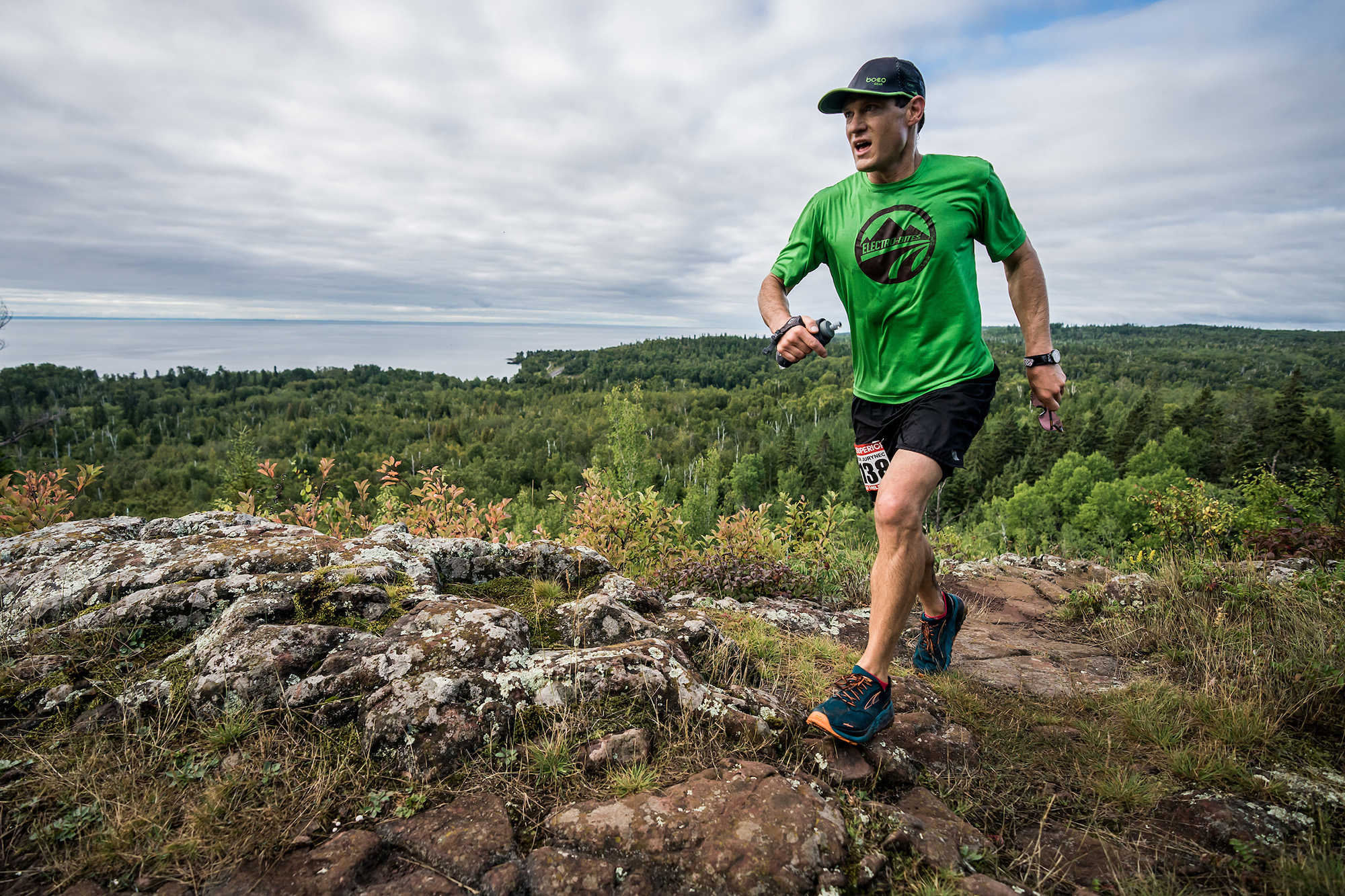 2019 Superior 100 Men's Winner Mick Jurynec Above Lake Superior – Photo Credit Ian Corless
An interview with 2019 Superior 100 Mile winner Mick Jurynec (MJ).  Interview conducted by Kevin Langton (KL)
---
KL: Hi Mick. Congrats on your win at Superior 100. Please tell us a little about yourself.
MJ: Hi Kevin. Thanks for the opportunity to share a little about myself and how my run played out this year. I call myself a Utahan since I've lived here for over 20 years, but I grew up in the Midwest—Orland Park, IL, which is a suburb of Chicago. I came out to Utah for graduate school, and like most people who move here and love the mountains, I never left. I have a wonderful wife (Jen) and daughter (Mara) and we spend most of our free time in the mountains hiking, backpacking, and skiing. My daughter loves backpacking and the pinnacle of this summer was a 3-day, 27 mile trip to King's Peak, which is the tallest peak in Utah at 13,534 feet. She is only 6, but I have a feeling she'll be outdoing me fairly soon! When I'm not outside, I have a research lab in the Department of Orthopaedics at the University of Utah where I study the human genetics and biology of osteoarthritis. We identify genes that are linked to osteoarthritis in families and then determine how those genes cause the disease by studying their function in mice and zebrafish.
KL: Utah isn't super close to Minnesota, and it's a place with a much different landscape. Yet this is your third time running Superior (2nd place in 2018 and 6th place in 2017). What's the draw for you to this race?
MJ: I was introduced to ultrarunning back in 2007 when I was climbing with my good friend mine, Steve Edwards. I remember him telling me that he was going to run a 50k in the mountains the next day (the inaugural Speedgoat 50k). I had no idea people did this sort of thing, but being a backpacker, I was intrigued by the idea of long days in the mountains. I soon started trail running and ran my first ultra in 2008 (Speedgoat 50k). I began looking into other races and came across an article about some of the original 100 miles races. I decided that I wanted to run Wasatch, Angeles Crest, Western States, and Superior. At the time they seemed like the four hardest courses and there was something alluring about the history of each of them. This was around 2008-2009. Since Superior is on the same weekend as Wasatch and a few weeks before the Bear, and my wife has run Wasatch several times, the 2016 lottery was the first time I was able to put my name in the hat for Superior. I was thinking that I'd go to the North Shore, have a good race, and then move on to something new. Three Superiors later I still want to come back! So back to the question of what's the draw of Superior—it's several things, but the short answer is the beauty and difficulty of the Superior Hiking Trail. The North Shore is so different from anything in and around Utah, that I love coming back for the scenery and challenge. Before the 2017 race, I reasoned that we have technical terrain in Utah, so some roots and rocks wouldn't be anything new. Wow, was I wrong—the mud, water, rocks, and roots destroyed my feet. I distinctly remember sometime before County Rd 6 that my feet were so beat up that any downhill section reduced me to a slow hobble! Superior also has a no hype vibe that I really enjoy. Finally, John and crew put on such a seamless event and all the volunteers/crews are so friendly. My family said after the 2017 race that they couldn't believe how friendly and funny (must be the dry Midwest humor?) all the people were. I remember finishing in 2017 and dropping down next to the fire pit. Someone asked if they could get me anything and I said, water please. With a completely straight face, he said, there's plenty about a mile that way (pointing in the direction of Lake Superior). I was so out of it that I didn't quite get what he was saying, but afterward I realized how funny this actually was!
KL: Speaking of repeating races, you seem to selectively choose your races and then get to know them and run them well (two top ten runs at Hardrock, two wins and five top five runs at The Bear). You also seem to prefer challenging courses. Can you comment on your race selection?
MJ: I originally wanted to run what I thought (based on elevation gain) were the hardest original 100 mile courses, but soon realized that I liked running on certain courses more than others for different reasons. For example, the San Juan mountains are simply stunning and the challenge at Hardrock for me is the altitude. The Bear has long time been a favorite of mine because running in Northern Utah at the end of September is simply gorgeous. I like to do well at races, but the appeal of coming back to certain races year after year boils down to the beauty and difficultly of the course. There is a certain advantage to knowing a course well, but I actually prefer going into a race never having run on the course. My most memorable races are those in which it was my first time on the course, and not necessarily my fastest or best race. I had a great run at Superior this year and it was exciting to win, but the 2017 was my favorite Superior thus far.
KL: What were your plans or goals for this race and how did the race play out for you?
MJ: I generally don't come into a race with splits or a specific time in mind. I've tried racing with set splits a few times and it never turns out well. I always end up running too hard in the beginning of a race and paying for it later. I've learned to run by feel and let my fitness dictate the pace. I only wear an analog watch so that I know when to eat. This year, shortly after Tettegouche, I looked at the hour on my watch and after some arduous math, I realized that I was still on MST! My goal this year was to simply run faster than my previous times. One thing I didn't expect this year was to be in the front so soon in the race. I consider myself a better second half runner and often make up a lot of places and time after the 50-60 mile mark. In 2017 and 2018 there was a big group of people who took off flying on the bike trail section. This year I was surprised that it was only Michael Borst in front. He was a few minutes in front at Split Rock and I ended up catching him somewhere between Split Rock and Beaver Bay. We ran together for a bit to Silver Bay and I passed him maybe a mile out of the aid station. I was feeling strong from the start, and after I passed Michael, I decided that I was going to push a little harder than usual to try and build a lead early on. I felt like I was moving well and my crew (my dad, and good friend Kirk Thomas) got me quickly through the aid stations. I purposely didn't ask how far back others were. I just kept running my own race. I knew I was running well when I got into Crosby and the sun was still up. Last year I turned on my headlamp between Sonju and Crosby. The first time I asked about the others behind me was at Cramer Rd. Kirk said I had about a 30-minute lead and that I should get moving. I was worried about being caught so I tried to run especially hard when the trail was slightly less technical. I ran well all the way to Oberg and realized that I just needed to get to the finish line without falling apart. I looked at my watch for the first time and thought I might be able to break 20 if I could run the last section well. I tried, but ran out of steam coming off Moose Mountain. I was super excited to win and cross the finish line in 20:15:55. I had one of those rare (for me) 100 races where everything clicked—I ate well all race (Electro-bites, gels, and blocks), had no sustained low points, and I had no issues with my feet.
KL: What best prepared you for such a race?
MJ: My staple long run (and favorite) is literally out my back door. It starts with a 3300 foot climb in 2.6 miles. The entre loop is about 32 miles with almost 12,000 feet of gain. Good training for Hardrock, Bear, etc., but not for Superior. Even though I had a great run in 2018, I thought I could run faster (although not as fast as Neal's 2018 run!) with a bit more course specific training. Even though I really enjoy those big days with lots of climbing, I knew that if I wanted to improve my time that I would have to do more running and less hiking. Therefore, this spring and summer I stayed on trails that were a lot more runnable, and I also incorporated more speed and tempo workouts on the trial. It clearly paid off and I felt so much stronger this year compared to 2018.
KL: What's something non-running that helped you at Superior?
MJ: Without a doubt, climbing and weight lifting are the two non-running activities that I do that have kept me healthy and provide balance to running ultras. Climbing is an amazing activity for general strength and fitness—you really strengthen your shoulders and back, which I think is invaluable in a 100 mile race. That and long days in climbing shoes makes running a 100 miles in well-cushioned shoes seem easy! I've always enjoyed weight lifting and having a bit of muscle mass. It might slow me down a bit in shorter, faster races, but I would say that it has been a major factor in staying injury free and being able to continually run 100 mile races every year.
KL: Did you have any low points during the race? If so, what helped you through it/them?
MJ: I really didn't have any low points this year. I enjoy being alone on the trail during races and was in good spirts most of the way. I felt a little tired coming into Finland and getting to Sonju, but a brief rainstorm sometime after Sonju cooled me off and I felt much better. Looking back at my splits, I thought I ran the Crosby-Sugarloaf section faster than I did given that I had some daylight and I felt strong, but I remember that section being a bit warm.
KL: Bonus question: Please make your own question (and answer) that reveals something you think we should know about.
MJ: I'm always curious as to what books people like, so my question is what is your favorite book. I love the history of the West and exploration, so for non-fiction one of my favorite books is Beyond the Hundredth Meridian by Wallace Stegner. My favorite fiction book is Oryx and Crake by Margaret Atwood. The entire trilogy is good, but Oryx and Crake is my favorite. I wanted to name our daughter Oryx, but my wife quickly put a stop to that! After reading the book, I suggest listening to the audiobook read by Campbell Scott. He does an amazing job.
Finally, I just wanted to thank my dad and Kirk for all their support and John and all the volunteers for putting on a wonderful event. Superior really is a special race.