Following is a detailed course description of the Superior 100 Mile Trail Race which also covers the (shared) 50 Mile and Marathon trail sections as well.  A huge thank you to multi-year Superior 100 finisher and Superior documentarian Kevin Langton for taking the time to put this together.  Kevin Langton is the author of "Superior: 100 Mile Endurance Run, One of America's Oldest, Toughest, and Gnarliest Ultramarathons".  You can find the book on Amazon or purchase in person at the race.
—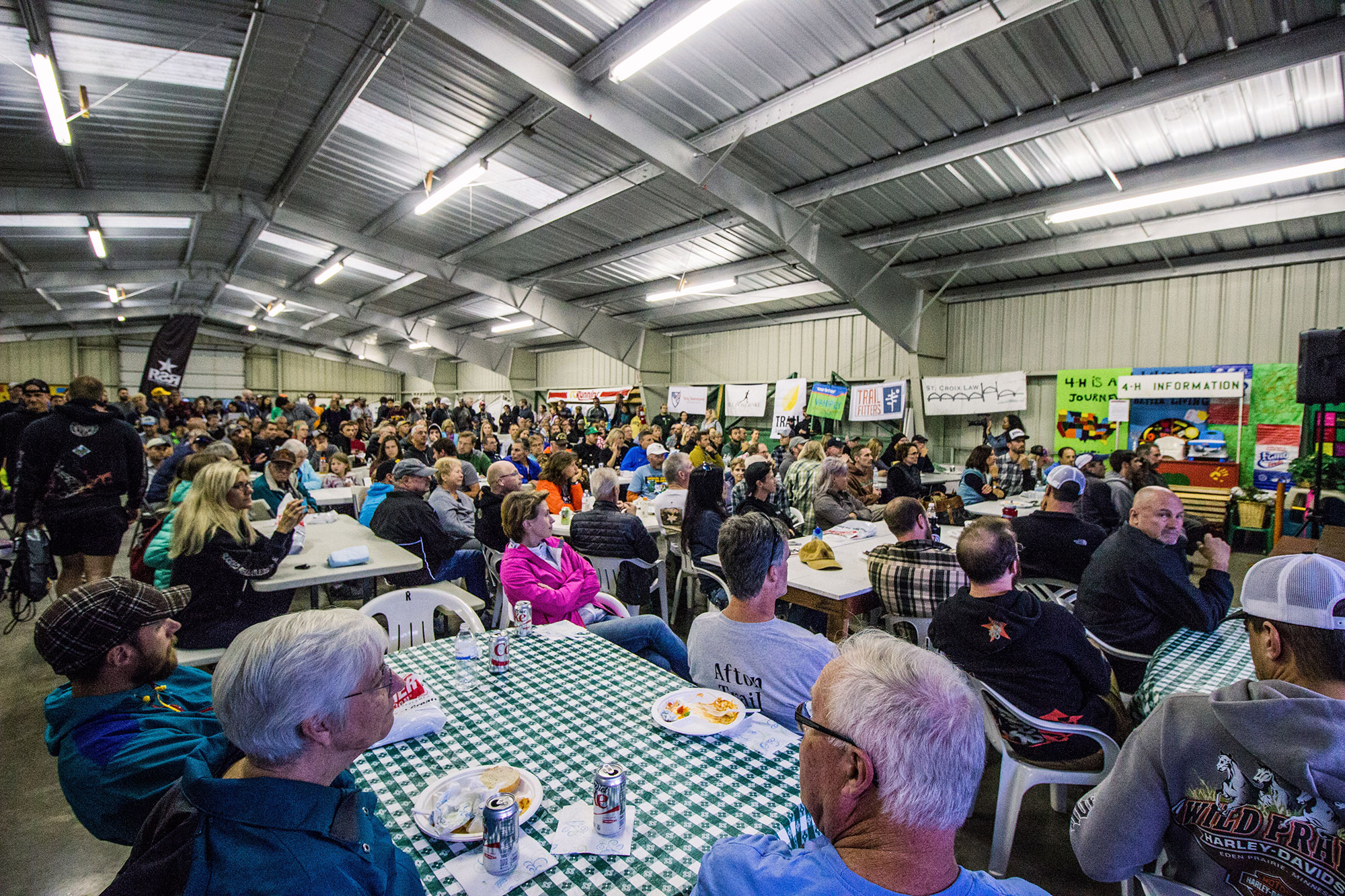 Great energy and a down home feel at Thursday nights pre-race meeting – Photo Credit: Fresh Tracks Media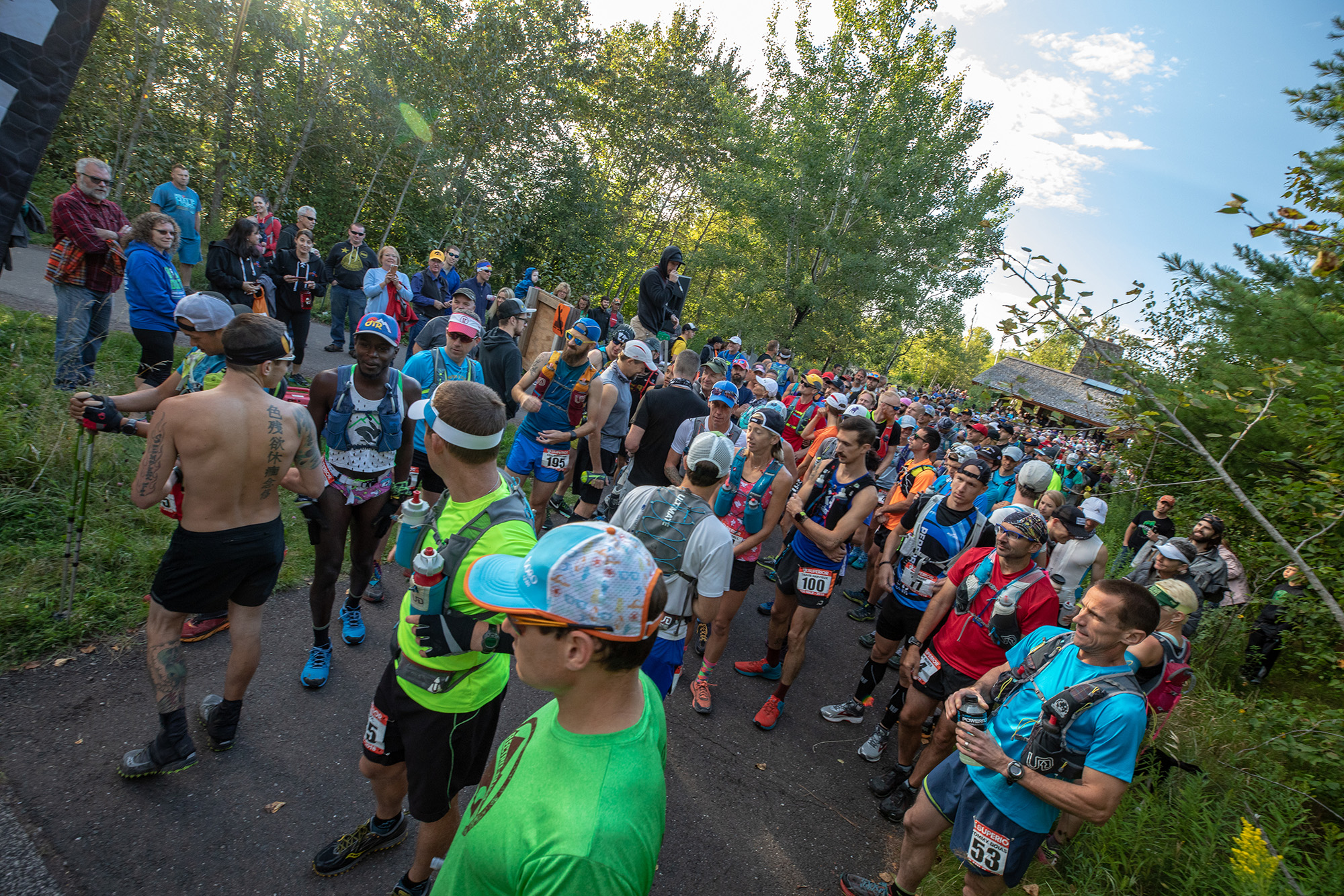 Superior 100 Mile Trail Race Start at Gooseberry Falls State Park – Photo Credit: Tone Coughlin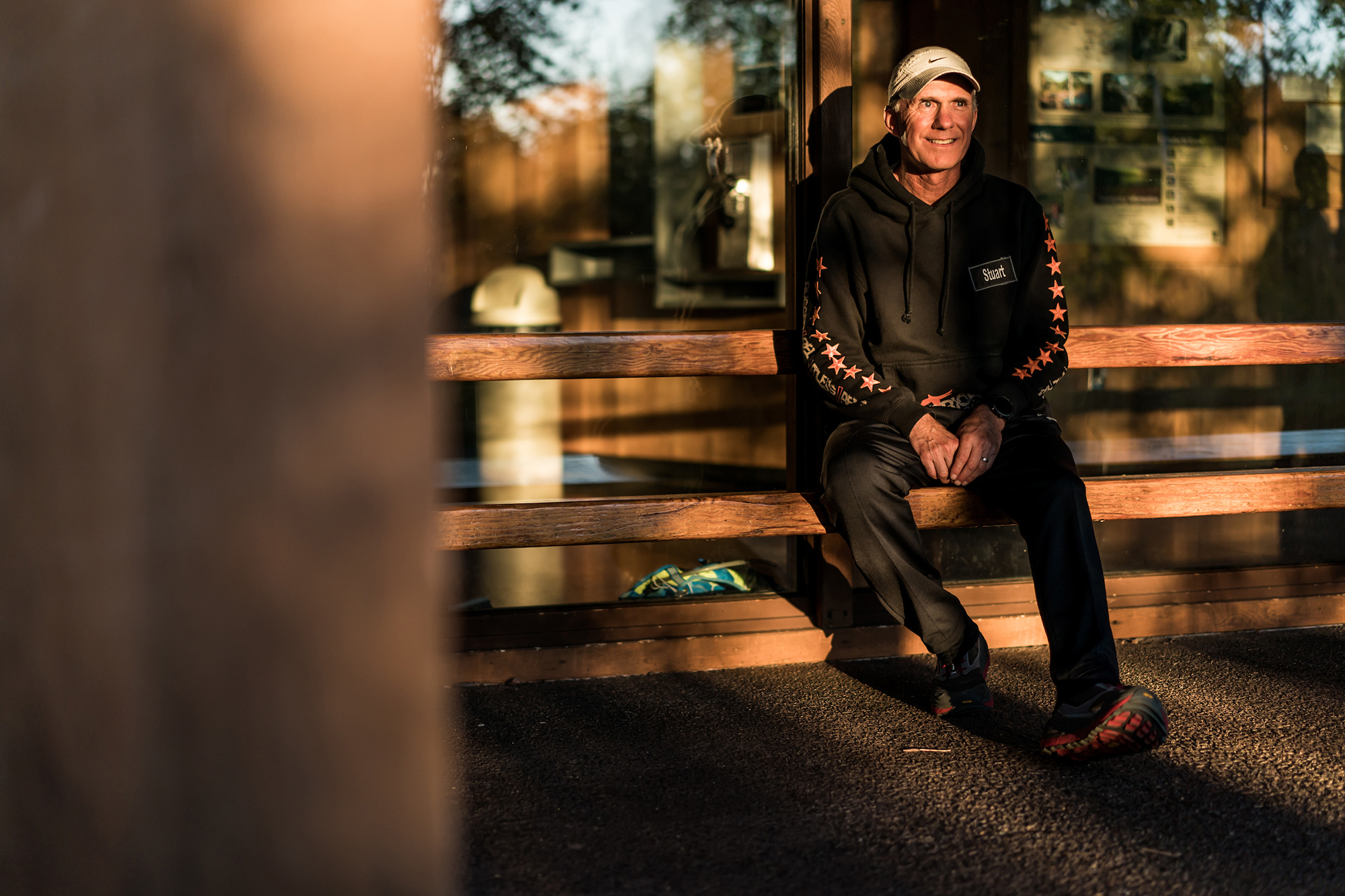 21 time Superior 100 Mile Trail Race finisher Stuart Johnson relaxing in his Superior Finishers Hoodie before the start – Photo Credit: Ian Corless
Overall Course Musings
The course is staggeringly beautiful, so beautiful your eyes will hurt. This is not flat cornfields of the Midwest; instead it is the iconic rockiness and chiseled landscape of the Great North. It's a highly technical course—Wynn Davis, who has won several distances here, once said that running the Superior 100 is like trying to solve a puzzle with your feet for two days straight. The roots and rocks of the single-track will leave your feet feeling like raw hamburger. Sometimes there is mud too. And it's challenging in its unique ways. The course runs through several river valleys that have cut through volcanic rock, and its constant rise and fall makes the course description of "rugged, relentless, and remote" and the name "Sawtooth Mountains" ring true. Switchbacks are rare here—this trail prefers the direct approach. Dusty Olson says what makes this course unique in comparison to so many of the higher elevation mountain races is that the shorter but constant ascents and descents and the technicality of the trail make it harder to get much rhythm going. This course will find many different and unique ways to chew runners up, and it has a wicked set of incisors, molars, cuspids, and maybe even some painful wisdom teeth to do it with. But did I mention it's beautiful? It's a staggering, mind-blowing beauty. Runners pass through several state parks and national forest, with views of the big lake, inland lakes, so many waterfalls and streams and rivers, and endless forest panoramas. All of this makes it an incredible running playground to interact with.
—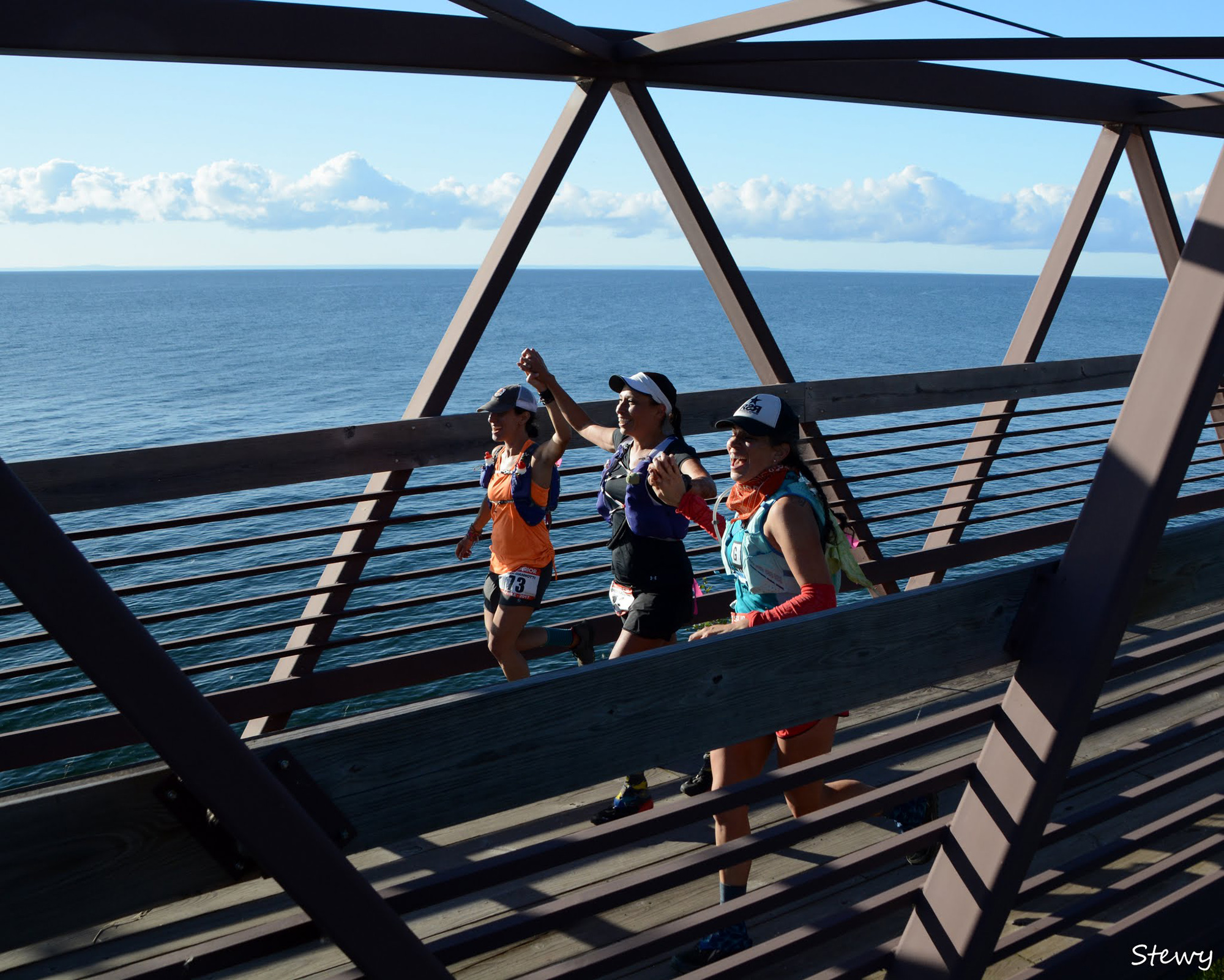 Fun early miles on the Gitchi-Gami (paved) Bike Trail spread out the 100 mile field, don't worry, there are still 99 miles of trail running to come – Photo Credit John Stewart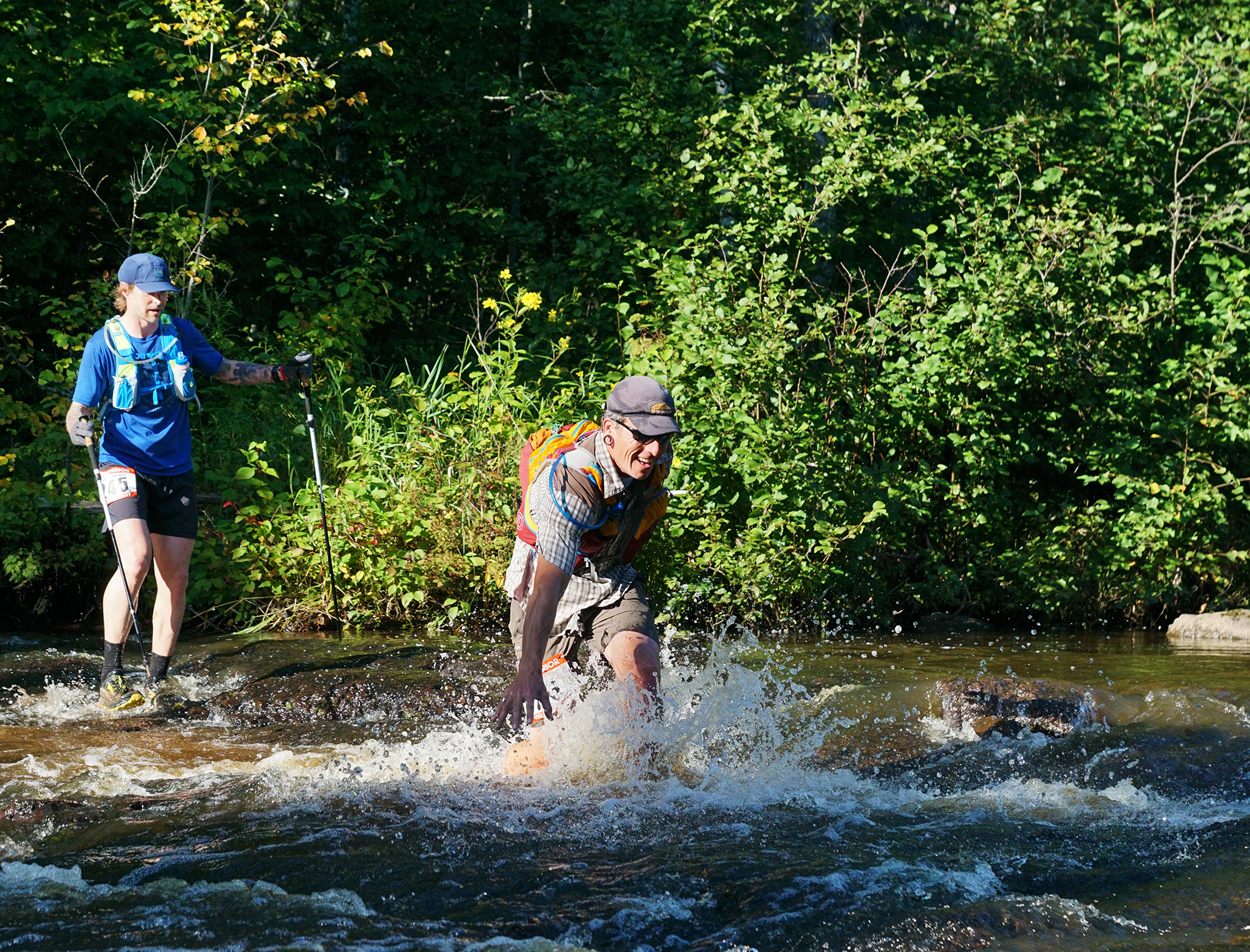 The Split Rock River Crossing, some years you may be able to keep your feet dry, but most years, plan on them getting wet – Photo Credit: Cole Peyton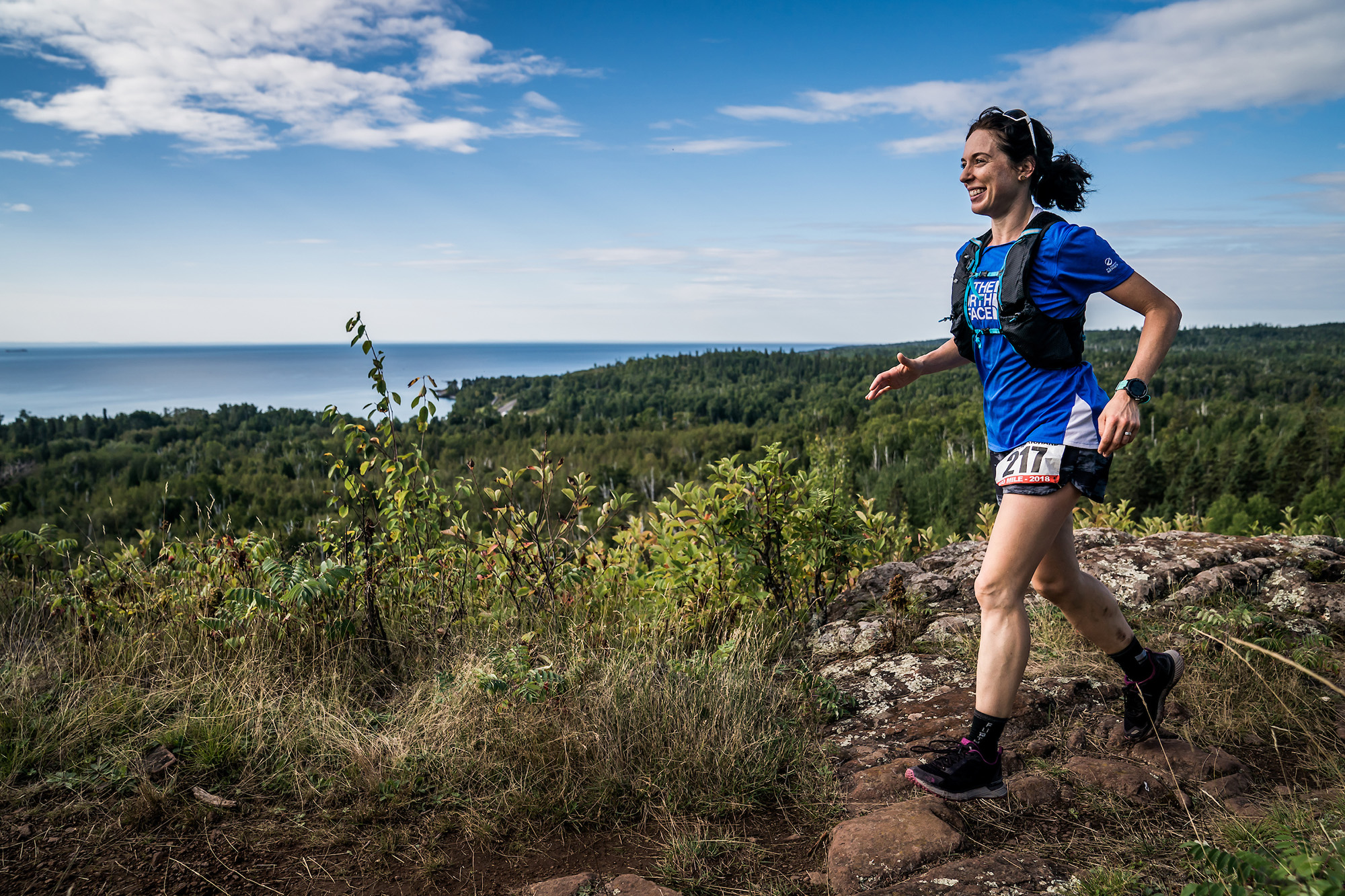 Stunning views of Lake Superior just before getting to the Split Rock Aid Station – Photo Credit: Ian Corless
Gooseberry to Split Rock (9.7 miles)
This section can be thought of as two sections. The first 4.4 miles is the paved Gitchi-Gami bike trail that parallels Highway 61. In the past, runners immediately hit the Superior Hiking Trail when they left Gooseberry SP, but that trail section is permanently closed due to an easement issue with a landowner – and the new trail alternative while mapped, is yet to be built. This newer (implemented in 2016) version gives runners a chance to spread out on wider pavement as opposed to single track, where runners would often bunch up at creek crossings, climbs, and other obstacles. When runners leave the pavement here their feet won't feel pavement again, except for highway crossings, until they're within a mile of the finish. The second half of this section follows each side of the Split Rock River on single track to the first aid station. You'll encounter a lot of waterfall views and loose clinking rhyolite rock on the west side of the river, and after fording the river—due to a bridge that kept getting washed out and is no longer there—you'll find yourself gradually climbing to a ridge above the river on the east side, and then the spur trail downhill to the aid station, with stairs. Please note there is no crew or spectator access at the Split Rock aid station.
—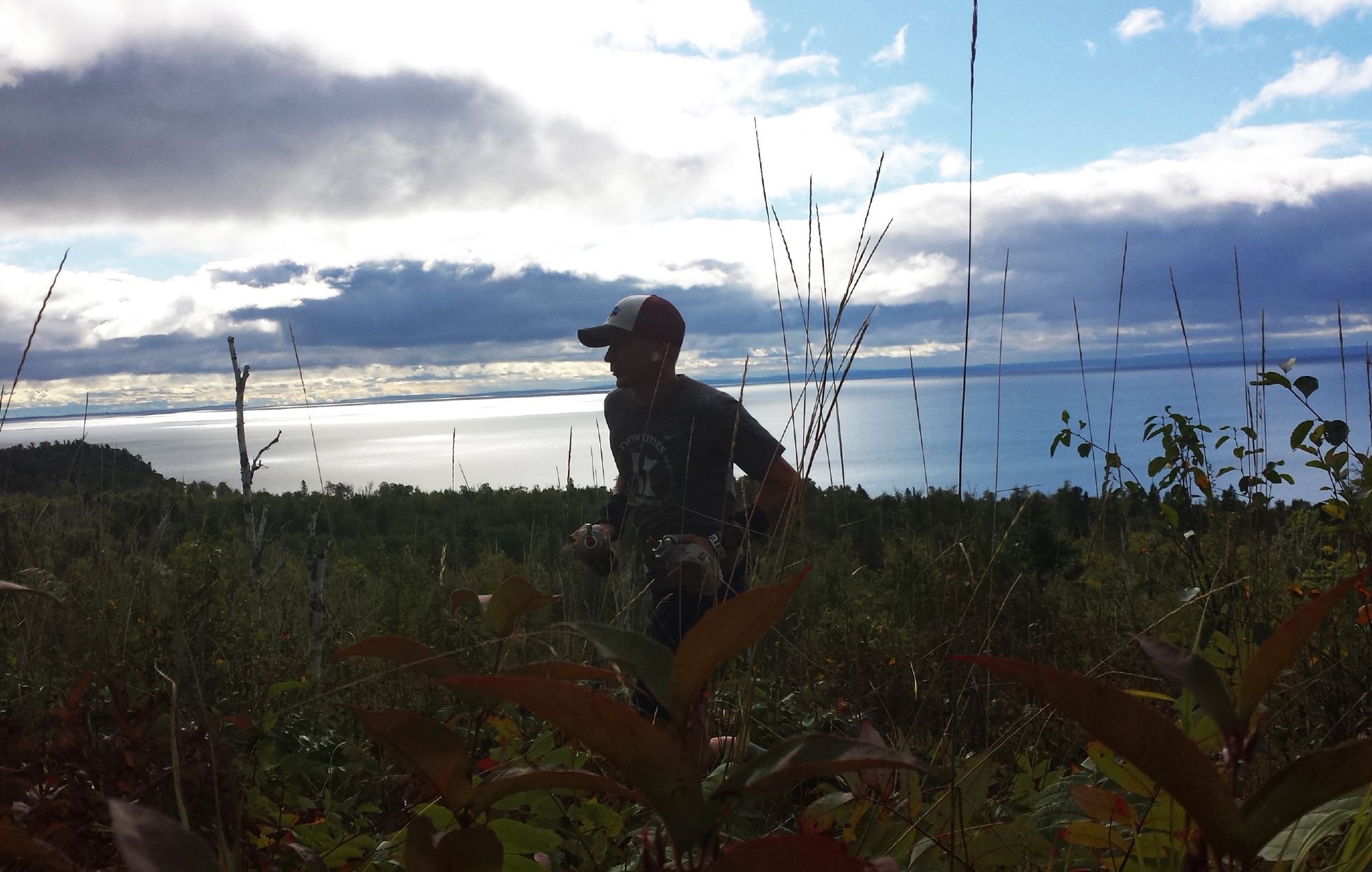 More great views of Lake Superior shortly after leaving the Split Rock Aid Station and if you look close enough you can see Split Rock Lighthouse – Photo Credit: John Storkamp
Split Rock to Beaver Bay (10.3 miles)
After climbing back to the trail and most likely a greeting at the top from Donny Clark, the guy who wheel-measured the course twice (with Bonnie Riley), you'll follow ridge-top with great views of the Split Rock Lighthouse and Lake Superior, with smoother state park trail that eventually turns into a couple valleys with steep climbing on Christmas Tree Ridge and nice views on Fault Line Ridge—once you're on this ridge you stay up there for awhile, with a couple dips, until you start the descent into Beaver Bay. Generally, the sun starts working into you along these exposed ridge-tops.
—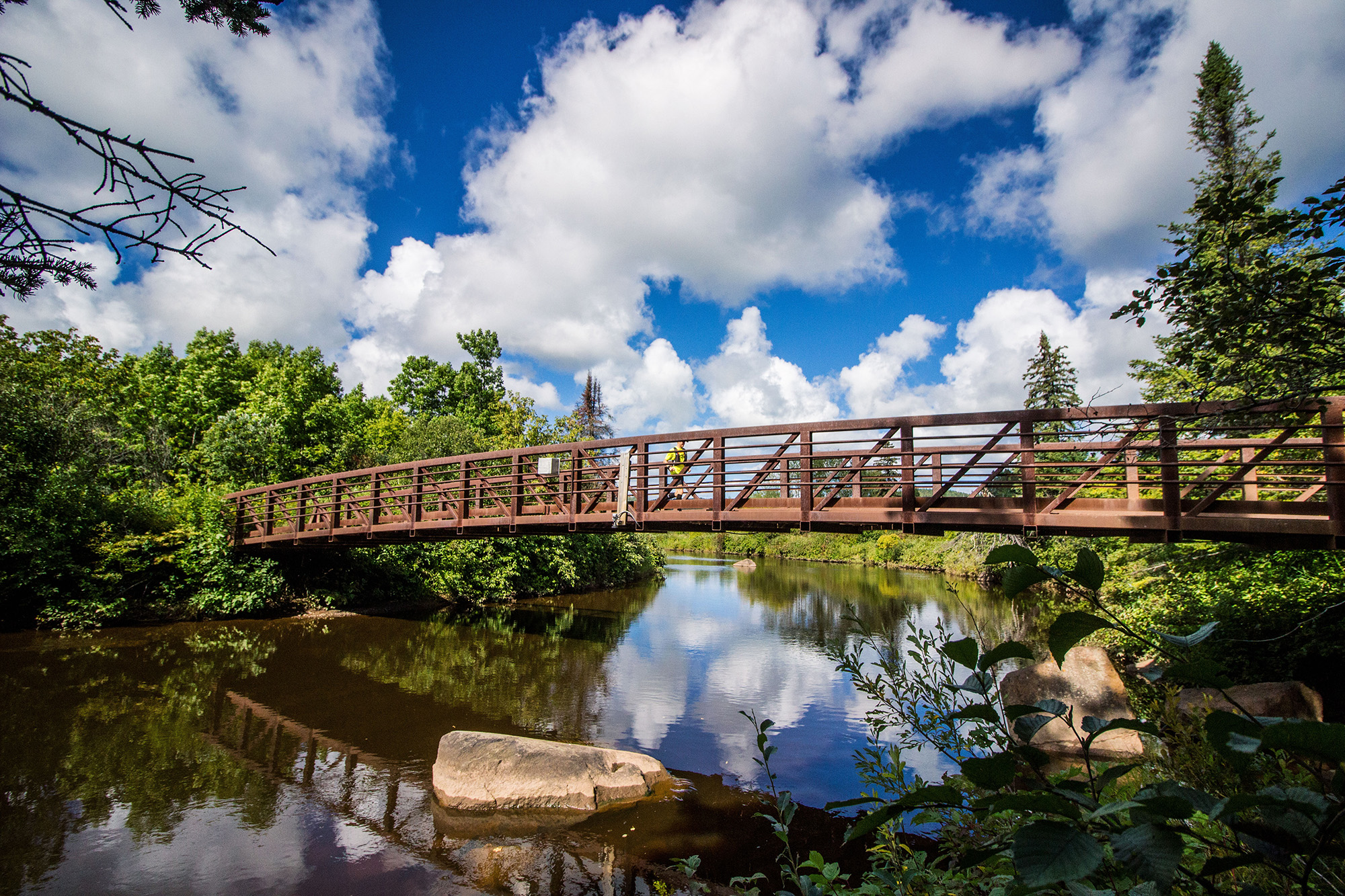 Beaver River Crossing shortly after leaving the Beaver Bay Aid Station – Photo Credit: Fresh Tracks Media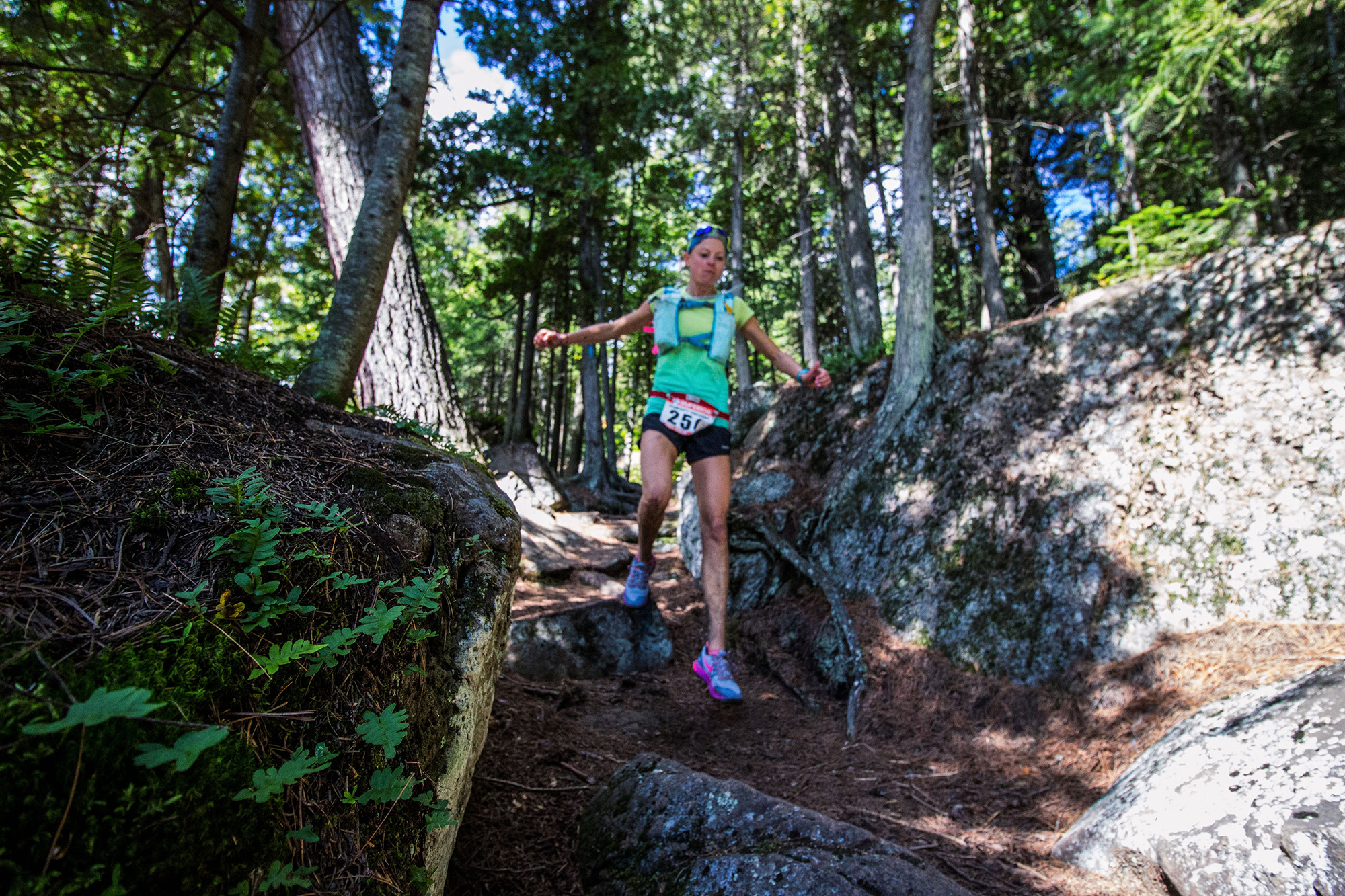 Magic hobbit-like woods; cedars, roots, rocks & moss between Beaver Bay and Silver Bay – Photo Credit: Fresh Tracks Media
Beaver Bay to Silver Bay (4.9 miles)
This is where the sweet fun starts, and the next three sections form a 1-2-3 punch, sometimes knocking people out by County Road 6 or sooner. The next 23 miles are what brings the word relentless to mind. In this short section, we get so much of what is the Superior Hiking Trail packed in. We get exposed climbs, rocky ridge-top climbing and running, and a rootsy and beautiful run along the Beaver River. I like to swim the Beaver River when training, and it's not a bad idea to dip your head here during the race if it's warm. We get several teasing views of Silver Bay before actually reaching it. For such a short section it can be tough, and it's here that the heat starts to play with you if it's going to play. This section is shorter, but it's the first real introduction to some of the more technical trail and the exposed climbing (hello sun!) that makes this race's challenges unique. Like many approaches to aid stations on the course, it ends with a long descent into the aid station and like many aid stations, you'll be climbing when you leave it.
–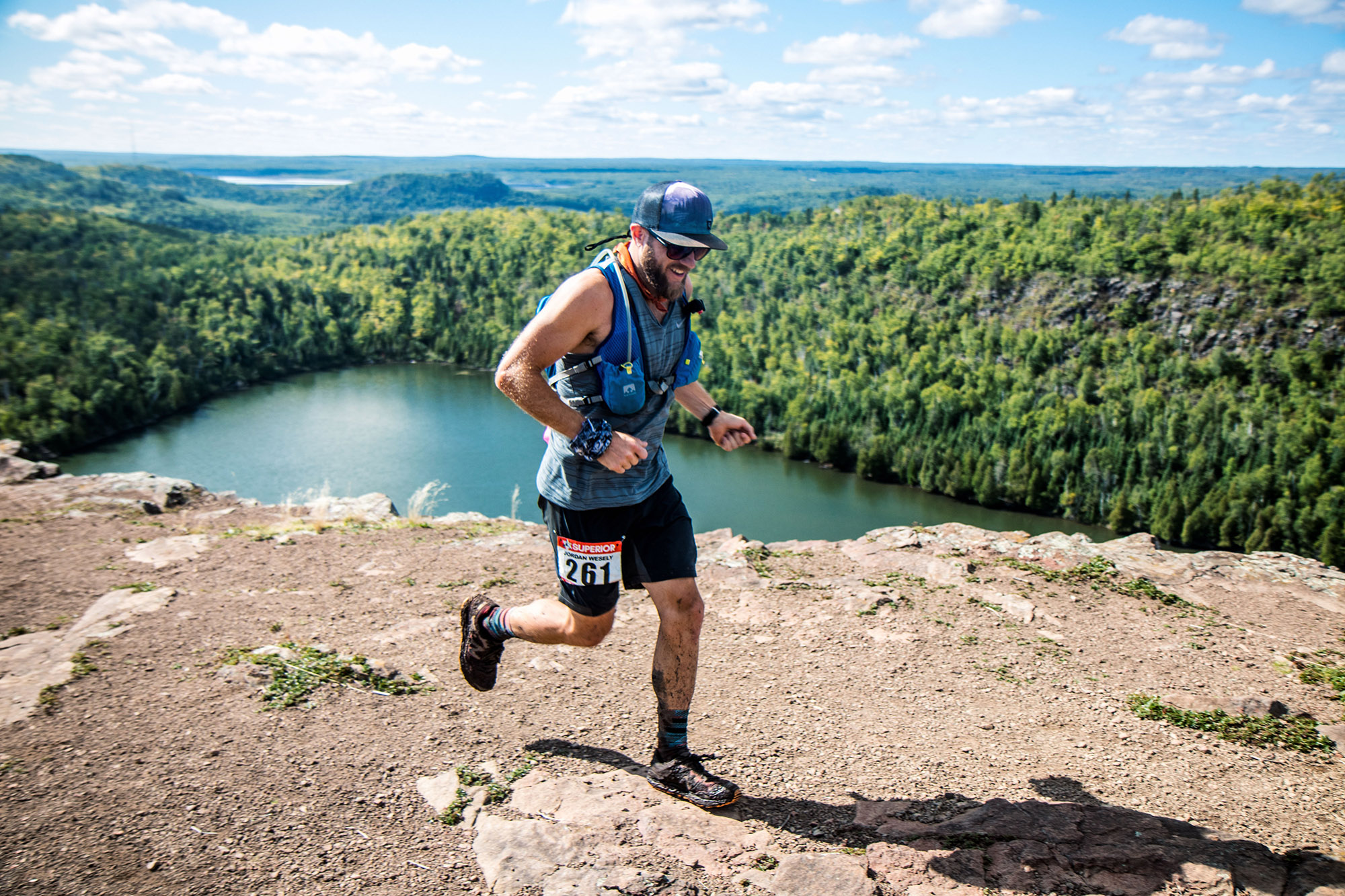 The famed Bean and Bear Lakes.  Pictured, Bean Lake – Photo Credit: Fresh Tracks Media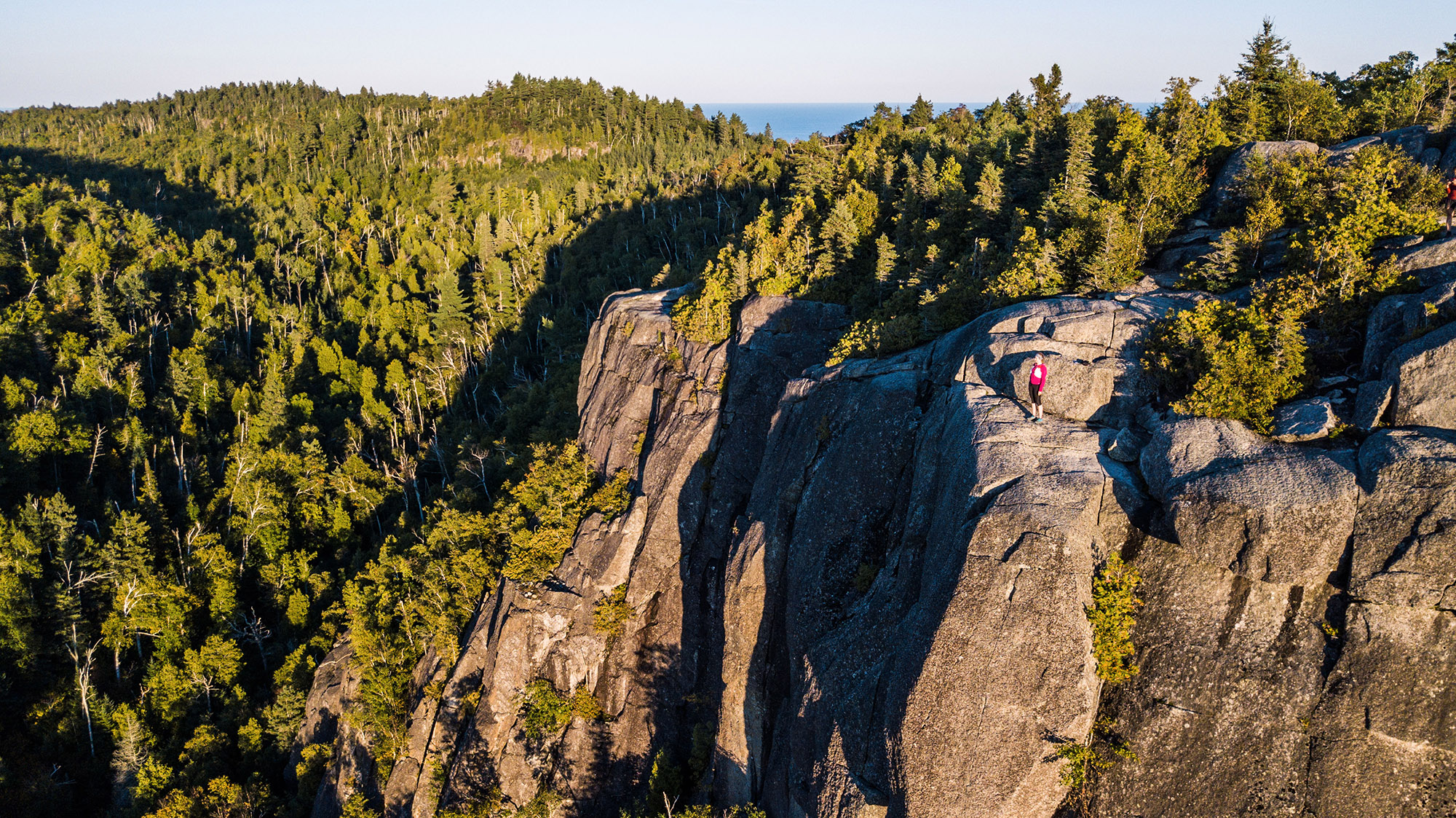 Mt. Trudee birds eye view – Photo Credit: Fresh Tracks Media
Silver Bay to Tettegouche (9.9 miles)
This section can be an ass kicker. I argue that it may be the hardest section (although one can always argue the toughest section is whatever section you're on) and it's what makes the first day the hardest day. You've already run a marathon. It's longer, it's exposed in the afternoon or midday heat, and it has lots of climbing and incredible views of inland lakes and rocky ridgetop running. I've vomited multiple times in this section, on different years, while staring off at amazing vistas. It starts with a long climb out of the aid station—one could think of it as an extended climb to the Bean Lake overlook, with some twisting around and over rocky knobs with rocky running. You'll find yourself rising to lovely views of Bean and Bear Lakes, then down to creek crossings and back up to Round Mountain, which you really go around instead of over. After crossing Palisade Creek, you'll encounter the long climb that is Mount Trudee—by now you may have noticed the repetition of ridgetop to creek or river crossing back to ridgetop that gives this range, the name Sawtooth. You'll stay on top of Mount Trudee's ridge for awhile with more climbing as you move around it. Once you get past Mount Trudee, the state park trails become more buffed out and you may feel like you're floating down into the aid station. If you're a crew person, it's a bit of a hike into the Tettegouche aid station, and once you're there, you should take advantage of where you are to check out the Baptism Falls a short walk from the aid station.
—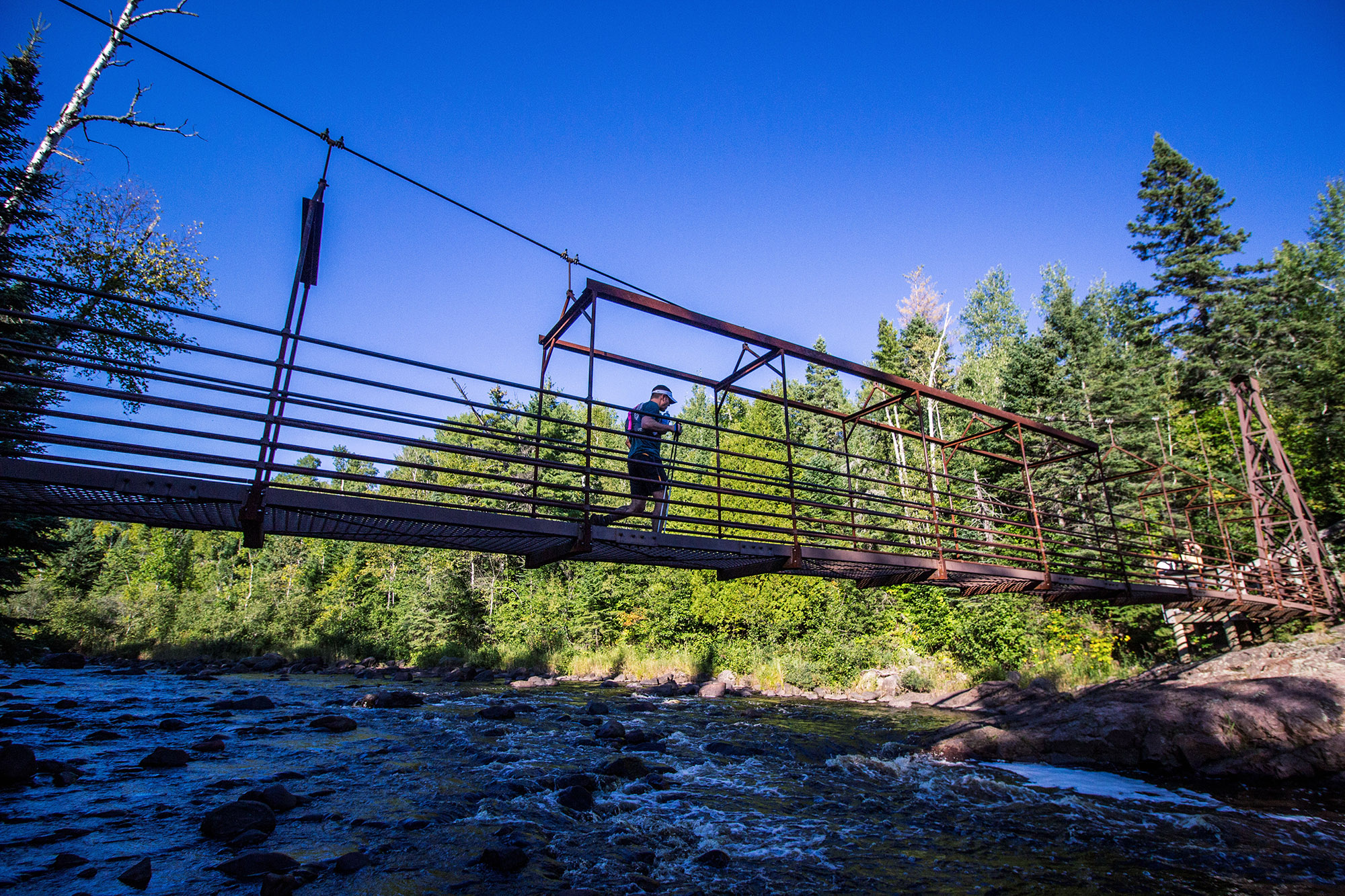 Baptism River crossing shortly after leaving Tettegouche – Photo Credit: Fresh Tracks Media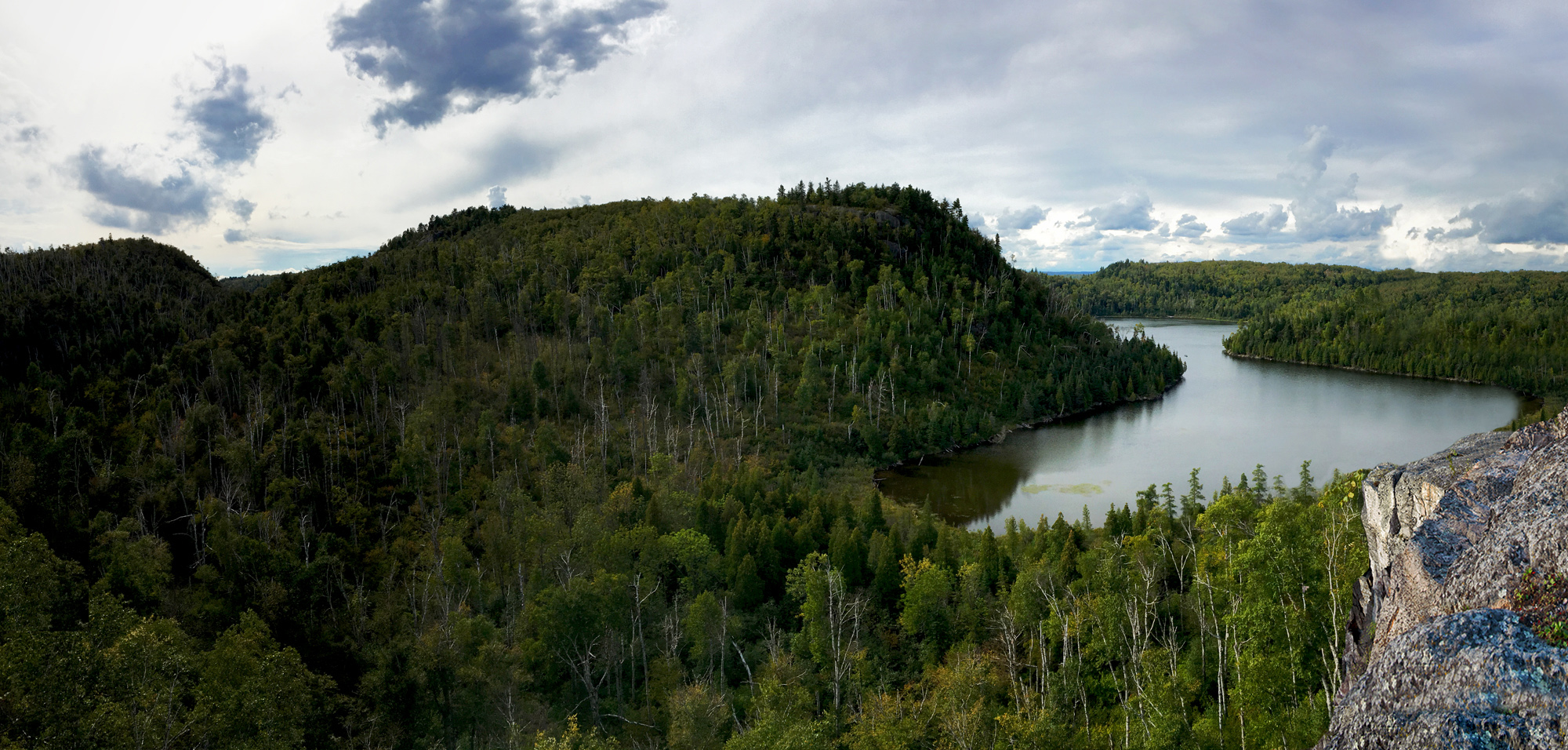 Wolf Lake – Photo Credit: John Storkamp
Tettegouche to County Road 6 (8.6 miles)
If you're slower like me, it's a good idea to have a light when you leave this aid station—trust me, I've gone without before and found myself in the dark and it's not pretty. First you'll head down to the Baptism River and its sweet falls (a great place to swim at the bottom if you're training and not worried about time) and then you'll climb out of the river valley, where I've also lost my stomach before. After that, you get some relatively level running to Highway 1. After Highway 1, the Fantasia climb is long and something most runners don't talk about. It's not known as one of the big climbs of this race, but it's one of the bigger climbs of this race, at least in my mind. I love the view of the lakes by Wolf Ridge. The Kennedy Creek crossing tells you you're halfway through this section. After that it's relatively smooth to the aid station, with a long straight line of ridge-top running, much of it forest. After running through forest to Sawmill Dome, and you see the sign for Picnic Rock, the sky pops open as you descend this ridge. I also love the view of the aid station from Sawmill Dome, such a welcome sight, especially if it's dark and the aid station is lit up, or if the sky is filled with sunset colors. But the aid station is still some distance, and the descent can get steep and rocky (seemingly steeper and rockier if you don't have a headlamp). This section can feel long, but they all can. For me, this aid station is sometimes the symbolic transition from day to night, and a good time to grab some warmer clothes if it might get cold, though in my faster years that happens at the halfway point. Some years County Road 6 aid station looks and sounds like a triage station, with lots of moaning coming from the shadows and runners looking like feral zombies.
—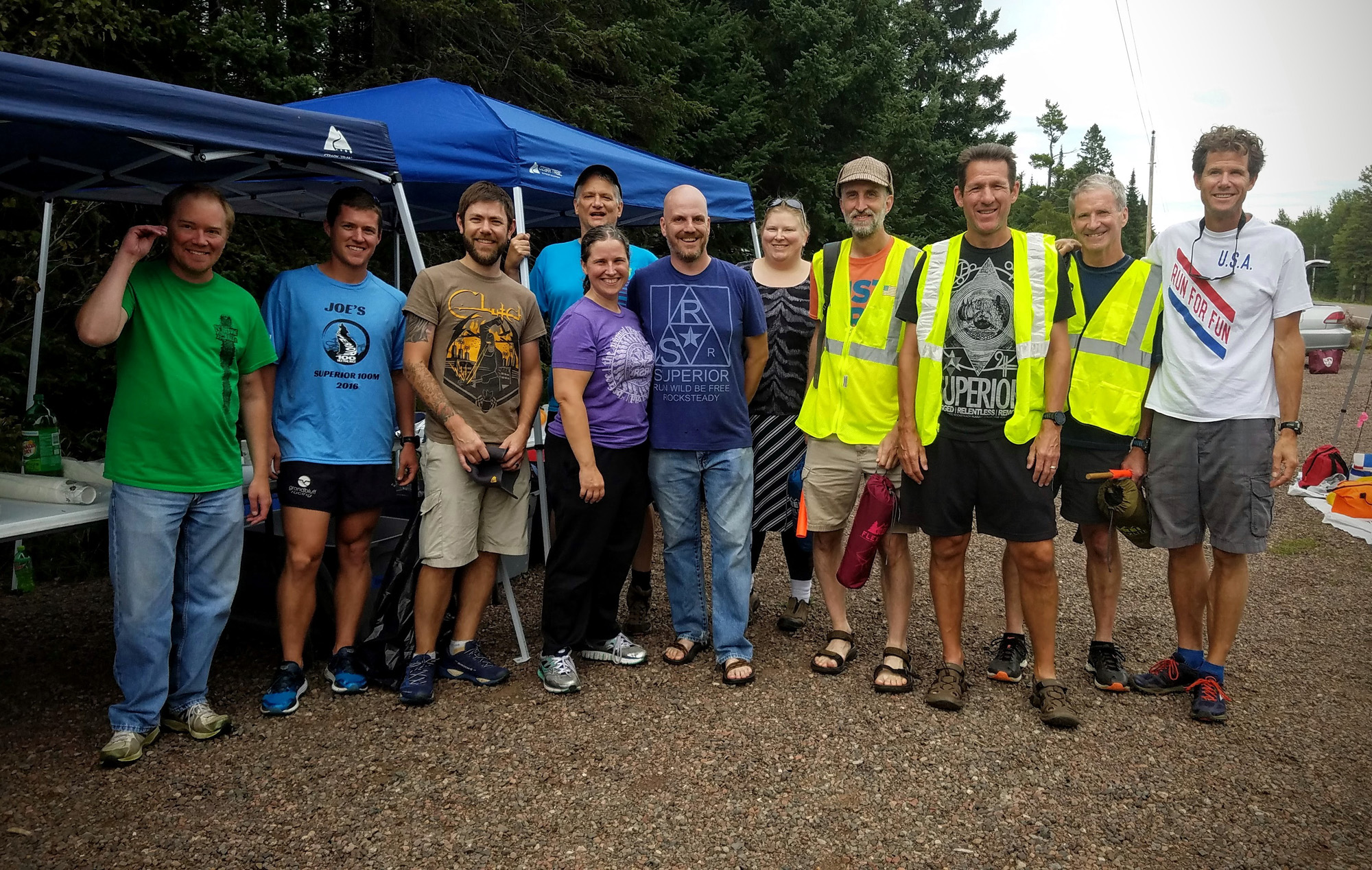 County Road 6 Aid Station and Road Crossing Volunteers – Photo Credit: John Storkamp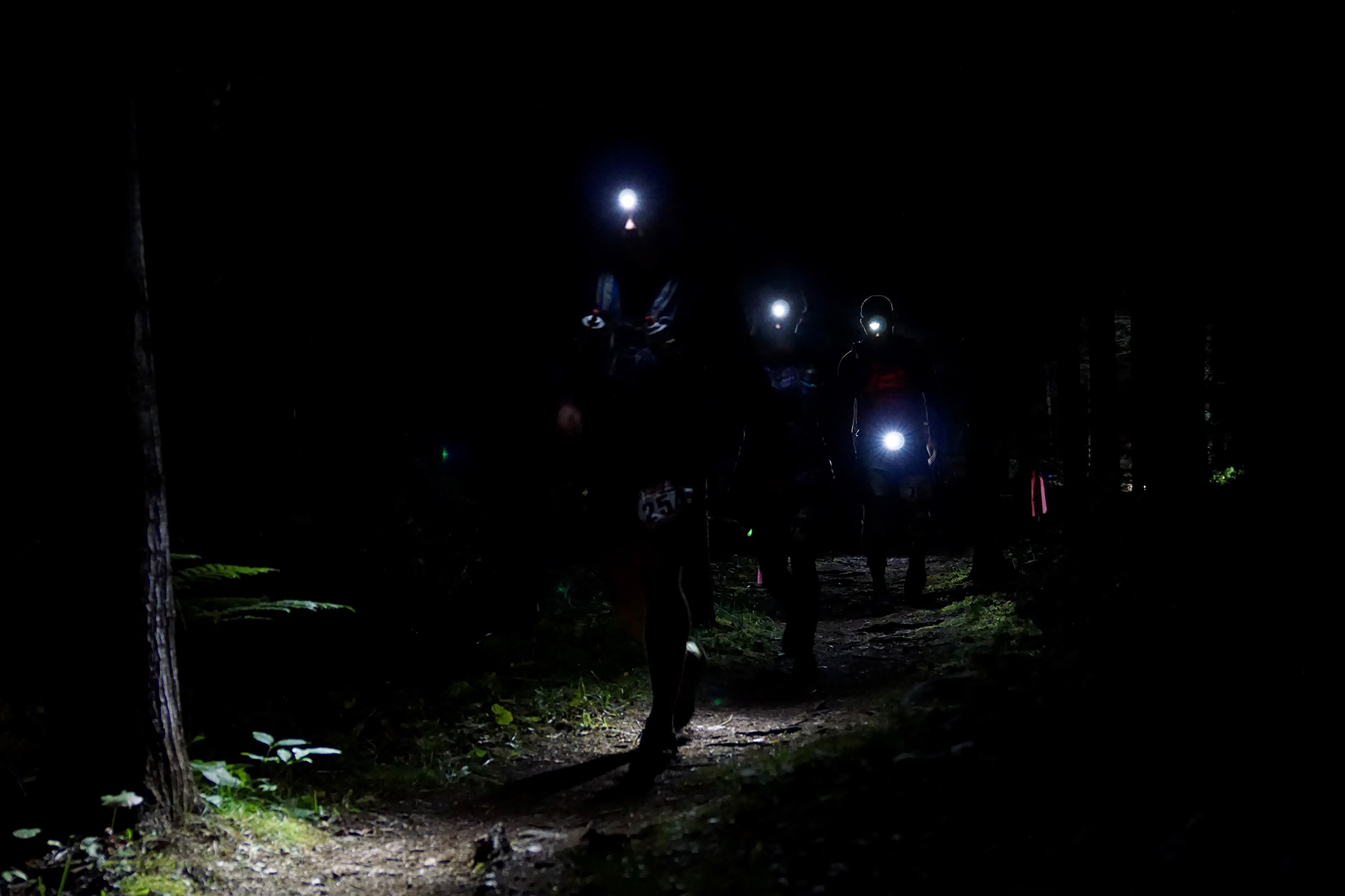 Runners setting out into the night from County Road 6 on their way to Finland – Photo Credit: Amy Broadmoore
County Road 6 to Finland (7.7 miles)
While there are some big elevation bumps in this section I don't remember them as obstacles. But I forget things. I never remember going through Section 13. After Section 13, you'll travel through some knobs, the drop and rise of Leskinen Creek and the descent into the Baptism River Valley. What I always remember is how fun it is to run the last few miles into Finland, what feels like a few miles of gradual downhill and nontechnical running, just floating through what is relatively nontechnical, trail, and what a party it is once I get there, the halfway point. It's definitely a time to make sure to have warmer night clothes and such. You'll find lowland stuff around beaver ponds with long boardwalks in this section too.
—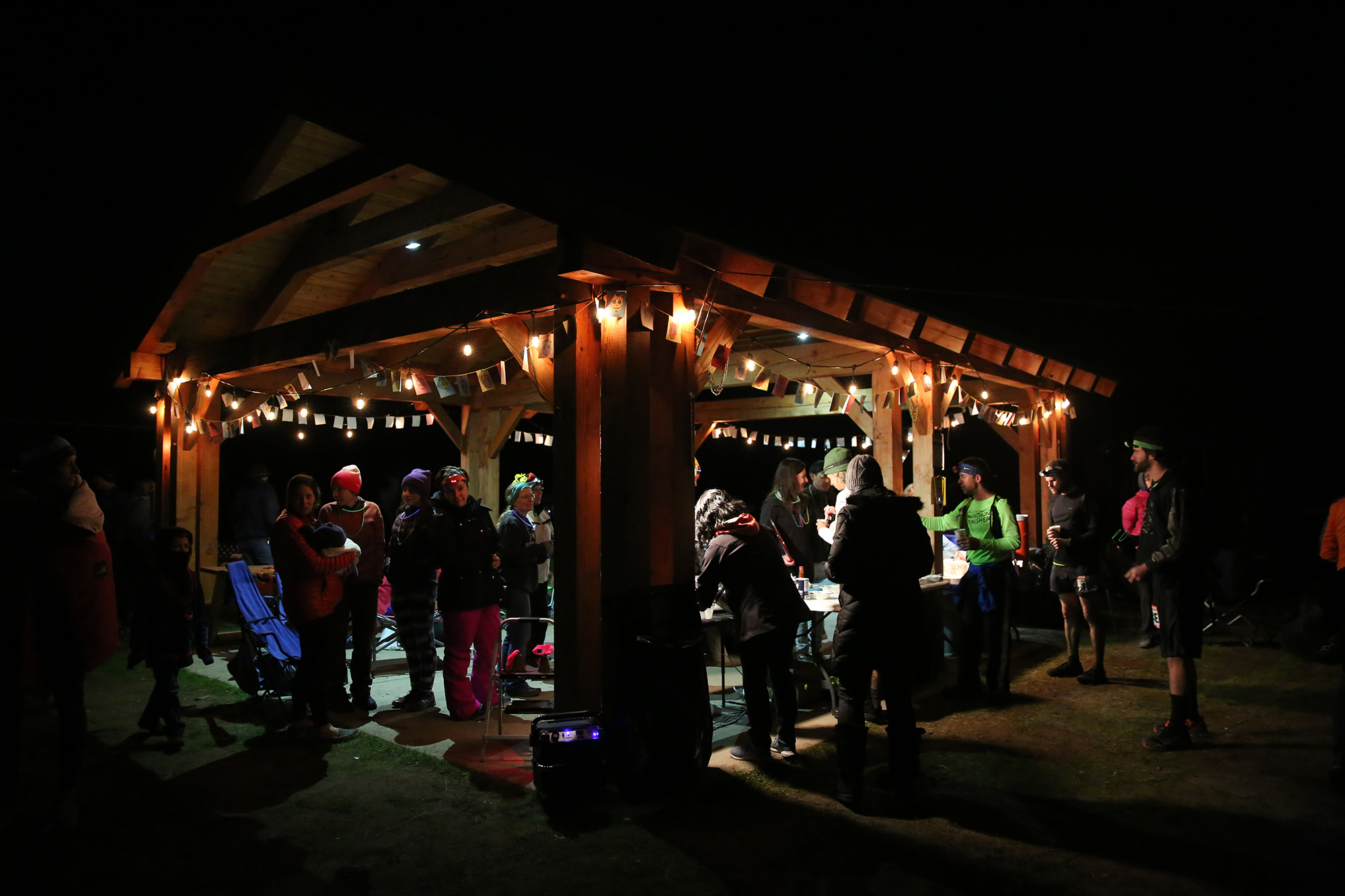 Finland Aid Station in full swing – Photo Credit: Cary Johnson
Finland to Sonju Lake Road (7.5 miles) [50 Mile Race Start]
I love the short gravel road section at the beginning—it makes the sky seem bigger. After that you'll climb away from the Baptism River valley. The highest point of the entire course is the forested ridge just beyond Egge Lake, but it doesn't feel high and it doesn't feel like it takes huge climbing to get there. Lots of this portion is in forest with lakes and long boardwalks and cedar roots. Sonju has no crew access, but the volunteers will feel like family by the time you leave. If they really like you, they won't let you sit by their fire too long before kicking you out.
—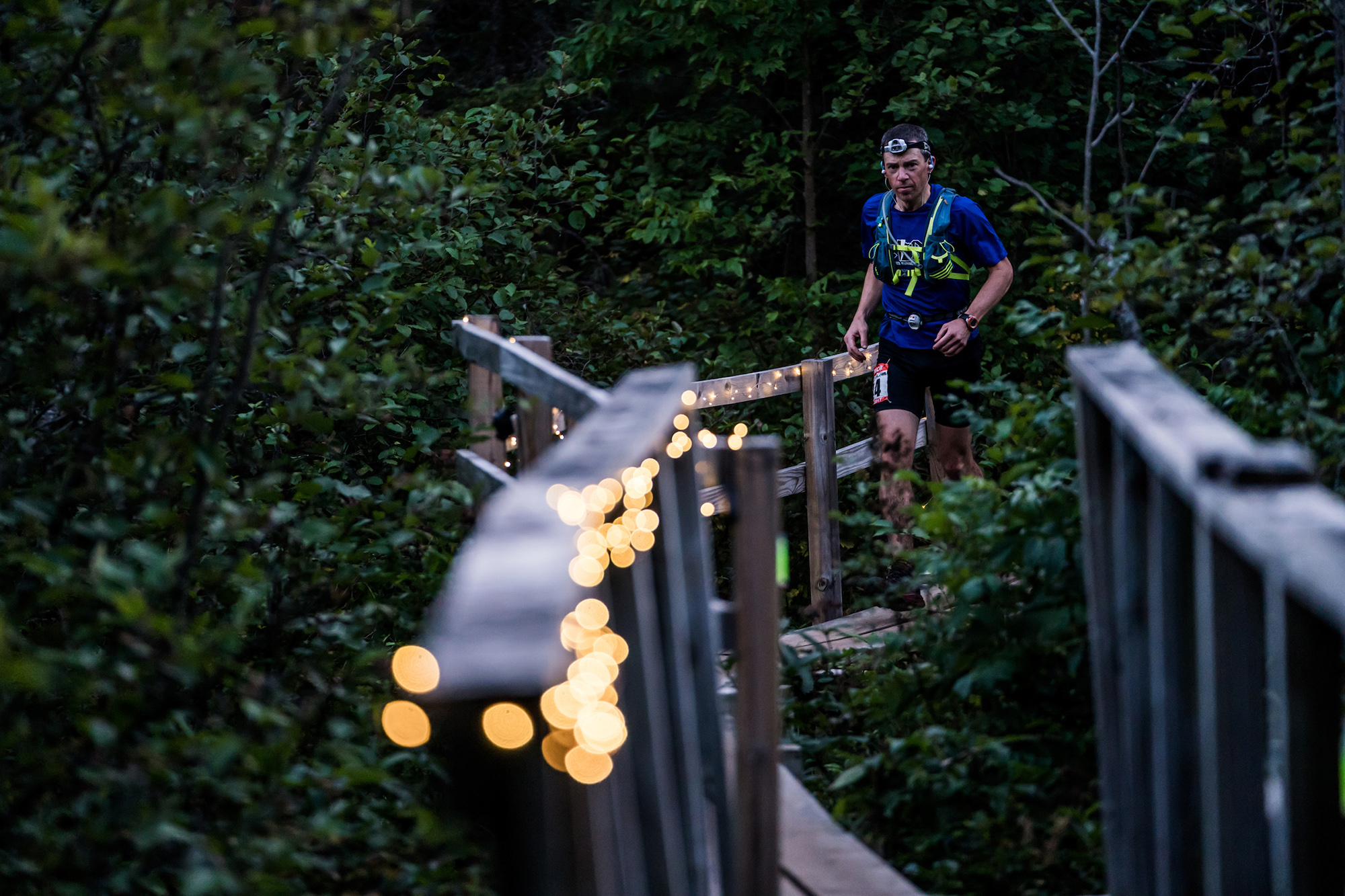 Nearing the Sonju Aid Station, most runners will hit this in the dark – Photo Credit: Ian Corless
Sonju Lake to Crosby Manitou (4.2 miles)
The elevation chart shows much of this section to be downhill, but one should never believe elevation charts. This section is known for foot grabbing cedar root monsters, some really technical stuff, seeming more so in the night. A couple easy climbs over mounds of rocks and through a ravine lets you know you're closing in on the end, and then you pop out onto the gravel road that takes you into Crosby Manitou State Park. The sky opens up nicely on the road, and because it's been awhile since a bigger aid station, this feels like a nice homecoming. Crew members please note there is no parking on Benson Lake Road, the park entrance road. You can park on Cramer Lake Road and walk into the aid station, a lovely and level half mile walk, or if you're smarter, you can go find a place to sleep for the night and greet your runner in the morning.
—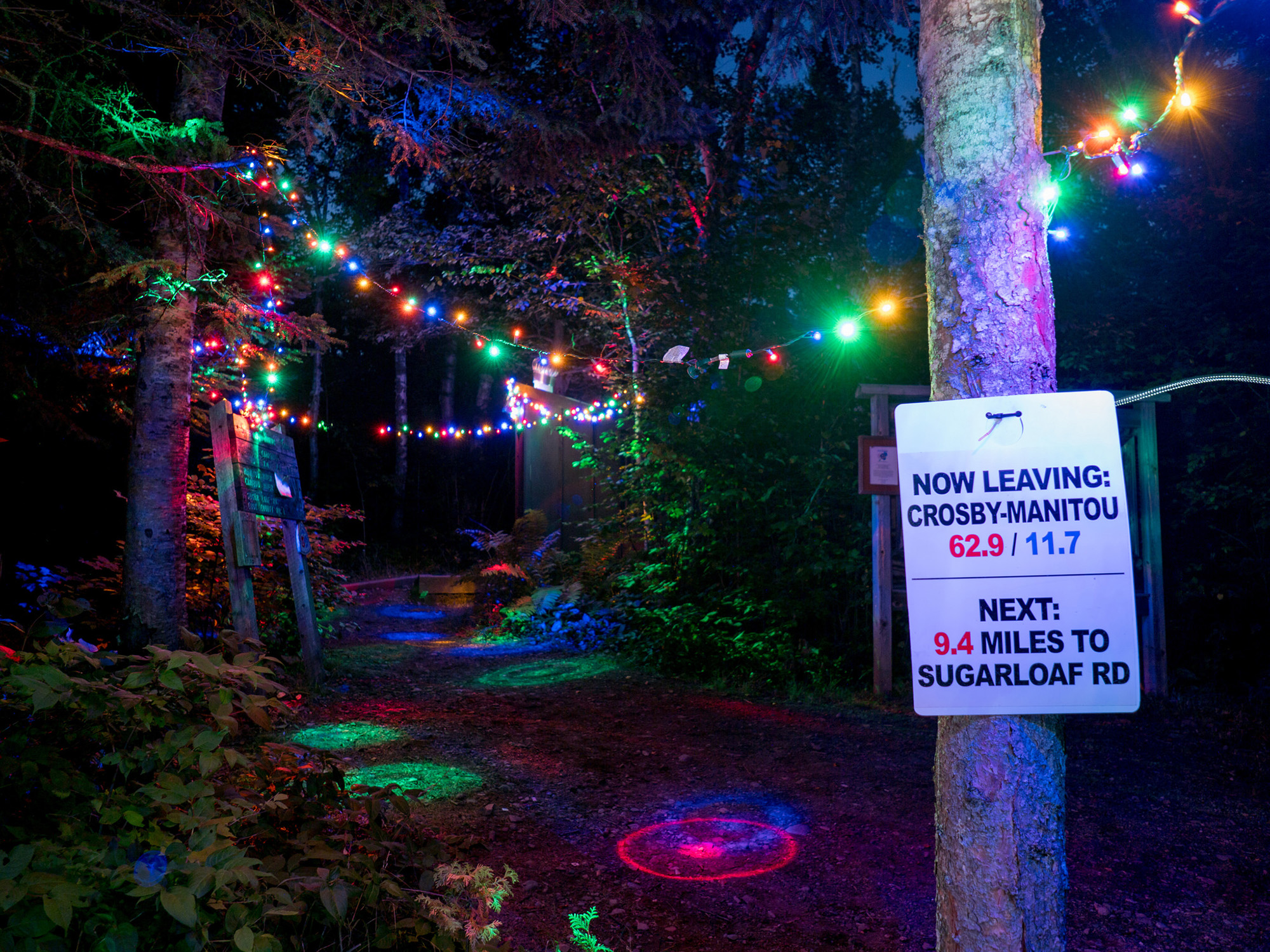 Crosby-Manitou is 100K in and its a long ways to Sugarloaf – Photo Credit: Zach Pierce
Crosby Manitou to Sugarloaf (9.4 miles)
When researching my book about the race, I looked closely at the number of drops by aid station. Crosby Manitou and Sugarloaf are consistently the two top places people choose to drop, and many years, especially the warmer ones, County Road 6 is right beside them. But this section messes with your mind more than anything—it's dark and late and starts with a long and freakishly steep descent through the Manitou River Gorge and an ascent with three demoralizing false peaks. It's one of the longer sections. The body wants to sleep. You may see the sunrise on this one. You should definitely turn off your headlamp and look up while it's still dark. The thing is, after crossing the Manitou River and climbing out of that initial gorge, this section is very runnable, especially after crossing the Caribou River in the later part, which is a great place to dip your head. But that climb away from the Manitou River breaks people. I've seen runners turn around in this section. I've seen runners stopped in the night beside the river at the bottom of the climb, looking around and wondering where to go, and my response was to point up, and that's when they see the trail markings above them. The trail flattens a couple times on its false peaks and runners may mistakenly think they're done climbing, only to round a curve and keep climbing. Keep moving forward and the second half of the section will reward you.
Mentally I like to divide this section into three parts: the crossing of the Manitou River Gorge (roughly 3.5 miles), there to the Caribou River (roughly 7 miles in), and then the relatively straight shot to Sugar Loaf Road, and which crosses a boardwalk that your race director and friends put in this spring over a spot that sometimes had waist deep mud. You'll cross a gravel road about a quarter mile before the aid station.
—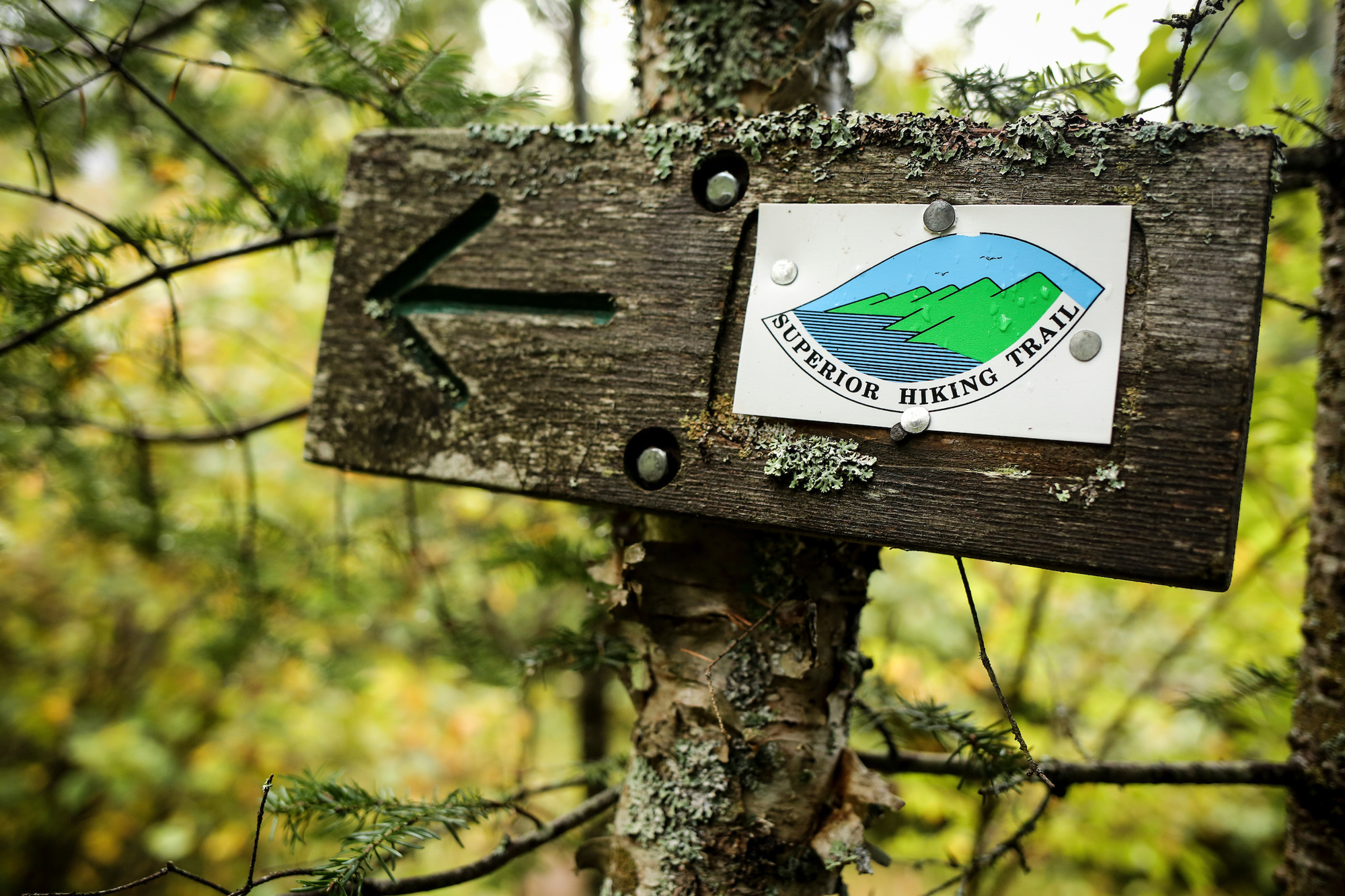 Keep following the signs, you are making progress, on your way to Cramer Road
Sugarloaf to Cramer Road (5.6 miles)
For me, Sugarloaf is breakfast time. Time to regroup. Faster fifty milers may come by. This section is a shorter one. You'll pass a couple lakes and move through some lowland landscape with possibilities of mud. In the second half, you'll follow Dyer's Creek and its lovely sounds. You hit a gravel road for about a hundred yards and go back into the woods and this tells you the aid station is less than a half mile ahead. There are not a lot of memorable landmarks in this section, no memorable climbing. Just keep moving.
—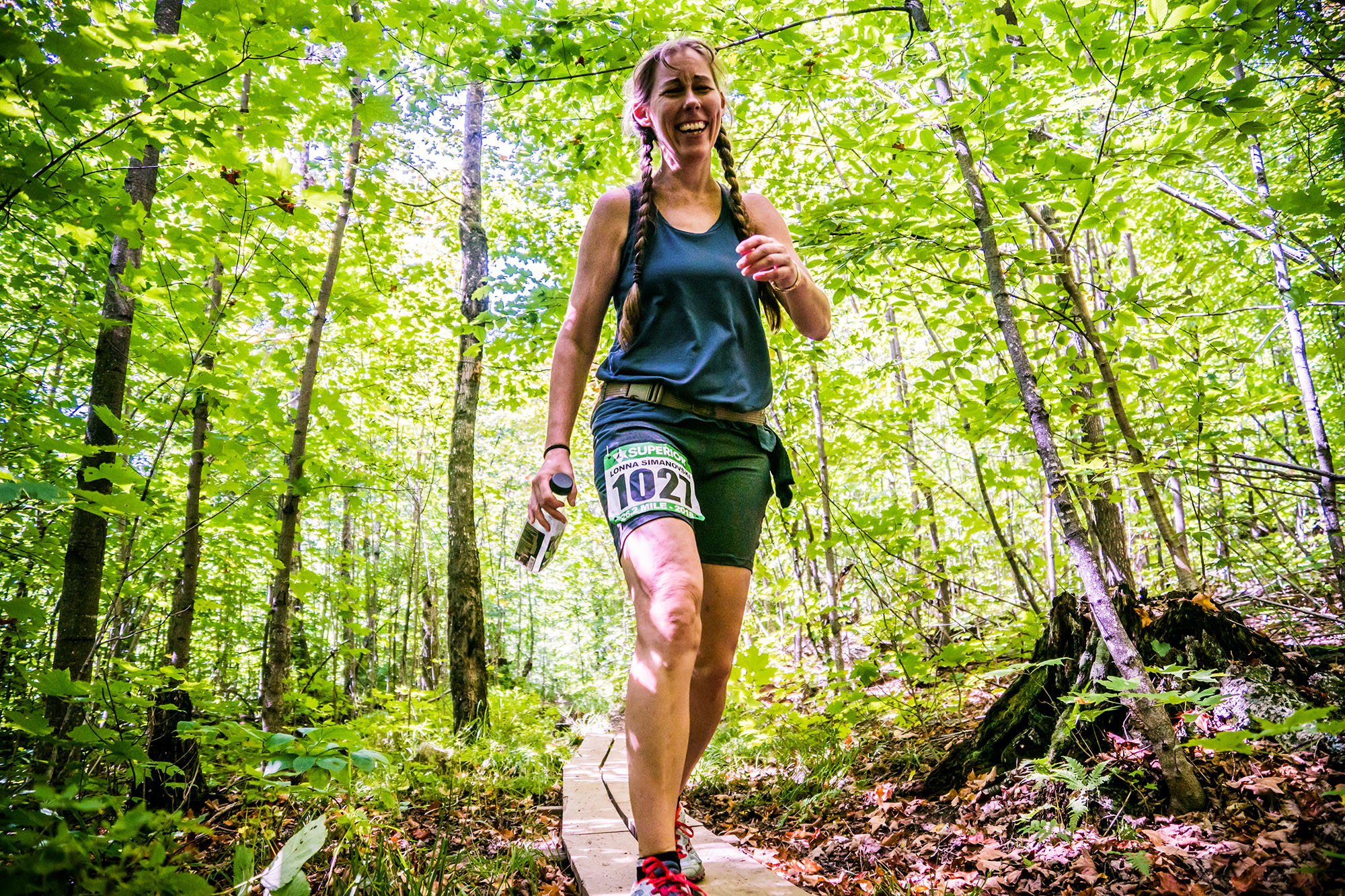 Cramer to Temperance, Marathoners are just getting started – the 100 milers are deep in the pain-cave and the 50's are somewhere in between.  Photo Credit: Cole Peyton
Cramer Road to Temperance River (7.1 miles) [Marathon Race Start]
A couple creek/river valleys in this section. You'll run some high ridges then hit Fredenberg Creek about two miles in. You'll stay near the creek for awhile with some lowland running. The Cross River is beautiful and sounds lovely in the early morning or whenever you get there. You follow it for almost two miles, with some climbs away from it and back to it's rocky banks. When you cross the river, you're two miles from the Temperance aid station. It's a steep climb away from the river. Then you're up high in birch forest with great Lake Superior views. Once you hit the park (you can often tell you're in a state park because the trails are smoother and less technical) it's a nice long descent into the Temperance River aid station. You've got less than a marathon to go. As I said about Tettegouche, if you're a crew person, give yourself a few minutes to check out the Temperance River, a short walk from here. (crews are only allowed for the 100 milers, not the 50 and marathon at the Temperance aid station).
—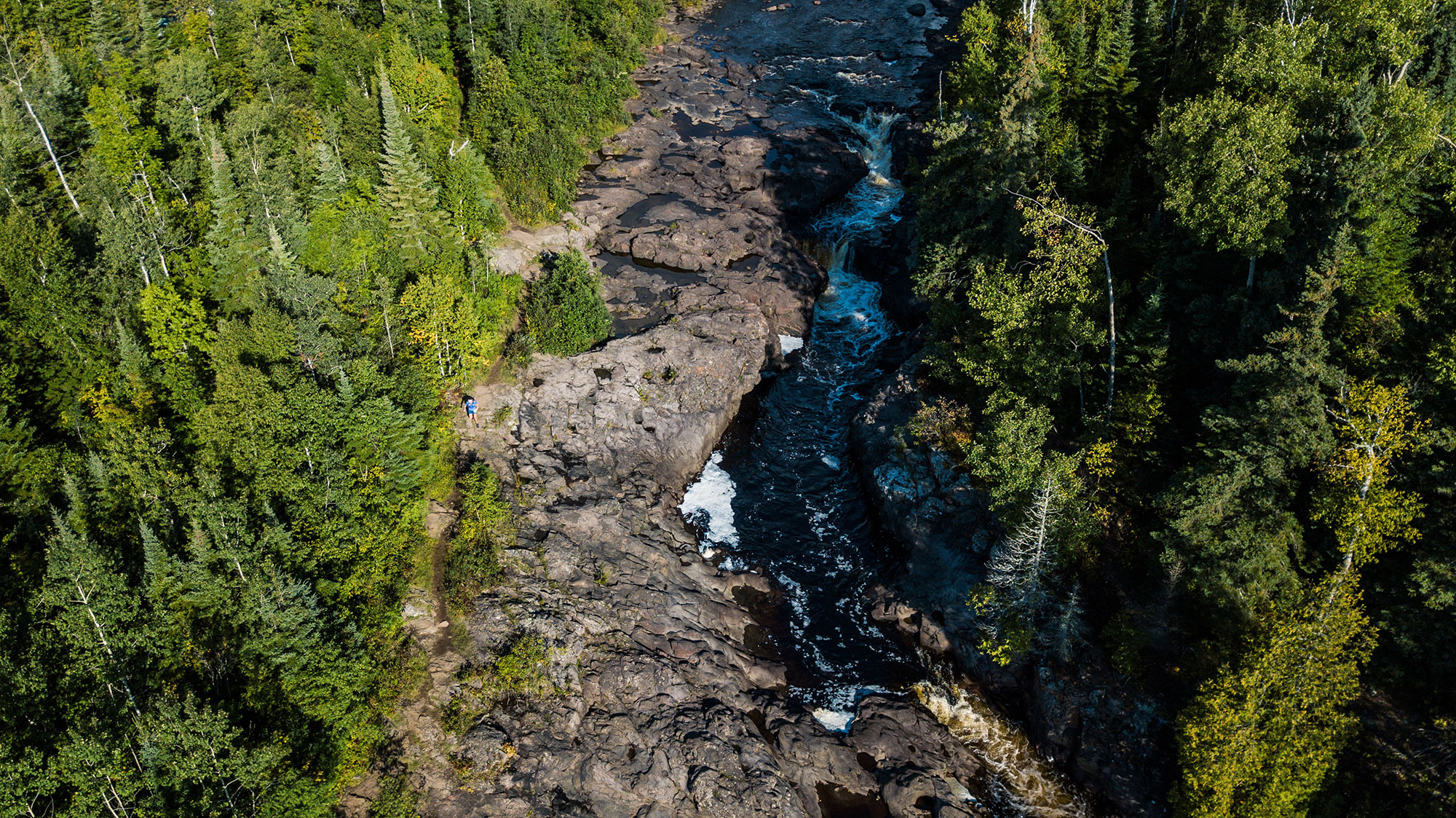 Temperance River just after leaving the Temperance Aid Station – Photo Credit: Fresh Tracks Media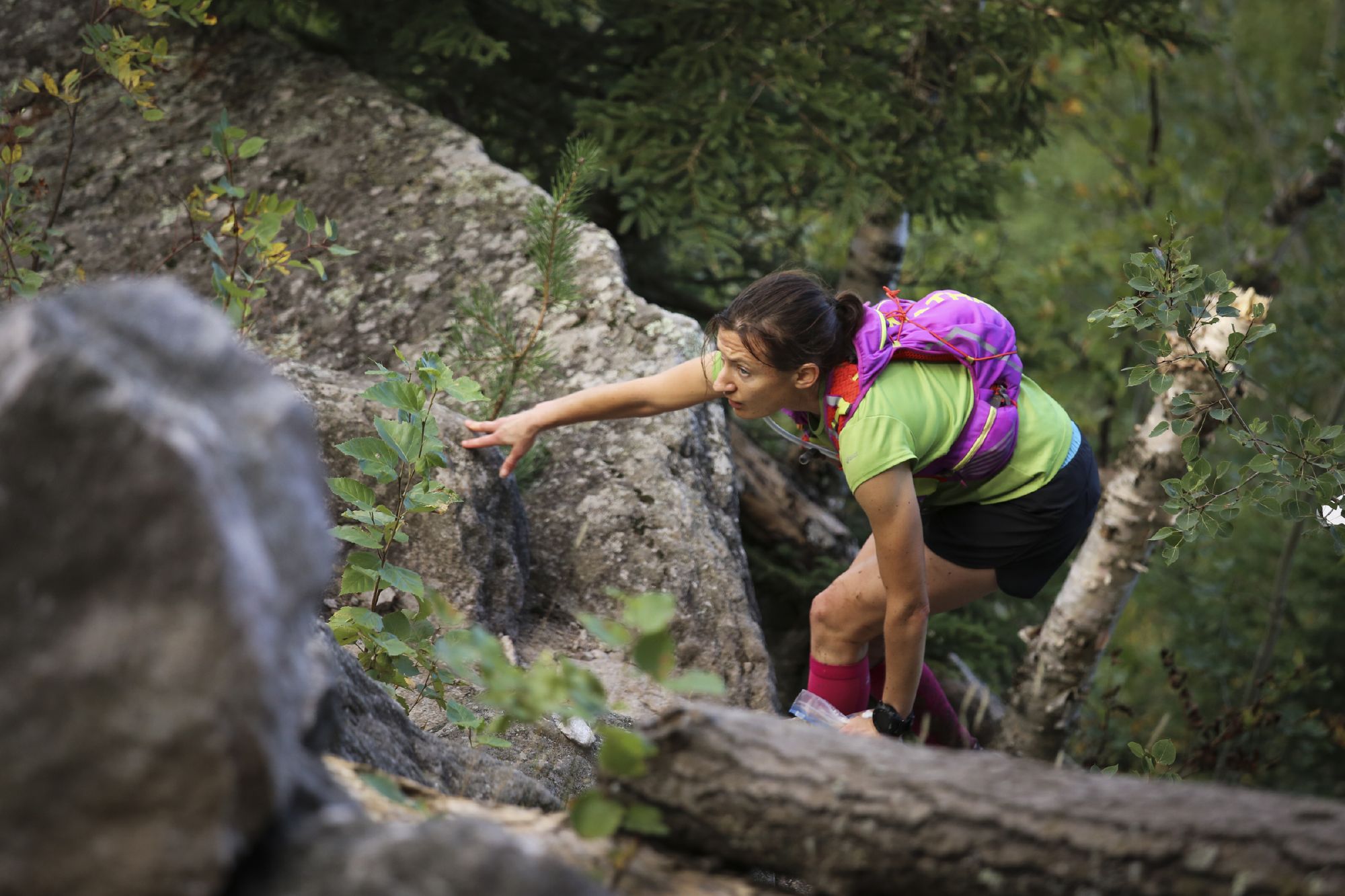 Climbing up the back side of Carlton Peak – Photo Credit: Ian Corless
Temperance to Sawbill (5.7 miles)
Despite the Carlton Peak climb, this is one of my favorite sections. I love running along both sides of the Temperance River. I love leaving the Temperance River and the long and gradual and maybe-runnable-at-spots climb towards Carlton Peak and lovely high views of the Temperance River. When you see a clearing with a picnic table, the steep climb up Carlton Peak really begins, although you don't fully top out for the amazing views (if you're not worried about the cutoff you can always hit the short spur trail to the top for extra climbing and a quick pic).If you've only approached Carlton Peak from the north, the climb from the south can be a bit rockier, and you'll need your hands to pull yourself over the rocks at times. Even the longish drop off of Carlton Peak to Sawbill is fun with its boardwalk descents.
—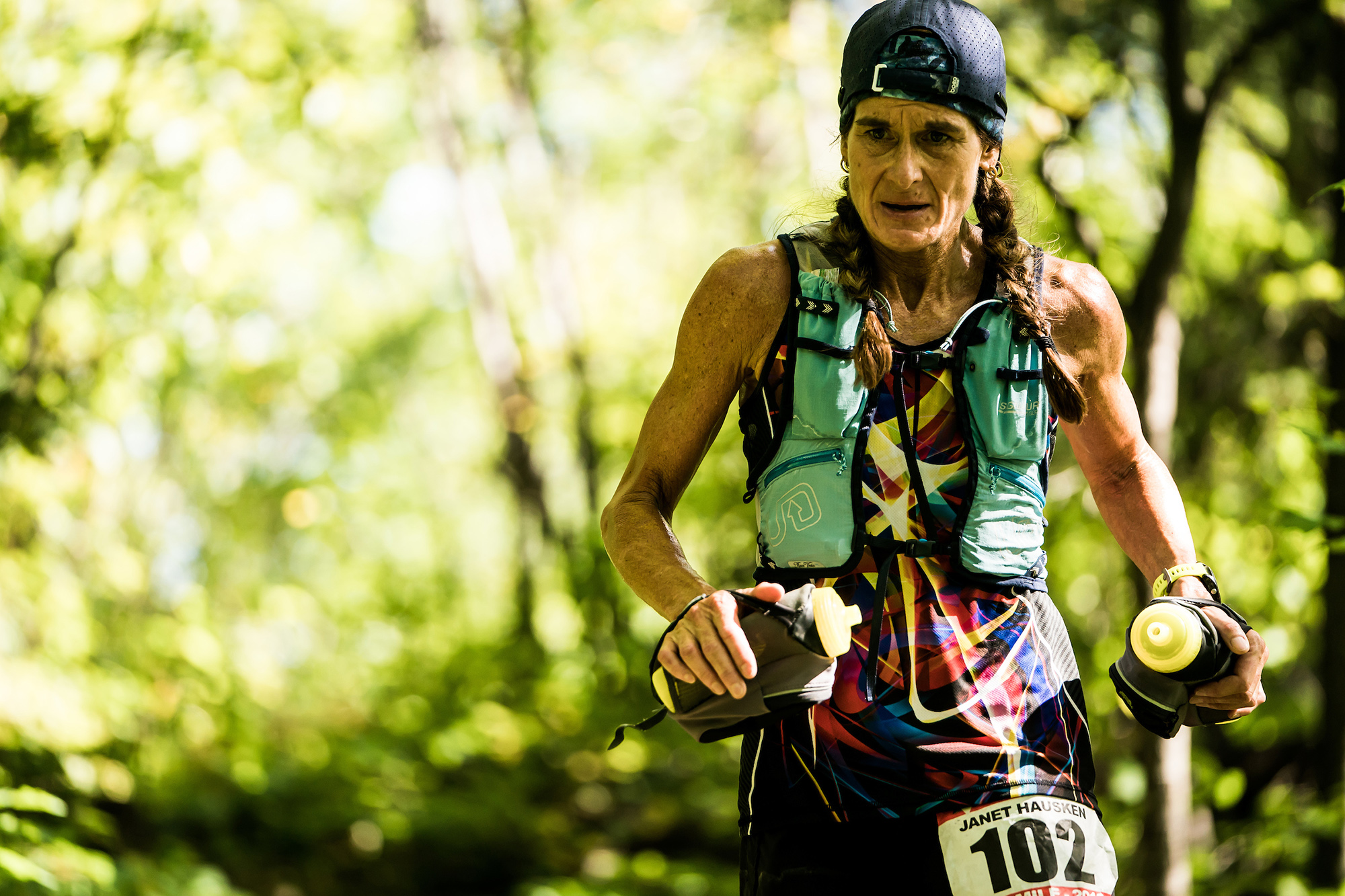 Sawbilil to Oberg, second to the last section.  Focus is key. Photo Credit: Ian Corless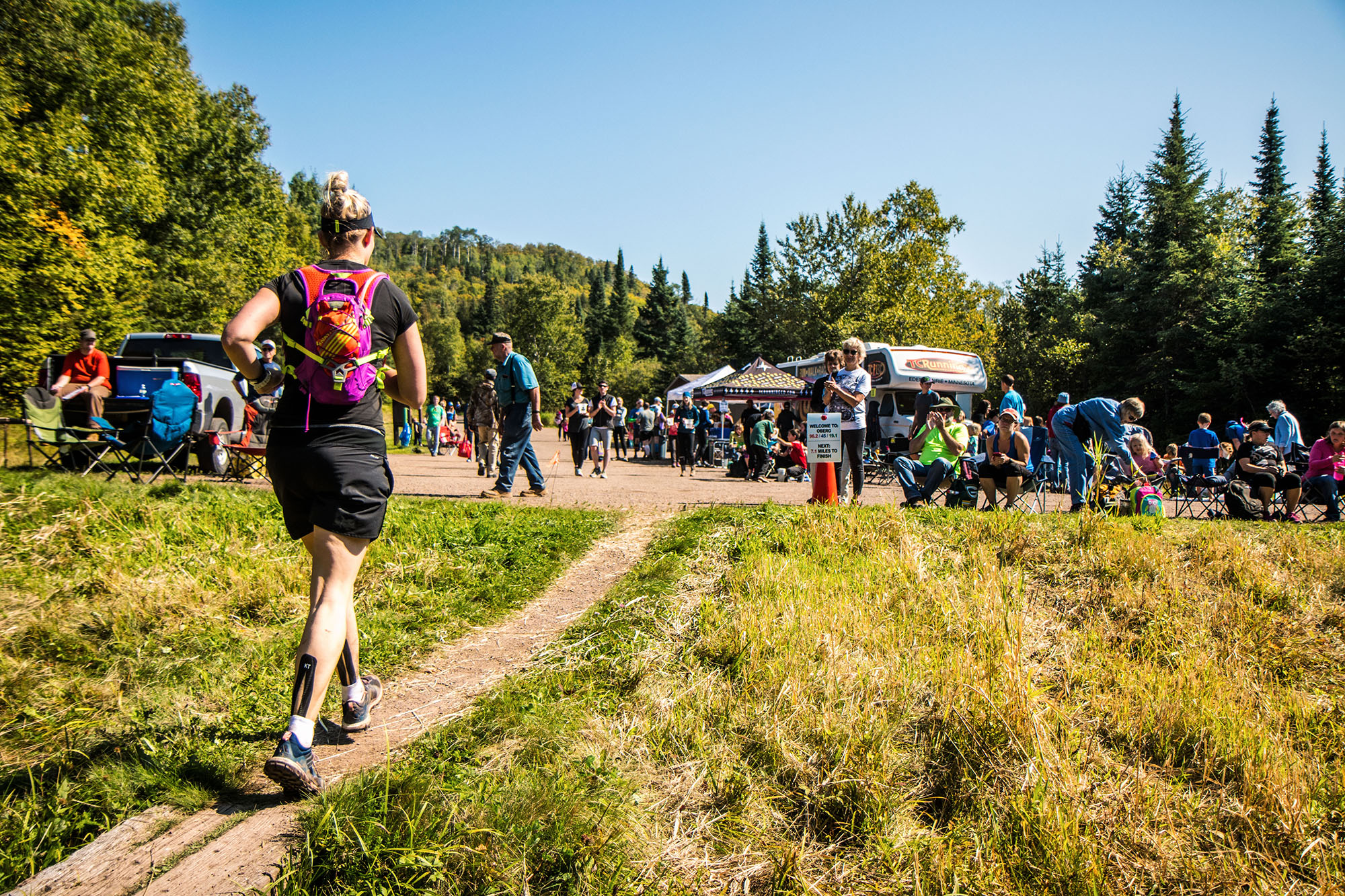 Arriving at the Oberg Aid Station – Photo Credit: Fresh Tracks Media
Sawbill to Oberg (5.5 miles)
Less than a half marathon to go. This section is mostly shaded, through sugar maple and birch forests, as is the next section too. There are really no huge climbs, no big landmarks. If it's a wet year you can find plenty of mud here. This section seems to be mostly about getting from one spot to the next at this late stage.
—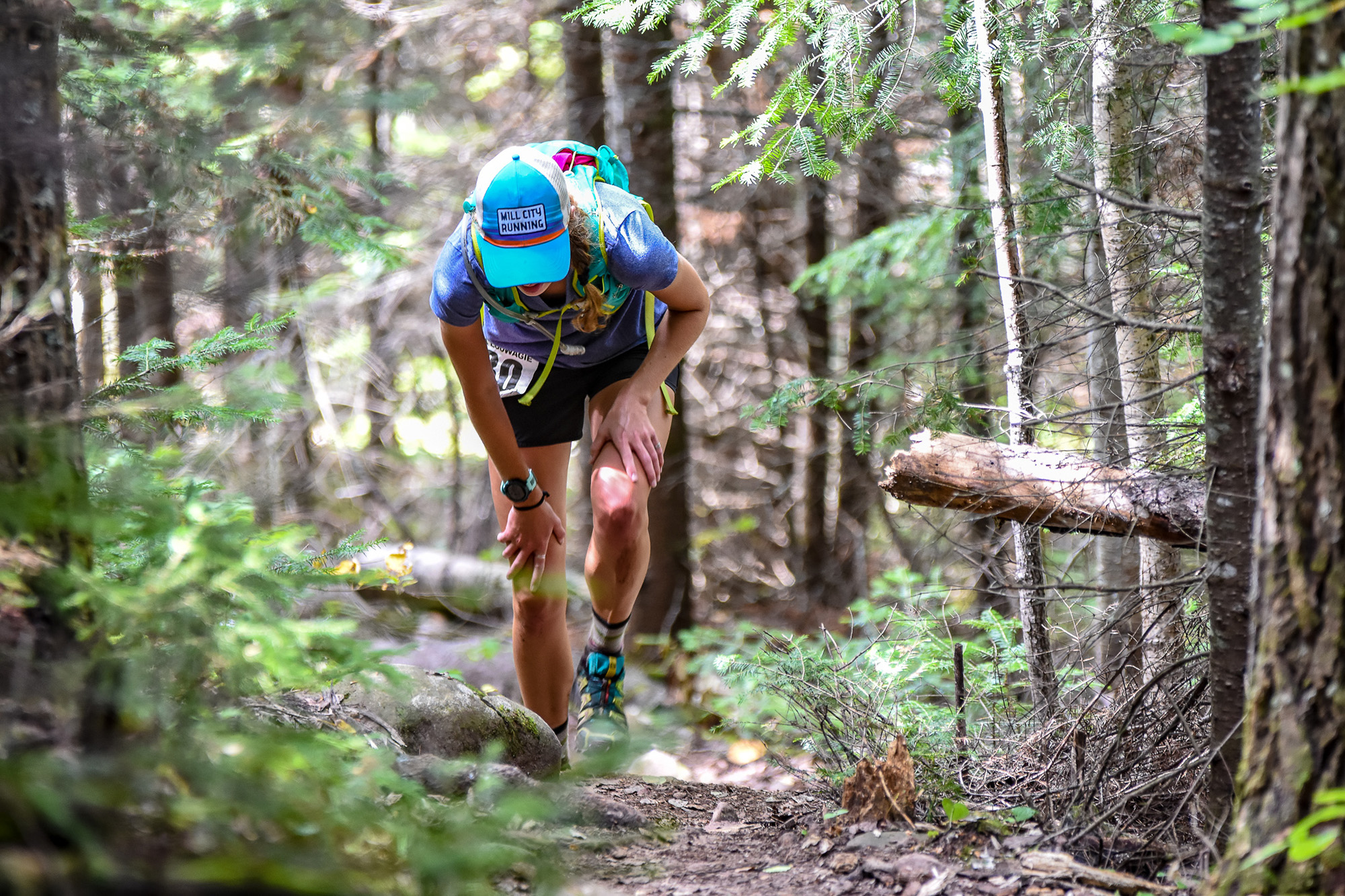 Hands on knees coming up Moose Mountain – Photo Credit David Markman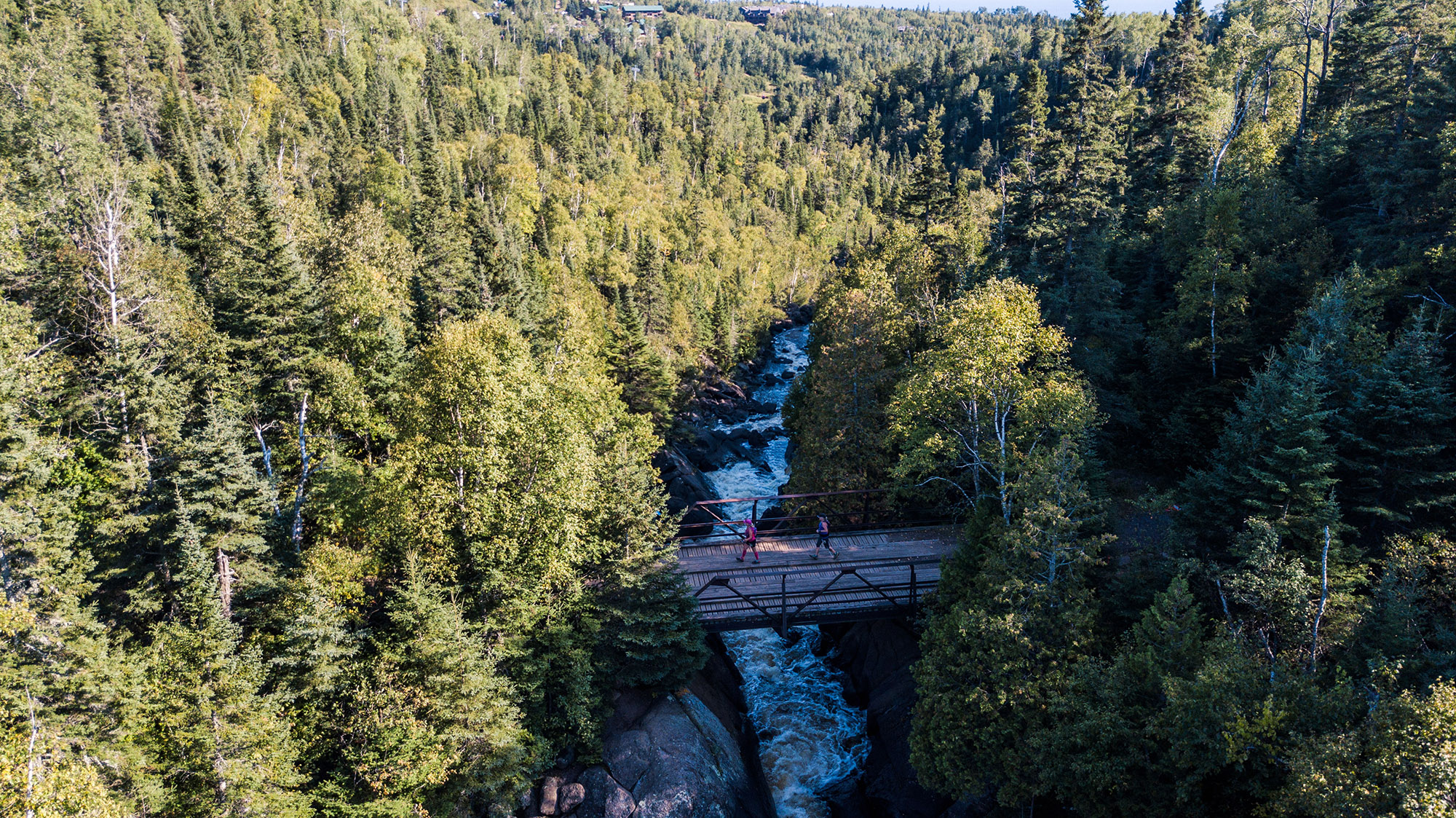 The Poplar River, the finish is right around the corner – Photo Credit Fresh Tracks Media
Oberg to Lutsen (7.1 miles)
You leave the aid station wanting to cry because you're going to get this thing done, one way or another. The climbs here don't matter. They just don't matter. Bigger climbs are behind you. Moose Mountain is steep but short. Somewhere from the top of that ridge you may hear the finish but it's still an hour away. When you hit the steep descent off Moose Mountain, you've been 100 miles and the rest is gravy, bonus mileage. You'll circle around to the finish, over Mystery Mountain, which is a longer climb but it has switchbacks and in places you may again hear the finish line greeting other runners—it almost feels as if that finish line is moving around in the forest. This is one of the only times you'll get switchbacks on this trail. Once you see that group campsite atop Mystery, it's mostly downhill. Ride that thing down to the river. No matter what the feet feel like, the sound of the Poplar River will temporarily erase that. Maybe. And maybe you'll cry at the sound of the river, the crossing of the bridge. Then pavement. And that lump in your throat. Get yourself a buckle.
—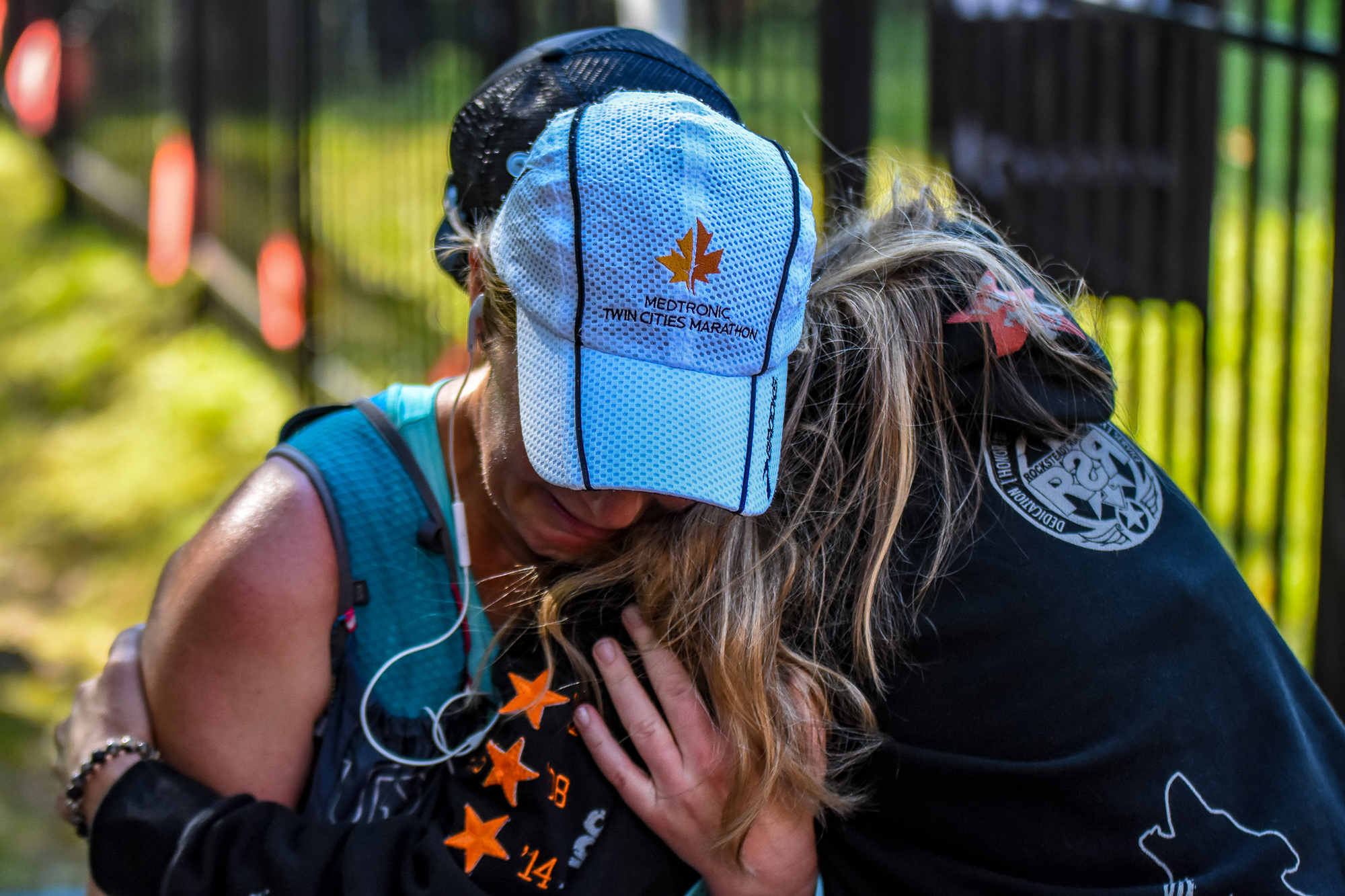 The finish – Photo Credit: David Markman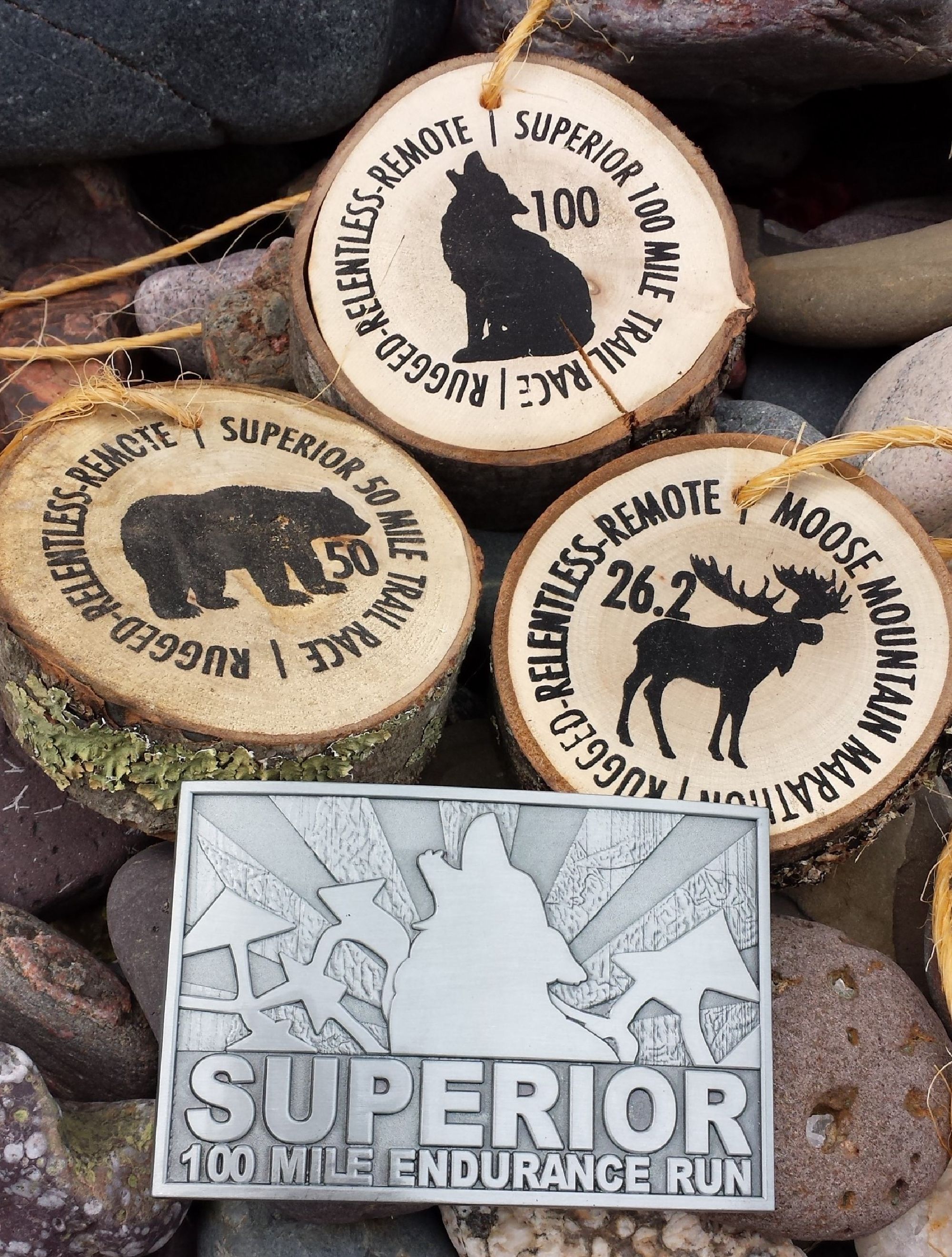 The Medals / The Buckle – Photo Credit: John Storkamp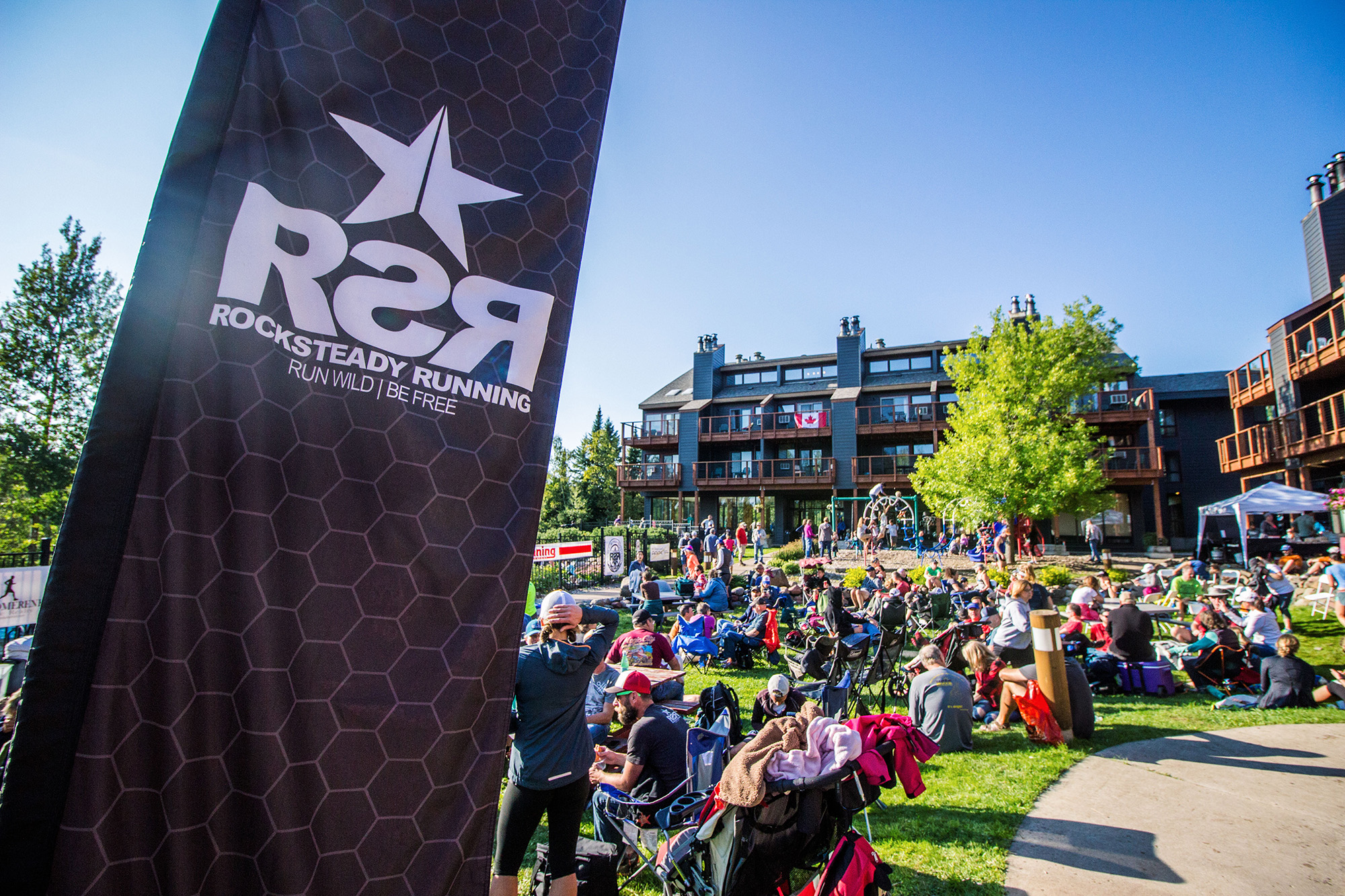 The finish line buzzes all day Saturday and well into the night – Photo Credit: Fresh Tracks Media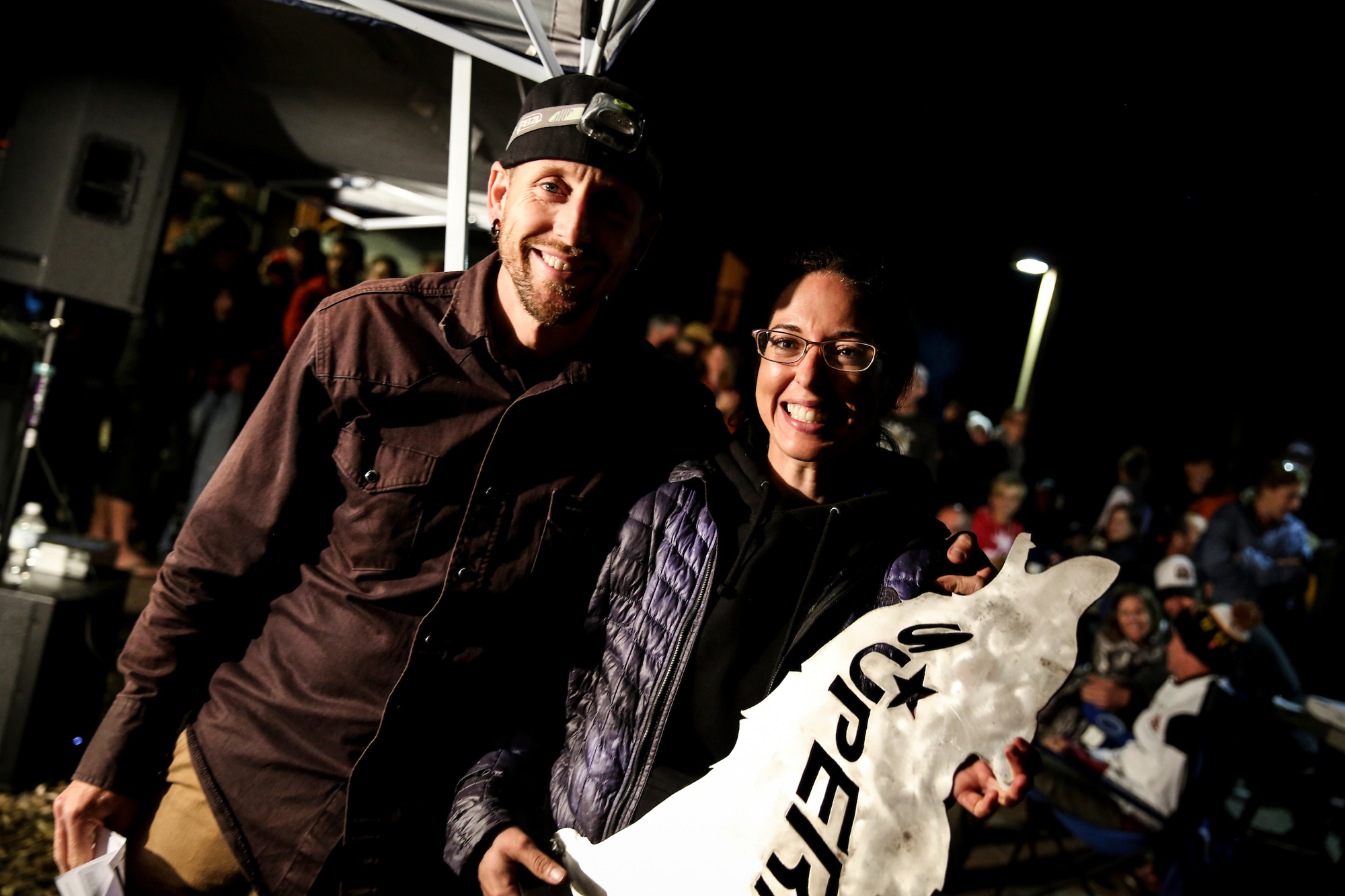 The awards ceremony and afterparty at the finish line is not to be missed – Photo Credit: Ian Corless
—
Some Course History and Variations
The race has always existed on the Superior Hiking Trail, but when Harry Sloan started this race in 1991, the course started in Silver Bay and finished on the track at the high school in Grand Marais. The hiking trail wasn't fully completed, so runners followed paved roads at miles 21-28 (County Road 6 and Highway 61 to Caribou Wayside, skipping the current trail portions from Section 13 through Crosby Manitou State Park) and they followed gravel road at miles 90-95 (Bally Creek Road to Section 18) to finish in Grand Marais. It also included a place where runners had to ride across a beaver pond in a canoe. Harry had run Western States and wanted to emulate some of its features, such as the water crossing and finishing on a track. After this initial run, David Lygre wrote in Ultrarunning magazine: "Don't let the fast times fool you. This is a tough course. It is about equivalent to (though very different from) Angeles Crest. Harry Sloan said that next year the course will be changed so that an easy seven-mile road section is replaced with trail…I hope they don't make the course much harder, though. There are already enough courses, such as Wasatch, Hardrock, and Barkley, that threaten to turn middle-of-the-pack ultrarunners into zombies." The course changes he references would take a decade to fulfill as land acquisition and easements slowed trail connections, and of course, adding more miles of trail only made the course more challenging.
Another former race director, Rick Lindquist, had runners do an out and back course.
Larry Pederson, with the help of Donny Clark, established the current course concept from Gooseberry to Lutsen, though there were variations, such as the first section being run on the hiking trail.