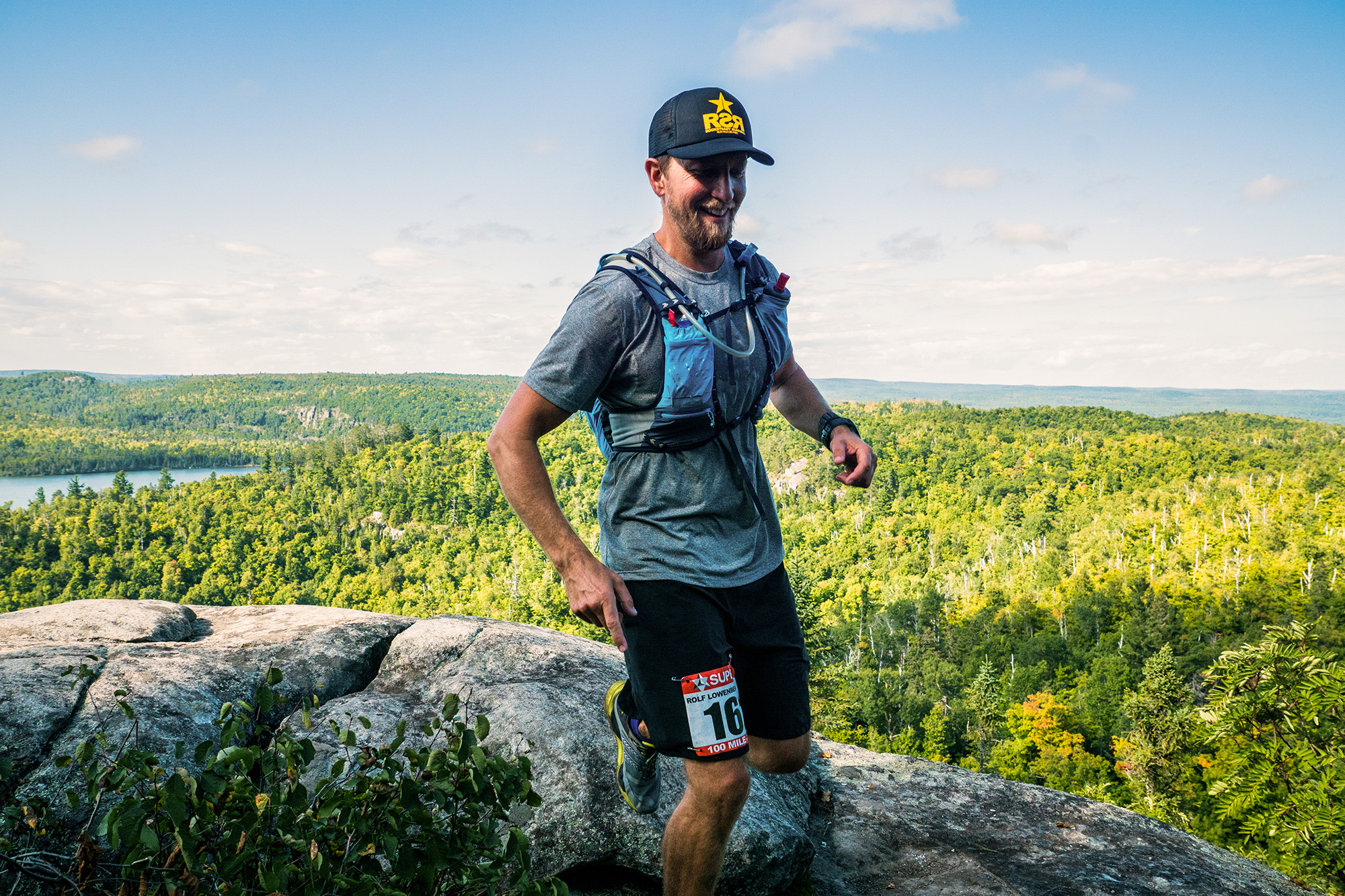 Photo Credit: Cole Peyton
This is the 29th running of Superior. First we need to talk about tradition, about longevity. We need to talk about permanence. About durability. When this race started in 1991, there were only ten hundred-mile races in the country. There's something about this race that keeps people coming back—there's a sense of magic and timelessness on these trails and a sense of love for this race in every person it touches. Get this: Harry Sloan, the guy who started the race—the original race director who had the idea that people should actually run this trail for multiple days—is running the marathon this year at 70 years old, and don't forget he finished the 100 in 2015. But it gets better. Harry started this race in 1991, and the first guy to cross the finish line that year, the first runner to ever receive a Superior buckle, Bob Stavig, is back to run the 100 at age 70 for what will be his sixth finish. What a circle we are seeing this year! (If you want to have some fun and see some great history, look up Harry and Bob's Ultrasignup pages).
We will see Stuart Johnson go for his 22nd buckle and Susan Donnelly attempt to get her 19th finish here. But it's not just them—almost half of the runners in the 100 know this course—what the hell are they thinking?—and have finished before, and many have several finishes (Chris Hanson at 13, Darryl Saari at 11, Richard Plezia 10 and John Taylor at 9, and the numbers just keep going, with 20 people having five or more finishes). All three of the 70 year olds who are running the 100 have finished it before.
It's not just the runners who keep coming back. Tom Kurtovich was helping Harry Sloan in year one, and he's still at multiple aid stations with the radios every year—in fact, most of the radio guys are long timers. Most of the former race directors still volunteer, and former RD Rick Lindquist will be getting inducted into the race's Hall of Fame this year. As usual, I expect to see Donny Clark cheering people up the climb from the Split Rock aid station and chipping in elsewhere. Donny helped figure out what the modern course should look like. The Immerfall Family has been volunteering and running the Sawbill aid station since the race was only a couple years old. All these names represent so many more people who consider the race an annual event and participate in some way. Some may have run it last year and this year they are jumping in to help however they can—the race has over 325 volunteers doing nearly 600 jobs.
+
2019 Stats (Combined – All Distances) https://www.superiorfalltrailrace.com/2019-bib-assignments/
Registered Total: 927, Male: 570 (61%), Female: 357 (39%), States: 34, Countries 6, Minnesota Cities: 166, Youngest 19 (Annaliese Voss), Oldest: 73 (Dick Hogan, Mary Croft, Wally Goettl), Average Age: 43, One or more finishes: 385, Zero finishes or first attempt: 542, Five or more finishes: 43
+

100MILE https://www.superiorfalltrailrace.com/2019-100mi-entrants-finish-counts/
2019 100 Mile Stats – Registered 100M: 293, Male: 223 (76%), Female: 70 (24%), States: 31, Countries 5, Youngest: 22 (Alex Kasparek, Nick Korhonen), Oldest: 70 (Glen Hill, Bob Stavig, Kathy Weix), Average Age: 43, One or more finishes: 136, Zero finishes or first attempt: 157, Five or more finishes: 20
The women's race is bound to be exciting. Three former Superior 100 Mile champions are running—Mallory Richard, Gretchen Metsa and April Anselmo naturally sit atop the field. Mallory is one of the most dominant Superior 100 mile champions ever, having won the race four times and she holds the current women's course record—this race is her wheelhouse. Gretchen and April are both amazing and tough runners. And what about the rest of the women's elite field? A lot of solid runners here have a lot of impressive results, a lot of talent and a lot of determination. An interesting one to watch will be Faye Norby. This is Faye's fourth Superior 100. This past winter, Faye not only completed, but won three super-tough winter ultras in succession, completing the Order of the Hrimthurs series: Tuscobia 160 Mile, Arrowhead 135 Mile and Actif Epica 162 KM. Faye is also competing in this year's Gnarly Bandit Ultra Series, finishing 13th at Kettle 100 and 7th at Black Hills 100. Faye excels in tough conditions and Superior is tough—get some bad weather or even more challenging conditions than normal and Faye might just come out on top. Last year's Master's champion Tammy Davis is back but there are several runners that could give her a run, including Erin Brady who is running her first Superior but is no stranger to taking Master's titles along with many high places overall, and Tina Koplinski, who has 7 Superior 100 finishes including three second place performances, so any of these ladies could end up on the overall podium. Janet Hausken took the Grand Masters title in 2018 but will not be racing this year, while 18-time finisher Susan Donnelly took second in that division last year and is racing. Not well known to us but judging by her results, Brenda Eddington could do big things as her results are not only impressive in the Grand Master's division, but she has consistently been competitive in the overall women's field at the races she has run. Watch out for Lisa Byrne to improve yet again from last year as she has been training and racing well all year. Lisa is a tireless volunteer and organizer in the Minnesota running scene. We recently learned Lisa has a broken rib (or two?), but, she's toeing the line.
This year's Superior 100 mile men's race could be called the battle of the seconds. Michael Borst has second-place finishes from 2014 and 2015, when he ran the 6th fastest time ever on the modern Superior 100 mile course and he also holds the course record in the 50 mile race from his 2016 win. Paul Shol has a second-place finish from 2017 when he ran the 12th fastest time ever. Mick Jurynec placed second last year and ran the 7th fastest time ever on the course—this after having placed 10th at Hardrock earlier that year—without Hardrock in his legs this year perhaps he is good for the win. Ben Drexler has been steadily moving up the ultra-distance spectrum and has been running some very impressive times while doing it, including a second-place finish at last year's Superior 50 Mile, running the 4th fastest time ever on the course. This will be Ben's first 100-mile race. We saw Ben out volunteering a lot this season, so Karma should be good. Mark Emmons was 7th overall at last year's Superior 100 and is known to run smart—he could certainly improve on his 2018 performance. Runners like Rob Henderson, Ryan Braun and Brian Klug could have good days out there as well, but like the women's 100-mile elite field, throw a blanket over them—so many great runners. Looking to the over 40 crowd, the competition is stout and two past overall champions in John Horns and Adam Schwartz-Lowe are back at it in the 100. John Horns is 57, and he won the Superior 100 in 2011 and 2013 and placed sixth in 2014 – only two men have two wins at Superior, Horns and course record holder (not running this year) Neal Collick. Adam Schwartz-Lowe is 46, and he won in 2014. Adam has an impressive seven Superior 100 mile finishes, all 6th place or better. Jeff Miller, Jason Buffington, and John Maas are also runners who could do big things in the over 50 group and Jeff has been spending a lot of time on the North Shore. Watch for a solid performance from Matt Long in the 60+ crowd—Matt ran his 20th Voyageur 50 mile race this summer and his training has been solid leading in. Matt has been an integral part of our marking and sweeping crew for many years.
The numbers game: Stuart Johnson is still in the lead as he goes for his 22nd finish while Susan Donnelly goes for her 19th, closing in on that almost unfathomable 20th finish milestone. Chris Hanson is going for 14, Daryl Saari 12, Richard Plezia 11 and John Taylor is looking for his 10th. Will John be recovered from his recent Bigfoot 200 finish? Knowing John and his uncanny powers of recovery, probably. As it sits today, only seven runners have 10 or more finishes.
Incredibly, we have three 70 year olds in the 100-mile race this year: Glen Hill of Maple, Wisconsin, Bob Stavig of Bloomington, Minnesota and Kathy Weix of Eau Claire, Wisconsin. Glen finished the Superior 100 back in 2009 and this year just got his 20th Voyageur 50 Mile finish—Voyageur is the oldest running ultra in Minnesota and one of the oldest in the country. Glen is a regular on our sweep team. Bob Stavig won the inaugural Superior 100-mile race all the way back in 1991 and went on to finish the race four more times. Kathy Weix finished the Superior 100 in 1995 at the age of 46 and again in 2006 at the age of 57—that time with the intention of volunteering up until the night before when the RD coaxed her into running the next day. She had to scramble to round up proper running attire and a water bottle in order to run. Kathy volunteers nearly every year at Superior. To date, the oldest finisher(s) of the Superior 100 are 67 (Glen Zirbel in 1998, former Superior 100 race director Harry Sloan in 2015 and Brian Landstrom in 2018. Brian has finishes in 1992, 1994, 2015, 2017 and 2018).
As usual, Superior 100 is the second to the last race in the Upper Midwest Trail Runners Gnarly Bandit Ultra Series presented by Performance Running Gym. The series consists of running the Zumbro 100, Kettle 100, Black Hills 100, Superior 100 and the Wild Duluth 100K all in one season. Those that finish all of the races achieve Gnarly Bandit status. Those remaining in this year's series and toeing the start line at Superior include Timothy Adamski, Tammy Davis, Erika Lohn, Faye Norby, Erik Raivo and Ryan Wanless.
+
50 MILE https://www.superiorfalltrailrace.com/2019-50mi-entrants-finish-counts/
2019 50 Mile Stats – Registered 50M: 201, Male: 130 (65%), Female: 71 (35%), States: 16, Countries: 4, Youngest: 21 (Hannah Grace Mettler), Oldest: 69 (Allan Holtz), Average Age: 42, One or more finishes: 49, Zero finishes or first attempt: 152, Five or more finishes: 2
Minnesota runners who have paid any attention over the years know the name Greg Hexum. The name usually associated with mythical performances run on tough trail courses seemingly quite selectively cherry picked throughout the state over the years. Greg was a standout snowshoe racer on the Atlas elite squad winning two USSSA national titles over the years and always did incredible things on the trail when he laced up the shoes. One of many examples is a 3:07 course record that still stands to this day, run at the Eugene Curnow Trail Marathon in 1997 (those who have run this trail race will immediately have an appreciation for how crazy that time is). We are not positive but believe that this will be his first ever 50-mile race. Greg is now 48. Greg has won the Superior 25K twice, and still has the 2nd fastest time ever run on the course. Due to his exploits at Superior (2nd fastest time ever at the 100) and many wins at non-Superior races, Jake Hegge is an obvious pick as the favorite but with a new baby and shifting priorities, some races Jake looks to be just jogging / participating vs racing (2019 Big Horn 100 59th place) while others he seems to be getting after it (2019 Voyageur 50 Mile 6th place). Either way, Jake will likely run hard and have a great time even if he has to stop and take a little nap along the way as he did during last year's 50-mile race. Josh Miller was third at the Spring Superior 50k and won this year's Marquette 50k, proving he knows how to run a solid race on a tough course. Chris Cantway also has some good experience at Marquette and could shine here.
On the women's side, lots of first time Superior 50 milers in the mix means anything can happen. Lisa Dunnigan has been looking to nail one, and is more than capable, so maybe this is her year. Colleen Macdonald was third last year and the women that took first and second then are not racing this one. Both Lisa and Colleen are often RSR volunteers so at a minimum they should have some great volunteer karma on their side. Claire Walling took third place in a competitive field at Eugene Curnow Marathon this year. One thing we don't see a lot of at the top of this list is experience racing on this trail, but that's something Amy Broadmoore has loads of, and we expect to see her do well in the Masters division, but we wouldn't be surprised to see her on the overall podium either. When not racing on the SHT, she is often times found behind the camera at local races as a volunteer photographer. That Masters field is a deep one with so many fine runners who could pop out as the winner. Kim Martin could do well in the Grand Masters division, although Shelly Groenke has more experience than any other female in this field, and she finished the Superior 100 last year.
Richard Bjork and Jonathon Graff are going for their 6th finish each while Greg Borzick, Shelly Groenke, Joseph Jameson and Charlie Murray are going for their 5th.
+
MARATHON https://www.superiorfalltrailrace.com/2019-26-2mi-entrants-finish-counts/
2019 26.2 Mile Stats – Registered 26.2M: 433, Male: 216 (50%), Female: 217, (50%), States: 18, Countries: 4, Youngest: 19 (Annaliese Voss), Oldest: 73 (Dick Hogan, Mary Croft, Wally Goettl), Average Age: 44, One or more finishes: 199, Zero finishes or first attempt: 234, Five or more finishes: 22
Every race we look at one of the distances and one of the genders and we claim that it is the most competitive. This year the case could be made for a few of the races and the men's marathon is certainly one of them. James Sorenson and Wynn Davis have both won the Moose Mountain Marathon. Wynn Davis has two wins over the years and set the still-standing course record in 2009, and Wynn has won every Superior distance (both Spring and Fall) except the 50 mile race. James Sorenson has two second place finishes at the Marathon and a win at the 50. Mike Ferguson is a threat in any race he enters and took 2nd place at this past year's Superior 25K in a very competitive field—that leg speed should serve him well over 26.2 and much of the marathon is on the same course as the Spring's 25K. Look at Chase Nowaks UltraSignup page and it reads pretty simply: 9 races, 7 wins, 2 second places—odds say he will win, or show—chances are Chase is not interested in a 3rd or lower.
Emma Spoon ran the marathon in 2017 and 2018, and she won both times and set course records both times. It is unreasonable to expect anyone to win and set course records every time they toe the line, so I digress, but, let's also not put it past Emma to do it again. Emma currently has few equals as she has both the inherent running prowess along with geography on her side, living and training in Grand Marais, Minnesota with daily training sessions on the SHT. Rena Viebeck won this spring's Superior 12.5k race. Jody Zeleznikar has placed multiple times in the spring races (she's often found pacer duties in the fall) and should do well. Also Joanne Sackett could take the Grand Masters division, although we wouldn't be surprised to see her place overall either, as she's not averse to winning and placing in her 50s.
Steve Hagedorn, Dick Hogan and Jim Keyes are all going for their 11th finishes. Lonny Beck and Monique Wellbourne are going for their 10th finishes.
Let's circle back to the top, to the part where we were talking about people coming back year after year. A big piece of that is because so many people feel ownership of this race and their part in it. You'll notice the word "collective" on this year's shirt. It's a concept the race director has fostered from day one, an outlet for art and storytelling, an outlet for personal growth and healing, for rebirth, for friendships and trail family, potentially for whatever it is you're looking for, even if you didn't know you're looking for it. It's why the aid stations are magical oases full of people who take pride in reviving runners who thought they were done. It's why the HAM radio folks never lose track of runners, even in such remote areas. It's why the race photos belong in glossy magazines or the big screen. Think about that word, "collective," a joint effort. No one does this race alone. We are all just running each other home to Lutsen. Own this race. Own your effort, and no matter what you are doing there, do it the best you can. Explore your limits and boundaries with the rest of us. Embrace your fellow runner, volunteer, pacer, whatever. Get to know them. Share the experience. Help each other find that smooth stretch of trail that goes on forever. Work the climbs with each other. It's how we move forward. It's time to come together. It's time for Superior.
+
Superior Book
Don't forget to buy the Superior book for more race stories and history. It's available at Amazon, from me Kevin, and from the race merchandise tables.