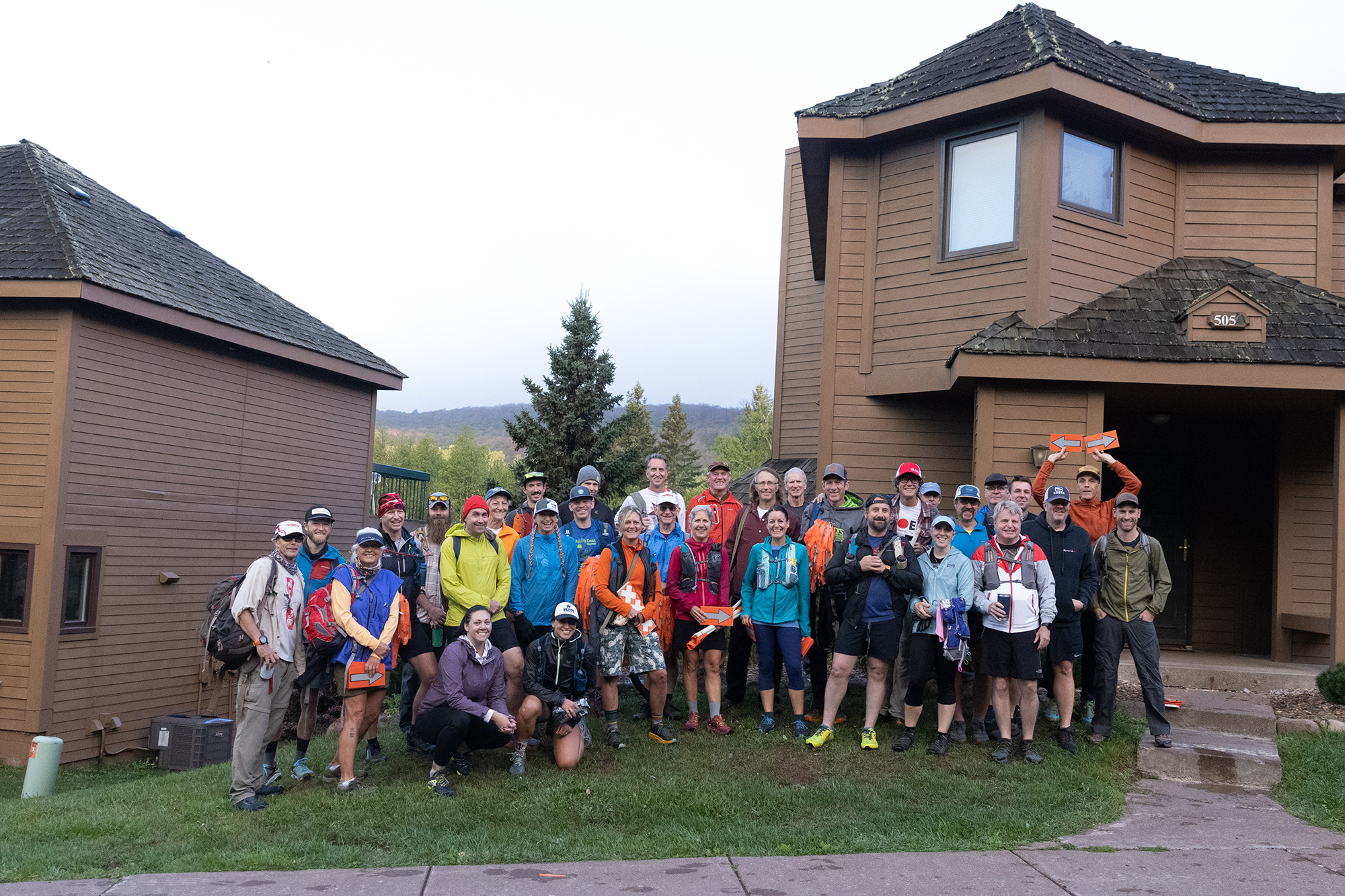 2021 SFTR Trail Marking Team – Photo Credit Scott Rokis
"Well good morning Mr. John! It sure is a great day, but I do believe it is also going to be a little bit of a bearcat."
When I was younger I worked construction with a wonderful human named Ross. Ross was known for his 'Ross-isms'.  Ross would drive some of our co-workers a little nuts with these 'Ross-isms'. Picture a bunch of cranky blue-collar construction workers on a Monday morning, after a hard-charging weekend, walking into some kind of issue, broken equipment etc. and being greeted with "Why Mr. [so-and-so], I think what we have here is an opportunity for growth". I freaking loved Ross, I still think of him often and apply his 'Ross-isms' to many situations in my life.
Superior is a bearcat through and through, and you better believe it will always provide opportunities for growth – no matter which side of the aid station table you are on. As you are all quite familiar with, in a race that spans 38 hours, there are no short shifts. It is not just the runners that have to hurt for it, it is a lot of work for everyone involved. Ever notice how we assign less value and have less attachment to things that come easy?  But things that come hard – they burrow in, and fill a special place in our heart. Our most valued relationships, our children, our running, and SUPERIOR to name a few. And the fruits of this labor and toil? An experience like few others; deep connectedness, uncomplicated and genuine friendship, and the purest joy that we can only attain when we work in service to others. Sadly, the incentive structures built into our society do not give us the opportunity to apply these principles often enough. I think that is why this feels as important and fulfilling as it does and why it continually draws us back in. Ideally we can integrate these lessons and experiences into our everyday lives, so we may live in service to others, and as importantly, find the peace and connectedness that living in this way manifests.
We are so fortunate to have this. It is an honor to walk this path with you. Thank you for it.
In Gratitude,
John Storkamp
Race Director
Superior Trail Race
* Housekeeping: Our aid station captains typically do a great job of getting volunteer t-shirts out to you, but sometimes things stay just busy enough at the aid stations and a few shirts don't get passed out.  If you did not get your t-shirt for volunteering at an aid station, or another position, please email me and we will get one in the mail for you. While I do have your info, including the size you want and your address helps to ensure I get the right address and streamlines the process on our end. Thanks!