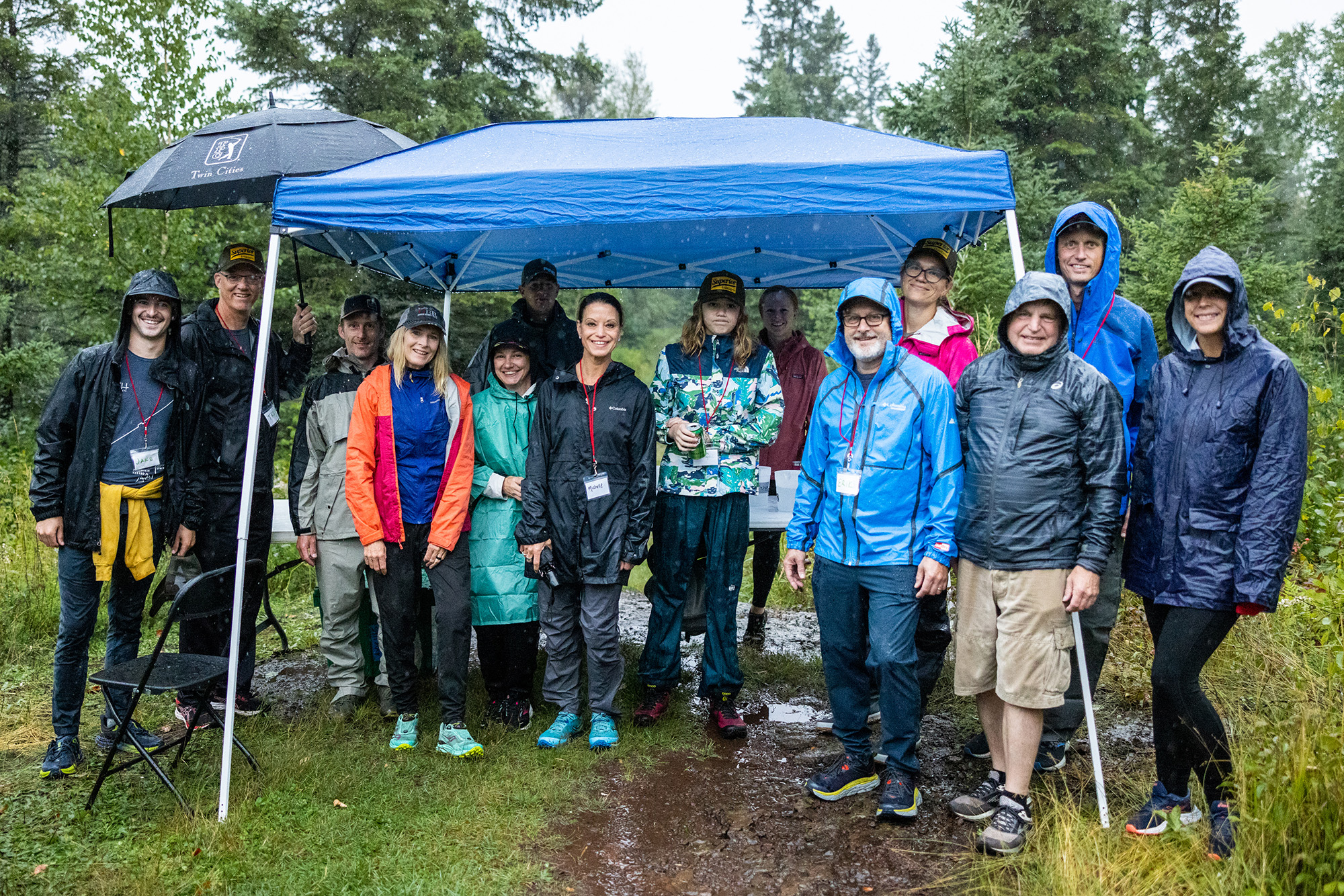 2022 Split Rock Volunteers – Photo Credit Scott Rokis
The day before, the day(s) of, and the days after this year's Superior Fall Trail Race I was heartened, dumbfounded, maybe even slightly horrified to hear so much 'next year' talk (that last part was probably just the sleep deprivation working on me). "Next year we should do this", or "next year I can improve on that". Friends, once you have been here and done this, you know how much work it is to make Superior happen – as awesome as it all is, it is a monumental amount of work, if not a grizzly affair come those wee hours – if only everyone could see how the sausage is made right?! The fact that you choose to come back year after year and do it with as much joy and enthusiasm as you do is heartening, humbling and energizing. I absolutely love these races, the friends, volunteers and runners we get to do this with and for – the memories we get to make. Thank you for making yourselves an indispensable part of this!  One participant this year said… "The race is incredibly well organized and put on. I've only seen a volunteer army like this at WSER (Western States Endurance Run)", that is quite the compliment.
Housekeeping: 
Our aid station captains typically do a great job of getting volunteer t-shirts (well, hats this year) out to you, but sometimes things stay just busy enough at the aid stations and a few don't get passed out.  If you did not get your hat for volunteering at an aid station, or another position, please email me and we will get one in the mail for you.
Aid station captains and other volunteers, if you have any expenses for aid station food or other extras that you provided and would like to be reimbursed, please get me your receipts.
Notable Departures:
I want to recognize a couple of notable Aid Station leadership departures after many years of distinguished service…
Dawn Long, her sister Jamie and her partner Pat headed up the Finland aid station for many years. Dawn is a longtime / very close friend of mine, and she is married to one of my very best friends Matt, who is the Friday sweeping coordinator. Dawn, Jamie and Pat headed up Finland a few years for former race director Larry Pederson, this before there was a "Finland Rec Center". They took a brief hiatus for a couple of years during which time my brother filled the gap, then came back for their encore for many more years during my tenure as RD. The three of them, the friends they recruited, and so many other volunteers worked so hard to make this a festive, memorable and well organized aid station with great food, year in and year out. After last years race they retired from Finland (again). Dawn helped on the sweep this year and I suspect this will be her new home for some years to come. Henry and Willow stepped up and ran Finland this year and did an outstanding job ( they are invited to do the same again in 2023 but we will let them decompress a little before discussing! )
Jan and Joe O'Brien captained the Sugarloaf Aid Station for many years, initially with their good friends Pam and Loren Albin. We know they were there every year since 2011 – none of us can remember if maybe even a year or two before that ('Superior years' tend to blend together – in a good way!)  They had the help of many good friends and volunteers over the years. Jan and Joe took what was a modest little outpost on the side of Sugarloaf Road and whipped it into a wonderful aid station, always well organized, with great food and good vibes!  This was Jan and Joe's last year heading up the aid station, but not the end of their relationship with Superior. We will be looking to fill their (big) shoes for the 2023 race – if you and your friends / running group, club, business etc. have any interest, let me know (some aid station experience, and the ability to bring some of your own core group is helpful), we will put this opportunity out to a wider audience in the months to come. A fun personal note about Jan and yet another illustration of our strong Minnesota running community volunteer ethos… Each year I volunteer for Friday finish line setup for Twin Cities Marathon, then run the race on Sunday. When I cross the line I immediately look for Jan, as she hands out finishers medals – I look forward to seeing you on "our" finish line and getting my medal from you again in a couple of weeks Jan!
Again, I cannot thank you all enough for everything you put into Superior!  I am already looking forward to next year!
With Gratitude,
John Storkamp
Race Director
Superior Trail Race