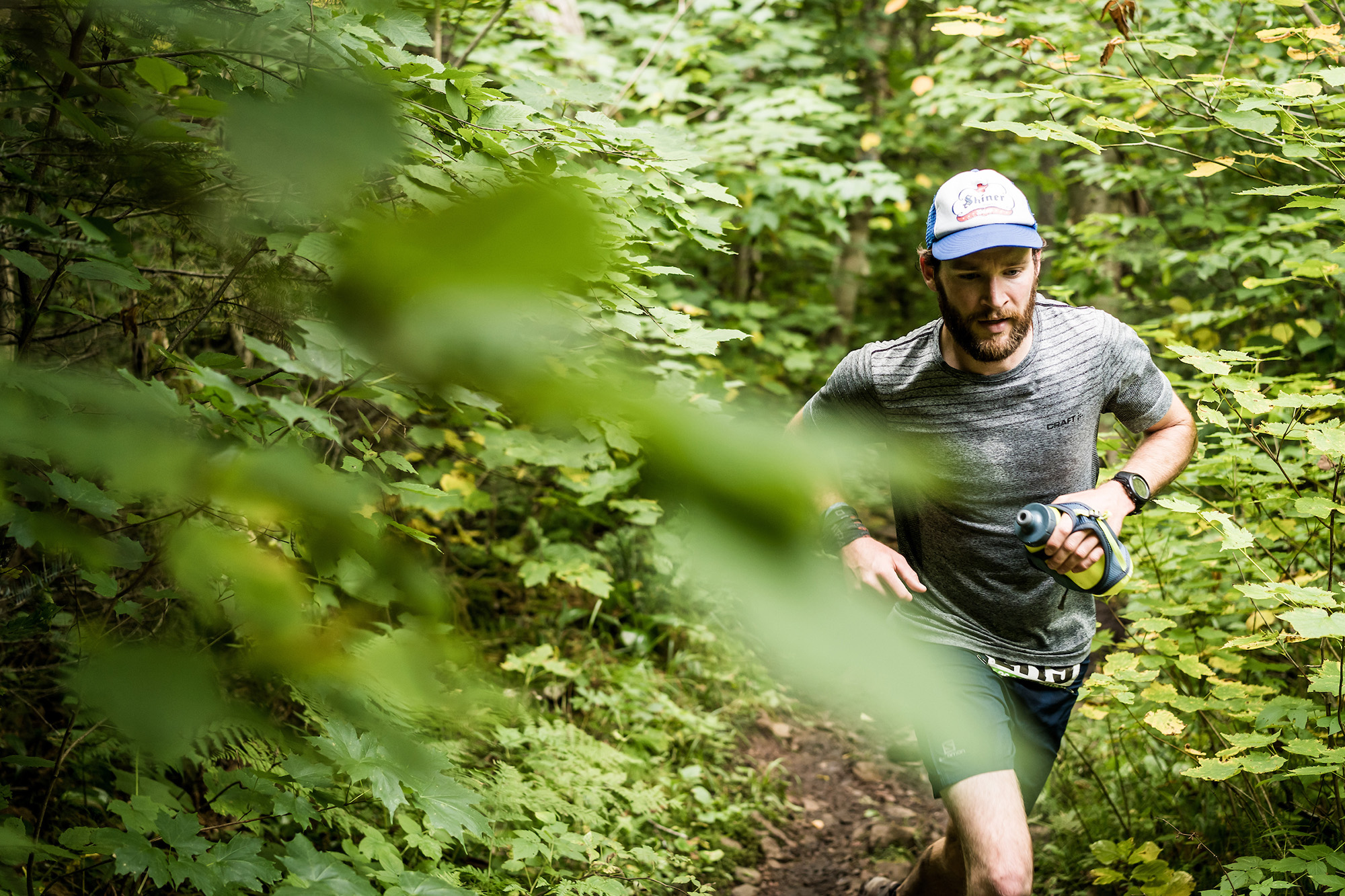 2019 Moose Mountain Marathon winner Lane Johnson – Photo Credit Ian Corless
An interview with 2019 Moose Mountain Marathon winner Lane Johnson (LJ).  Interview conducted by Kevin Langton (KL)
---
KL: Hi Lane. Congrats on another win at Superior's Moose Mountain Marathon. Please tell us a little about yourself.
LJ: I have lived in Duluth on and off since 2004, but grew up in Northfield. I came to the Twin Ports to attend the University of Minnesota-Duluth, fully discovered the wild spaces of Duluth in 2007, and started running trail intermittently in 2009. I didn't run in high school or college, and never identified myself as a dedicated runner until a few years ago. It wasn't until moving to New Mexico in 2016 that I realized trail running had inadvertently become an integral part of who I am, a form of creative expression, and one of my preferred ways to intimately explore and understand wild places.
KL: What were your plans or goals for the race and how did the race play out for you?
LJ: In 2013 my MMM finishing time was 3:55(ish). I showed up at this year's event looking to better that time, run some fast downhills, and make sure my last miles were faster than my first. I've been working through some issues with patellar tendinitis in my right knee this season and that issue has encouraged me to really ease into my runs rather than run hard out of the gate. Sometimes that's hard for me to do.
I was able to run a fair bit of the SHT north of Two Harbors this past August and I was reminded, again, of how fun our North Shore single track is. For example, the descent coming off the north side of LeVeaux Mountain to the Onion River is so playful, and the hardwood forest through there is incredibly beautiful. I'd run that stretch everyday if I could. Because the MMM course has so much great terrain and scenery, the biggest plan of mine was to just show up—be fully present—and enjoy every minute and mile.
KL: This was a really competitive race with a lot of experience and fast feet in the top five. What did that add to the experience?
LJ: I came with high expectations to better my 2012 course time. I recognized that the group of runners this year was more competitive than in 2012. Guys like Wynn Davis and Chase Nowak have such stellar racing records it seemed appropriate to run this year with humble confidence. Fortunately, I was able to run the entire course by feel, making sure I was comfortable, rather than pushing a certain pace or trying to keep up with the frontrunners. I came into Oberg aid station feeling pretty energetic. A running buddy of mine, Joe Stromsness (who had just woken up from a post-run nap) told me Wynn and James were just 3 or 4 minutes up. That's when I figured I should pick up the pace.
KL: How does this compare to your win in 2012?
LJ: This year felt more gratifying because I've developed higher expectations for myself. I didn't know what I was doing in 2012. Everything about that weekend and race was unplanned, and I got lucky. I signed up for the 2012 event the weekend before the race, hitched a ride to Lutsen from Ashland, WI with all my stuff in a backpack, slept on a ski run in my sleeping bag after having a few beers at Papa Charlie's, and then hitched a ride to a friend's place in Grand Portage carrying an oversized metal moose. It was an idyllic, slightly surreal, autumn weekend. This year the lottery forced me to plan ahead, which is uncharacteristic of me, and it created space for me to establish a summer running calendar that I followed with some intention. I wasn't even able to make it through the registration lottery in 2018 so running MMM this year felt fairly special. Relative to 2012, I know myself better now, my running strengths, weaknesses, and habits. I'd like to think I'm running more intelligently now than 6 or 7 years ago.
KL: What best prepared you for such a race?
LJ: In the past year I've become more acutely aware of my mortality. I see physical and mental wellness as this gift that should be taken full advantage of whenever possible. I think that line of thought has helped me prioritize my time, focus on specific wellness and adventure goals, and find joy in every run.
Each run is a gift. I remind myself of that often, and I think that helps me push myself a little harder on the trail.
KL: What's something non-running that helped you at Superior?
LJ: There's a sheepadoodle puppy I live with named Fern that needs to be walked multiple times each day, rain or shine. Often we're just cruising the neighborhood sidewalks and alleys, but it's still mandatory time on my feet. On the best days you'll find us hill bounding the ski runs at Chester Bowl in Duluth. Seems it's one of the best ways to tucker her out. She's only 6 months old right now, but she will become a good running buddy as she matures.
KL: I bet she's adorable! Did you have any low points during the race? If so, what helped you through it/them?
LJ: I was pretty tired at race start and it took me a little while to wake up. The morning fog broke shortly after crossing the bridge at Temperance River, mile 9ish. Shortly after the bridge, I caught up to Chase Nowak, opted to run with him for a number of miles, and eventually felt energetic enough to kick it up a notch after mile 18. I had to work through some leg cramps after climbing Moose Mountain and the cramping returned with force after reaching the pavement of the Ski Hill Rd. I ran pretty conservatively for the first two-thirds of the race and that gave me the pep I had hoped for to make up some time on the last third of the course, especially on the Moose and Mystery mountain descents.
KL: Bonus question: Please make your own question (and answer) that reveals something you think we should know about.
LJ: What book(s) are you reading now?
Notes to Myself by Hugh Prather – picked up from a friend's give-away pile. It's a small book of proverbs that forces introspection and makes for good conversation, maybe even a drinking game.
The Heartbeat of Wounded Knee: Native America from 1890 to the Present by David Treuer – picked up brand new from Zenith Bookstore in Duluth. It's Indigenous American history written from an Indigenous perspective—really eye opening.
KL: I've been wanting to read that Treuer book myself—he's a great writer and a Minnesota treasure. Thanks for taking the time to do this, and congrats on a great race and win.