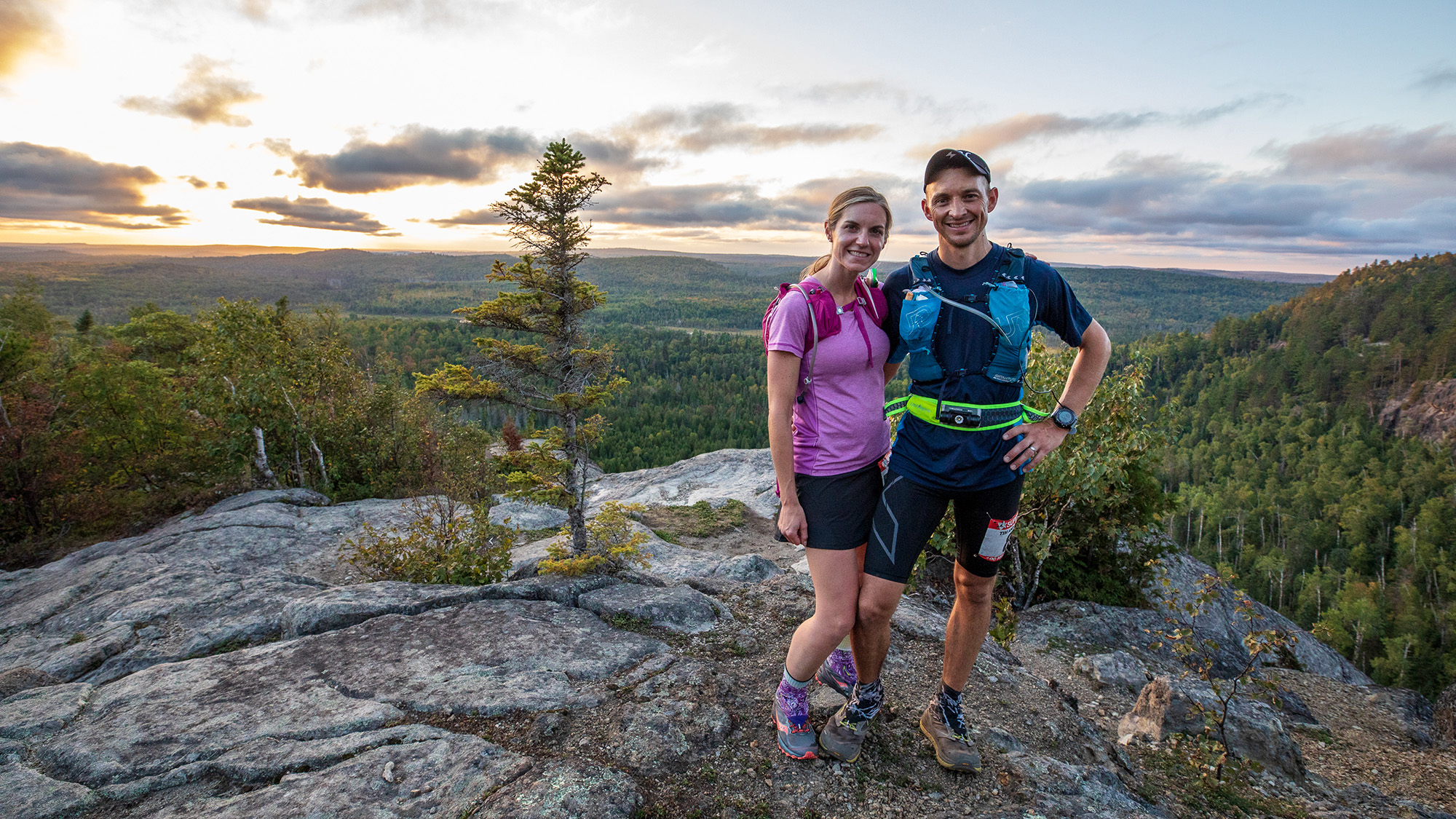 Tim and Kate Andrews on Mt Trudee – Photo Credit Tone Caughlin
Dear Friends,
Wow, it is hard to believe that it has almost been a week since the 2018 Superior Fall Trail Race took place – I trust that everyone is recovering well, but missing the North Shore! I would like to thank each and every one of you; along with your family, friends, crew and pacers for making this years race a resounding success. I stand in awe of your grit and determination and have nothing but gratitude for he fun, considerate and special people that show up for the Superior Fall Trail Race year in and year out. #SuperiorFamily
Over 325 volunteers came together to make this years race a reality and we owe them a debt of gratitude. As is customary, a thank you letter has been sent out to our volunteers and I encourage you to take a moment to read it – a copy of it can be found on our website HERE https://www.superiorfalltrailrace.com/thank-you-letter-to-volunteers-2018/
Live results were provided during the race as each runner crossed the finish line along with the live 100 mile runner tracking. The (archived) results and records section under 'Race Information' > 'Results' of our website has been fully updated for the yearl.
A race recap has been written and is available on our website HERE https://www.superiorfalltrailrace.com/2018-superior-fall-trail-race-recap/ – also stay tuned to the 'News and Updates / Blog' section of our website HERE https://www.superiorfalltrailrace.com/news-and-updates/ for runner interviews and other fun stuff to be posted in the coming weeks. Our Facebook page HERE https://www.facebook.com/superior100/ does a great job of documenting the two days of racing and is pretty fun to look back on. Finally, be sure to keep an eye out in a future issue of UltraRunning Magazine for a detailed report of this years 100 and 50 mile races.
Photo galleries are rolling in from our photographers and can be found HERE https://www.superiorfalltrailrace.com/photos/ – I believe all but just a couple of galleries have been submitted by our awesome photographers and added to the website!
IMPORTANT – A CALL TO ACTION: As I mentioned at the pre-race meetings, after each years race we do a "Call to Action" asking those runners who are not yet Superior Hiking Trail Association Members to join, and for those who are already members to make an additional financial contribution. We ask that you use these specific links to do as much; Memberships – https://superiorhiking.org/joinsuperior and Donations – https://superiorhiking.org/donatesuperior/ – once you have joined or have made an additional contribution, we ask that you go to THIS Facebook Post on the Superior Facebook page and add a comment to the thread and share the post – lets show the Superior Hiking Trail Association, our fellow trail runners and other trail users that WE ARE TRAIL RUNNERS AND WE SUPPORT THE TRAIL!
Help our partners Visit Cook County / Cook County Tourism Board. Visit Cook County gives significant support to the Superior Trail Races and ask little in return – one thing they would love to know is, where did you stay on race weekend? THIS https://goo.gl/forms/sW0M23TbD5t4s1sE2 survey will take you about two minutes to complete – please consider clicking the link and let them know where you stayed!
Have a race report and want to share it? Send me the link and I will add it to our website HERE for others to get your firsthand account of the race! https://www.superiorfalltrailrace.com/race-reports/
The dates for the 2019 race will be Friday September 6 & Saturday September 7, 2019 (the race is always the weekend after Labor day, BUT please note that dates are contingent on permit approval). The lottery registration period for the 2019 race is currently scheduled to open on January 1st, 2019. Registration will remain open for a 15 day period and the drawing will be held thereafter. Complete / final details with any changes in lottery protocol or procedure will be updated on our website HERE https://www.superiorfalltrailrace.com/registration-info/ by no later than December 1st, 2018.
Again, it was an absolute pleasure having you, your families and friends with us this year. We hope to see the majority of you again next year as either runners or volunteers, or returning the favor and pacing / crewing your friends and family. Until next time – happy trails!
Thank You,
John Storkamp
Race Director
[email protected]