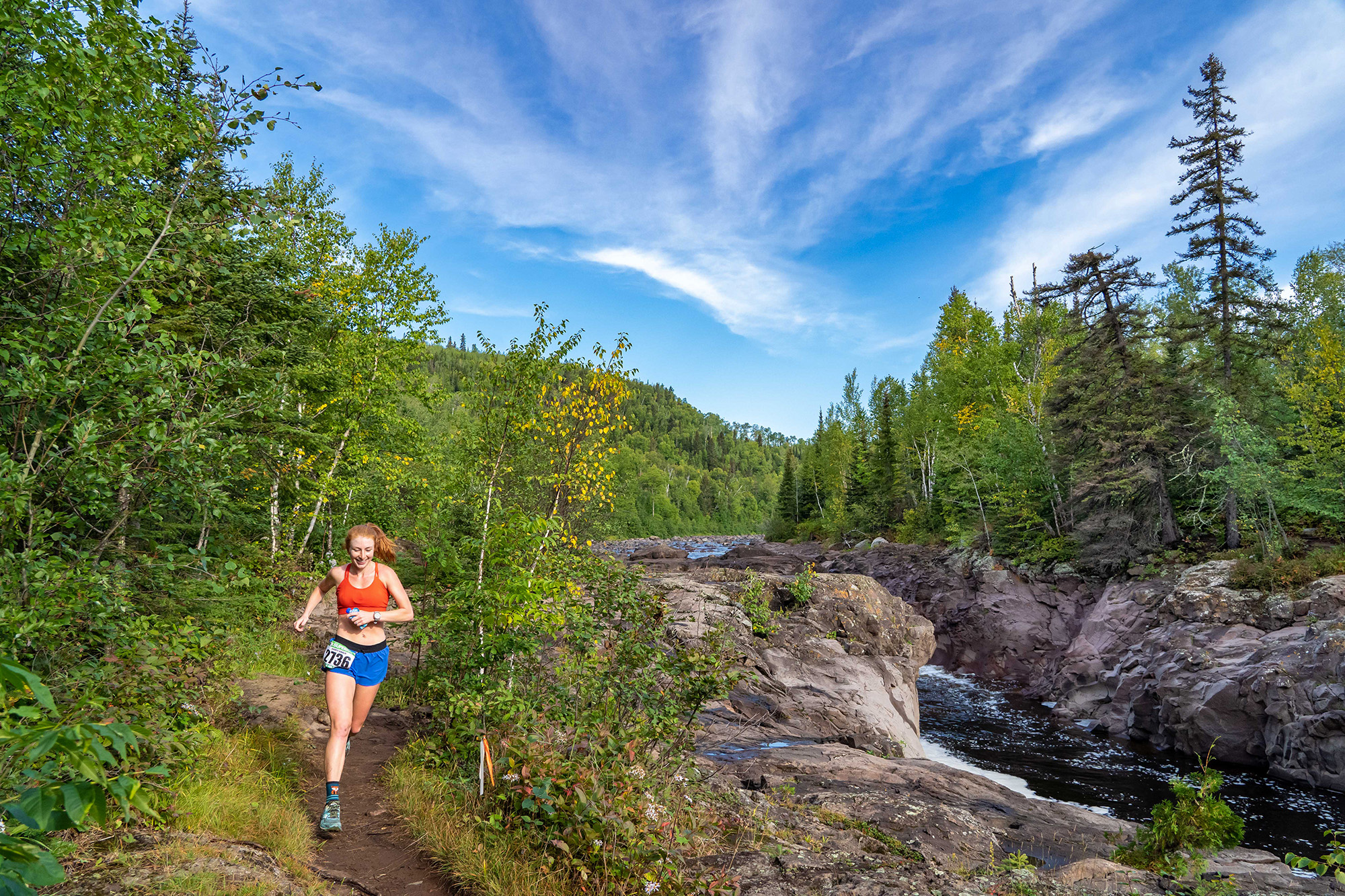 Rolling Along the Temperance River – Photo Credit Kent Keeler
Founded in 1991, the Superior 100 Mile Trail Race in Northern Minnesota is part of what is now the three race Superior Fall Trail Race event weekend – the 100 miler being the tenth oldest 100 mile trail race in the country. With a one-year hiatus in 2004 and a Covid-cancellation in 2020, this year officially marked the 30th annual running of the 100, and the 32nd year since its inception. Whether you ran the 100, 50 or 26.2, finished first, last, somewhere in between or did not make it to the finish this time, crewed, paced, spectated or volunteered, we thank you for being an equal and indispensable part of a very special tradition. We are humbled and grateful each and every year that we get to produce this historic event.
This recap is certainly not about me, but I wanted to open by sharing the following anecdote as an example of one of many mystical things that transpired on race weekend. Similar things transpire most race weekends if you are paying attention. We all walk a unique path and through mine I have come to understand and fully inhabit my / our collective spiritual experience. One small practice that has long been part of living my life on this plane is receiving, reading and contemplating daily readings, meditations, prayers and poems from several sources. These meditations / readings are are based in many different traditions; Taoism, Sufism, New Age Spiritualism, Franciscan Mysticism, and more. When time permits, I read these daily meditations to start my day. Of course some days are too busy and they simply get skipped – such is life. This is often the case on the days before, of, and after the races I direct. Last year however, a deeply poignant reading arrived in my inbox at 4:00AM, just a number of hours before the start of the 100 mile race, this from a publication that only releases content sporadically, not daily like some that I receive. Not only was the email with the meditation waiting for me when I awoke that day, so was a text from one of my best friends "did you see the reading this morning"? Without his prompting, I likely would have skipped reading it that morning in the interest of time. Why, and how, that specific reading would arrive on that morning would be a fair question. Thankfully I have long embraced such 'coincidences' and don't ask too many questions (see HERE https://www.superiorfalltrailrace.com/2021-superior-fall-trail-race-recap/ / scroll down to the end to see the reading from 2021) Well, it happened again this year… My alarm was set for 3:45AM for the 100 mile start. I laid in bed listening to the heavy rain and thunder and scrolled my inbox for any last minute race emails. At 4:00AM the following reading hit my inbox, I saw where it was from and read the subject line – I got a big smile on my face and thought, "this ought to be good" and proceeded to read the following…
Threshold
If you knew you were about
To step off the cliff of the known,
To slip from the safety of the familiar
Into the womb of darkness
That has no names,
Would you still cross that threshold
With confident steps,
Or hasten back to the old small house
That lies tight and cramped
Like an old snake skin around you?
The call of the abyss
Looms like a reapers shadow
And looks annihilating
From the telescope of the mind,
But there secret treasures
Are sewn in the fabric of your skin.
To cross that line
Sometimes we have to trip and fall,
Lose ourselves like mist at dawn
Or take the hand of a friend
As we enter the uncharted realms.
What happens there is hard to say,
Layers of silt are removed,
Our palette gets washed away
And the house of familiarity
Feels hauntingly different.
Roles and routines no longer fit
As we are cast like spawn
Into the ocean's mouth
Or like light hurled in a starless sky,
Where there is nothing to do but
Yield to the tug of waves.
Trust the path that takes us to the edge,
To the place where we can break open
And discover ourselves anew.
— Author: Mark Coleman
As I have been known to say – you can't make this stuff up. There is always more happening here than meets the eye – believe it. OK, moving on…
Volunteers:
Superior is not possible without volunteers – this year over 350 came together to make the race a success. One participant this year said… "The race is incredibly well organized and put on. I've only seen a volunteer army like this at WSER (Western States Endurance Run)", that is quite the compliment. Our trail marking crew are multi-year / return volunteers all who have committed themselves to learning our system of marking over the years. The sweepers are also generally folks who have made multi-year commitments and work to keep the entire race safe and on track. Our logistics team drop off, keep stocked and then pick up tens-of-thousands of pounds of gear, water and food. Our Friday setup crew gets everything in place and set up at the finish line for the weekend, greet runners in the morning to load the buses and so on. Skilled teams of Aid Station Workers, Medical, HAM Radio / Communications, Runner Tracking, Timing, Photography, Packet Pickup, Race Start, Finish Line volunteers and more go above and beyond each and every year. A small army of volunteers help us unpack and clean up the race at our home on the Monday after the race (many of these folks run one of the race distances). I strongly encourage you to take the time to read the volunteer recap / thank you HERE https://www.superiorfalltrailrace.com/thank-you-letter-to-volunteers-2022/ – if you want to see something interesting / see some of what it takes to staff Superior and all the time that your fellow runners/volunteers give, see THIS https://www.superiorfalltrailrace.com/volunteer-assignments/  A large percentage of the trail running community routinely volunteers. If you have not yet, give yourself the gift of doing as much… with RSR or at another race, either would be great. We all make this go.
Kind Words:
After each race we receive dozens of kind emails, I try to make sure we pass some of these on to our volunteers who deserve all the credit.
This was my first Rocksteady event, and I could not be more impressed. I ran the 50 mile, and the course was marked to perfection. The volunteers were AMAZING! They all had so much love, respect, and were true servants through and through. You run a top notch event, which I cannot praise enough. Keep up the good work! – John
Thank you for helping so many of us challenge ourselves, spend fabulous time in the woods, celebrate with others, and unite with our people. This note is a tiny show of gratitude compared to the gift that I received. Once again it was amazing. – Kim.
Photos:
Some photo galleries are in, others are still on their way https://www.superiorfalltrailrace.com/photos/  Please keep in mind that some of our photographers sell their photos, some make low res images available for free and sell the high res versions, some will accept tips and some give away the high res images for free. Please look for notes / prompts for each photographer / gallery. All of them put a ton of time into it and have a pile of expensive gear that make having these stunning images possible. As always it is good form to credit (by name) and thank photographers for the photos you are sharing on your social media or elsewhere. If you want to use photos for commercial purposes please contact the photographers directly or contact me if you are unable to find their contact information.  If you are a photographer or aspiring photographer and you would like to come shoot some time, please contact us, we would love to have you.
Results and Splits:
Race day / live results were / are available HERE. Official race results are available on our website [ 100M, 50M, 26.2M ]. Results have also been uploaded to UltraSignup [ 100M, 50M, 26.2M ] and have been sent into UTMB [ 100M, 50M, 26.2M ] so qualifying points can be awarded to those that wish to apply for those races (UTMB, CCC, TDS, OCC).
| | | | | | | | | | |
| --- | --- | --- | --- | --- | --- | --- | --- | --- | --- |
| 2022 | Registered | Started | Start % | DNS | DNS % | DNFd | DNF % | Finished | Finsh % |
| 100M | 284 | 222 | 78% | 62 | 22% | 77 | 35% | 145 | 65% |
| 50M | 230 | 160 | 70% | 70 | 30% | 29 | 18% | 131 | 82% |
| 26.2M | 435 | 306 | 70% | 129 | 30% | 13 | 4% | 293 | 96% |
| Total | 949 | 688 | 72% | 261 | 28% | 119 | 17% | 569 | 83% |
Sweatshirts, T-Shirts, Hats and More for Sale:
If you were hoping to but did not get a chance to purchase something at the race, you can do that on our online store HERE https://www.rocksteadyrunning.com/shop/ – you can use the "filters" on the side of the page to sort and search for specific items.  We ordered some extras of this years hat should you like to grab a couple more for family, crew or pacers.
Rocksteady Community:
The Rocksteady Running Community is an online forum designed for community members to have civil conversations about all things pertaining to Rocksteady Running events (Zumbro, Superior Spring, Afton, Superior Fall, ESTRS), trail / ultrarunning in general, and more. This online forum has been built on our own platform and is not tied to any social media platform. It is free from advertising, invasive algorithms, tracking, etc. We intend for this to be a safe place to connect. Feel free to discuss registering, training for and racing our events. Discussion about the race courses, terrain, training, gear, challenges, triumphs and more are welcomed and encouraged. If you would like to create an account and participate you can do so HERE https://community.rocksteadyrunning.com/login  For safety and transparency we ask that you provide both your first and last name when creating an account. My hope is that this forum will be an engaging and useful resource that allows you to connect with one and other.
Sponsors / Partners / Permitors:
Please be sure to check out our awesome sponsors. Besides Salomon I suppose (who is awesome!), these are all small to medium sized local businesses. We have real relationships with all of these businesses and most of the owners and/or employees are personal friends. Most of our sponsors had folks either heading up aid stations, volunteering or running! https://www.superiorfalltrailrace.com/sponsors/
A special thank you to Caribou Highlands whose staff go above and beyond year in and year to host us / our finish line.
A special thank you to Visit Cook County / Cook County Tourism for all of their support.
Gratitude to the US Forest Service, Minnesota Department of Natural Resources, Lake and Cook County, Local EMS / Search and Rescue and all of the communities, locals and local businesses that our race interfaces with.
Of course, a huge thank you to the Superior Hiking Trail Association, its staff, board members, members and volunteers.
Support the Superior Hiking Trail:
A large percentage of you are already Superior Hiking Trail Association members.  Many of you who are not, indicated at the time you registered, that you would like to be.  Now is a great time to show our support en masse that we, as trail runners support the trail that we love to run!  You can join, or make an extra donation to the SHT via the following (custom for Superior Trail Race) links… https://superiorhiking.org/joinsuperior/ and https://superiorhiking.org/donatesuperior/ – The Superior Trail Race will continue its charitable legacy to the Superior Hiking Trail Association with a $3,000 donation in 2022, in addition to ongoing volunteer efforts on the trail itself; building, clearing, maintaining and improving.
Lodging Survey:
Our friends at Visit Cook County / Cook County Tourism are huge supporters of the Superior Trail Races. Please help us support them as they are looking for lodging data to help them better serve trail runners on both Superior Trail Race event weekends and throughout the year. Please take a moment to answer the three questions below. Thank You! https://forms.gle/nEEciSpm6y1gh4Kw5
Next Year
The Superior Fall Trail Race is always held the weekend after Labor Day, so that will be Friday September 8 and Saturday September 9, 2023 (pending the approval of our permit applications). The 15 day lottery registration period typically opens on January 1. The website will be updated with complete 2023 registration and event details by late fall / early winter 2022, stay tuned.
In Closing:
I cannot thank you all enough for being part of the Superior family!  Thank you for an awesome 2022, we look forward to seeing you next year!  As always, if you need anything please reach out.
With Gratitude,
John Storkamp
Race Director
Superior Trail Race